We are spoilt for choice here in West Cornwall when it comes to dining out. In many regions, that would be good enough, but we can offer something more. A view to die for…
Carn Brea Castle, Carnkie, Redruth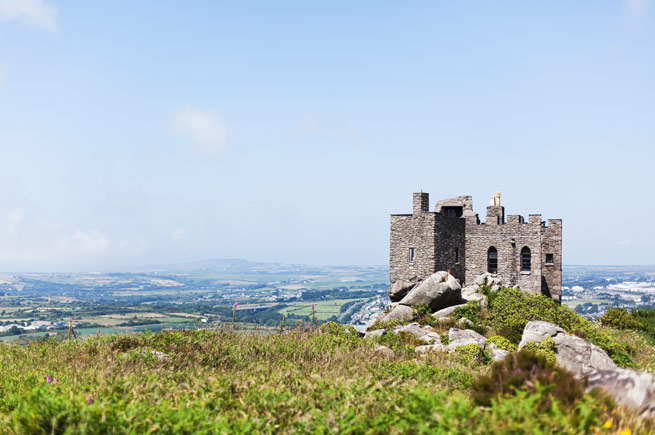 Let's start with something out of the ordinary – a restaurant with a great view that is not on the beach. The restaurant is in an old hunting lodge built to look like a castle, and still has limited electricity, so dining by candlelight adds to the experience. Time your visit to sunset, and ask for an upstairs table, and you will be rewarded with a view over the distant north coast and a setting sun that will illuminate your evening. On a clear evening you can see Falmouth, Newquay, Penzance and St Ives. The menu is a mix of middle Eastern (the proprietor is from Jordan) and English, which creates a list of nibbles and mezzes that will delight your taste buds. Make sure you book, as tables are by reservation only, and ask for detailed directions, as the road up to the restaurant is track-like and can make you think you have gone the wrong way – all part of the different experience!
View all our cottages in Redruth >
Porthminster Café, St Ives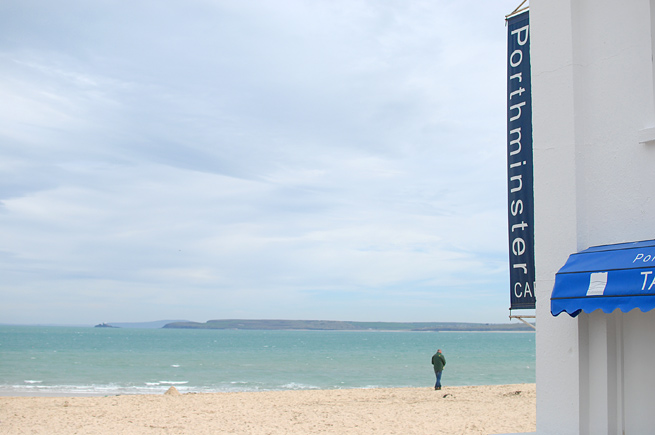 Fine dining right on Porthminster Beach – one of the most beautiful beaches in St Ives with the added bonus of being right next to the station for easy travel. The view is a sublime vista of Porthminster Beach with its gently rolling waves and golden sands, with St Ives Harbour to the west, and if you're lucky a sunset to remember. Gorgeous food with a great reputation at lunchtime and in the evening, but also a fabulous place to have breakfast or coffee in the morning. Perhaps the most well-known fine dining restaurant in St Ives and a favourite with locals for special occasions – don't miss out. Make sure you visit.
Porthmeor Beach Café, St Ives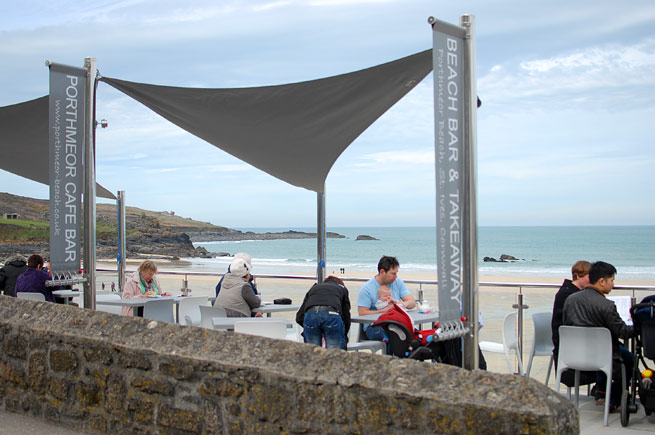 Same town – different beach, completely different view and food experience.  The food is really good, the service and atmosphere is friendly and you will find it difficult to drag your eyes away from the view all night! Porthmeor is a completely different animal to Porthminster – even the sea is less formal and less well-behaved. Waves in the dark look like a line of edgy white froth racing up the sand, and even when the surf is small, the sound of the waves crashing makes for the perfect accompaniment to your meal. What we love best about the Porthmeor Beach Café, apart from the prawn and butternut squash curry, is the little booths outside. Snuggle in with a blanket and the outdoor heater on and enjoy an al fresco eating experience without the chill. Bliss.
View all our cottages in St Ives >
Mount Haven, Marazion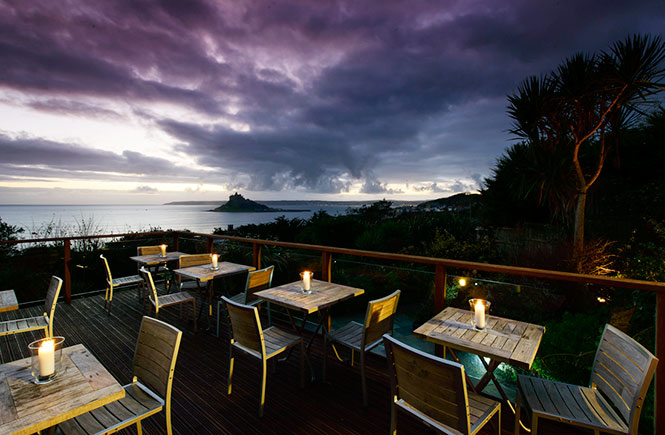 A restaurant with two AA rosettes and a view to complement the amazing food. From the restaurant the view is dominated by St Michael's Mount, a mystical and dreamlike island just off the coast with a castle on the top of a hill and a host of legends and myths surrounding its history. Mount Haven is a hotel that puts a lot of effort into its food, with a menu full of delicious favourites done brilliantly. The view, however, steals the show. In summer the dusk enhances the magical feel of the Mount, and in winter the moonlight touches it with silver. If you are lucky you will time your visit with a special occasion, when the Mount is lit up with golden light and the whole sea sparkles.
View all our cottages in Marazion >
The Old Coastguard Hotel, Mousehole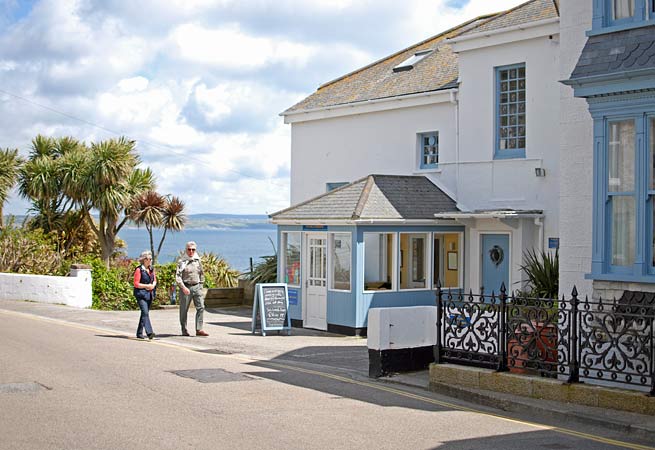 Just on the left as you enter the village, the Coastguard has a large car park and great views over Mounts Bay, with St Michael's Mount in the distance. In good weather there are plenty of options for outdoor drinking and eating; there is a large terrace and the Hotel is very dog-friendly, just let them know if you are bringing your dog when you book a table. A great place for children too – they can explore the safe environment of the garden as their parents relax, and there is a children's menu for young children. Prices are reasonable too, with options for Sunday lunch and a fixed price menu for lunch from Monday to Saturday. This place is loved by locals, which is the best recommendation you could get!
View all our cottages in Mousehole >
Ben Tunnicliffe's, Sennen Cove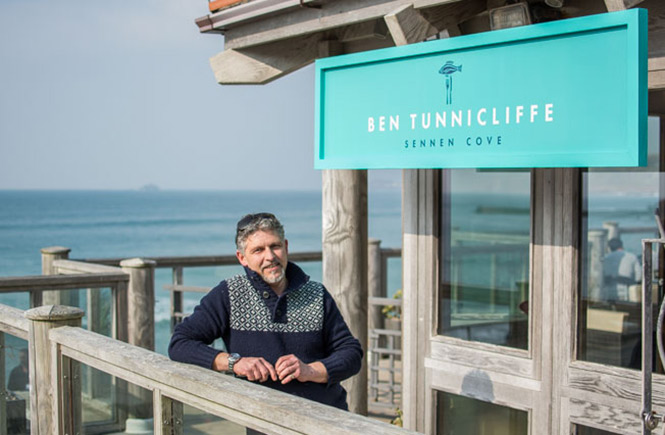 A breathtaking location right on the shoreline will ensure your views are uninterrupted as you sample the delicious food on offer here at Ben Tunnicliffe's. Sennen Cove has a wide sandy beach with waves that attract huge amounts of surfers that will entertain you as you eat. Daytime eating affords you an unbroken view of Whitesand Bay, and as it is on the north-west coast, a glorious sunset could be on the cards in the summer if you visit in the evening. The menu here changes according to the catch of the day, but if seafood isn't your thing, they've got that covered too, with family favourites such as gourmet burgers and vegetarian dishes available. Read more on our blog: Sennen Welcomes Ben Tunnicliffe!
View all our cottages in Sennen >
The Bay, Penzance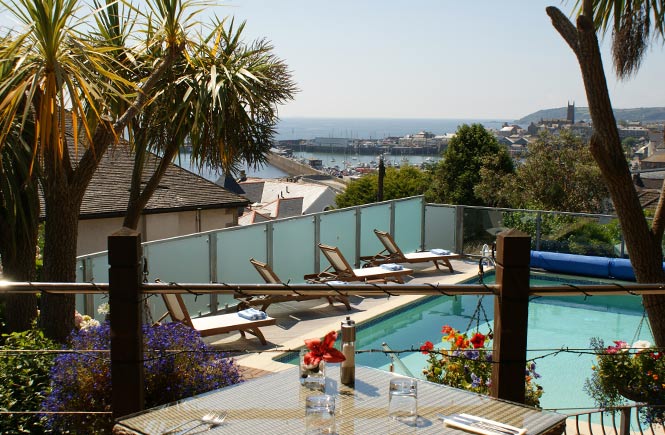 The Bay produces locally sourced food with an emphasis on locally caught fish. They have a variety of menus that range from fine dining á la carte in the evening to a brasserie-style menu during the day, and they even offer an afternoon tea that would keep you going for hours. The view is of Penzance Harbour, with boats coming and going and a bit of hustle and bustle to distract and entertain as you eat – different to the other more relaxed sea views we have mentioned here!
View all our cottages in Penzance >
Polpeor Café, Lizard Point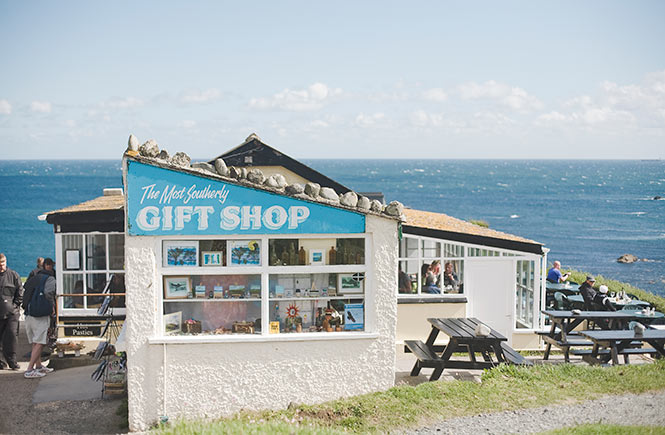 Polpeor may not have the most highly regarded food of all restaurants mentioned here, but it has some of the most incredible sea views we've ever seen, and meals that are simple but excellently cooked.  Take some binoculars to spot seals basking on rocks and more of the local wildlife, for Polpeor nestles right at the most southern point of England on a rocky outcrop. External appearances don't do justice to the view or the food – take a warm jumper and enjoy a satisfying meal with a magnificent view.
Stay nearby in one of cottages on the Lizard >
If none of these take your fancy, check out our blog on The best beach-front cafes in west Cornwall for places to grab a bite to eat after a day at the beach.
Where to find them:
Tags: Eating out | Marazion | Mousehole | Penzance | Sennen | St Ives | The Lizard |