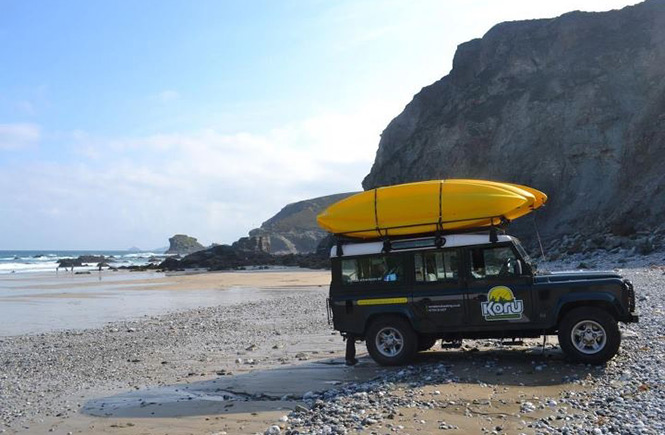 Kayaking is a fantastic way to see and appreciate Cornwall's natural beauty. You can choose from inland rivers and waterways, or explore some of the county's rugged coastline. Although there are places where you can 'go it alone' and hire a kayak for a few hours or so, to get the most out of your experience it makes sense to have a knowledgeable local guide. It's also a lot safer.
Koru Kayaking offers a bit of both: their Frenchman's Creek Adventure takes in some stunning Daphne Du Maurier territory on the Helford Estuary, while their North Coast Adventure launches from Trevaunance Cove, famed for its mining heritage, good surf and for being Poldark Country. With Poldark fever gripping the nation thanks to the BBC's 2015 remake of the popular 1970s series based on Winston Graham's novels, I went for the latter option.
Tom is our guide, and together with partner Hetty, set up Koru Kayaking three years ago. Originally hailing from Yorkshire, they fell in love with kayaking when travelling in New Zealand. 'Koru' refers to the Maori spiral shape representing a fern frond, and symbolising creation and new life. Being a Kiwi, and sporting a Ta Moko tattoo on my shoulder with koru incorporated in the design, I was instantly drawn to the company's name – that and their reputation, which is top-notch.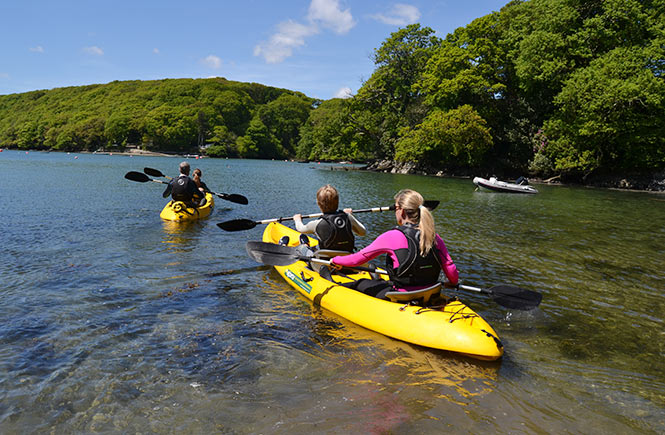 Meeting at the slipway for a 1pm tour, everyone's wet-suited and booted and raring to go. We just need to sign a consent form, don a life jacket and listen to the briefing.
Tom explains how to get on the kayaks safely: side saddle technique, then shuffle your bum back. And gives instructions as to what to do if you capsize: flip the boat over by pushing up from underneath, grab the straps behind the seat, lay flat in the water with your legs up, then kick and pull at the same time to propel yourself back on. For extra stability when stationary you can straddle the kayak, gives your thighs a rest too. Other hot tips are to hold the paddle evenly with the blades facing the correct way, plant the blade firmly in the water and pull back steadily, do the reverse action to stop, and turn by paddling on one side only. With that we're ready to go
Paddling out through the breakers, the young lad in front of me gets a soaking, but doesn't seem to mind. To our right are stunning rocky formations, but we're heading left to return with the wind behind us. Today the waves are tiny, but the solid construction of our canary yellow kayaks means they're ideal for most conditions.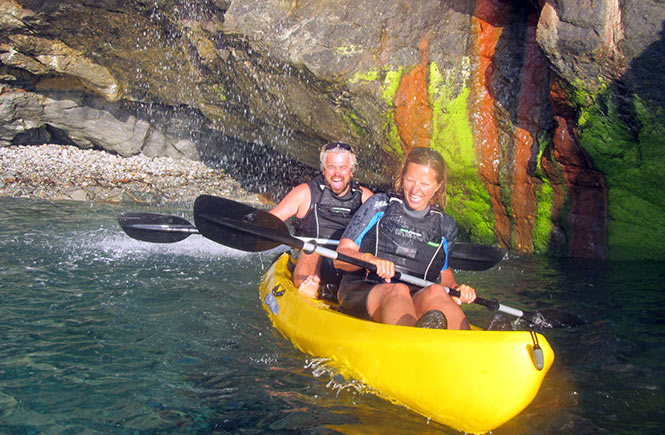 "They're pretty much bombproof," assures Tom.
Assembling near the breakwater (what remains of the 5th attempt at a harbour destroyed in 1920 in winter storms) Tom points out some bright blue copper oxide leaching from the rock walls. Once a thriving port exporting tin and copper ore, St Agnes tin was attributed as the best in Cornwall. The old Cornish saying "Sten Sen Agnes yw an gwelha sten in Kernow."  translates to St Agnes tin is the best tin in Cornwall. Mining was huge here and traces of the industry are everywhere.
Paddling round the corner takes us to an inlet called Polberro, where the cliffs are riddled with adits. Here too was the site of St Agnes's old sewerage pipe, prompting two locals fed up with surfing in raw effluent, to set up Surfers Against Sewage. Now a global charity with more than 14 million subscribers, campaigning goes beyond poo in the sea. Raising awareness of marine litter and pollution around the world, SAS headquarters are still in Wheal Kitty, with Koru closely involved as well.
A little bit further on and we're bobbing below a nesting place for guillemots and razorbills (like puffins). Although no sign of the dolphins spotted off Crantock earlier, there are plenty of seals, Grey Atlantic ones. At one point we're surrounded by them. The curious young males pop their heads up regularly to check us out. Tom tells us the females return to the same beach where they were born to pup, after having spent a gap year gallivanting around the British Isles. No basking sharks today either, but we do spot an enormous barrel jellyfish.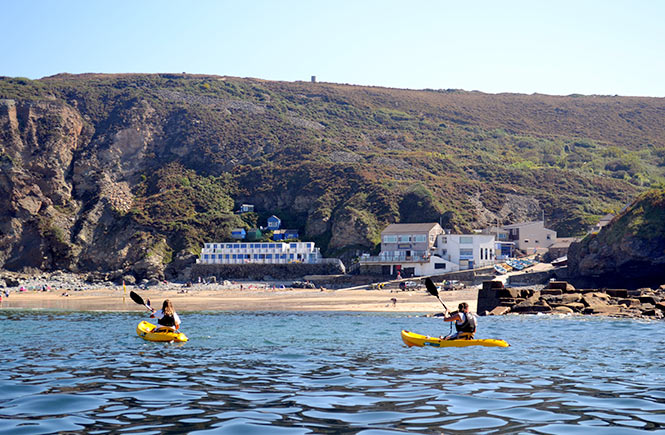 We paddle past a semi-submerged rock to gain entrance to one of the caves, the current through the narrow passageway is noticeably stronger, and the swell once inside is amplified by the backwash of water bouncing off the end walls. Retracing our steps to Polberro, Tom checks if the conditions are favourable enough for us to paddle through an archway. They're not, so we go around instead to land at the sandy entrance to the Hall and Parlour caves. Previously worked for tin as well, they link up to Luna Cavern – at 137m, the longest sea cave in Europe. We wade through a small section of it where its pitch black in places, then it's in back in the kayaks to open water, and a return to shore helped in by the surf.
It's the perspective you get by being so low to the water on a sit-on kayak that's so lovely, as is viewing the coastline in a way that is only possible from the water. No noisy engines so wildlife isn't frightened away; it's all very peaceful, and you can see coastal creatures enjoying their natural habitat. Rocking in gentle swell is an amazing feeling, as is the propulsion movement when you find your rhythm with the stroke. As a novice it felt slightly unnerving in the swirly backwash, but being in safe hands means that even if you do end up in the water, you'll be fine.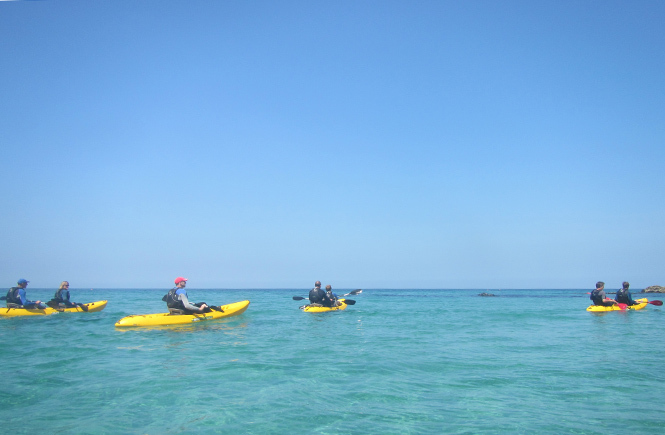 Suitable for all ages and abilities, they've had 'adventurers' as old as 92. As long as you can swim, are reasonably healthy and able to paddle for a mile or so, it's all good. Ideal for families, the double kayaks are great for parent/kid combos, and afterwards, you can relive the experience in a digital way, as Tom and Hetty take photographs during their tours which they share on their Facebook page. A brilliant way to discover Cornwall, for more info visit  www.korukayaking.co.uk
Have a look at our holiday properties in Cornwall, including St.Agnes here.
Tags: Beaches | Family | St Agnes | Watersports |