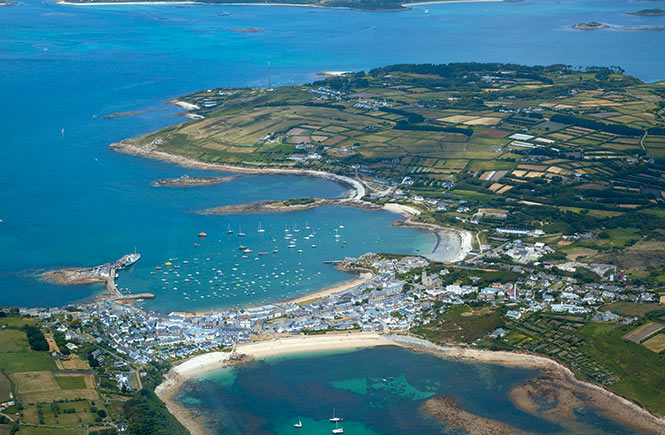 There are lots of magical places to visit in Cornwall, but the most exotic one has to be the Isles of Scilly. An archipelago of five main islands and hundreds of smaller uninhabited islets and rocky outcrops, its status as an Area of Outstanding Natural Beauty is richly deserved. Surrounded by sparkling aquamarine seas, with the kind of white silica sand beaches you'd expect to find on the Seychelles or the Caribbean, and an abundance of wildlife and wildflowers, getting there is easier than you think.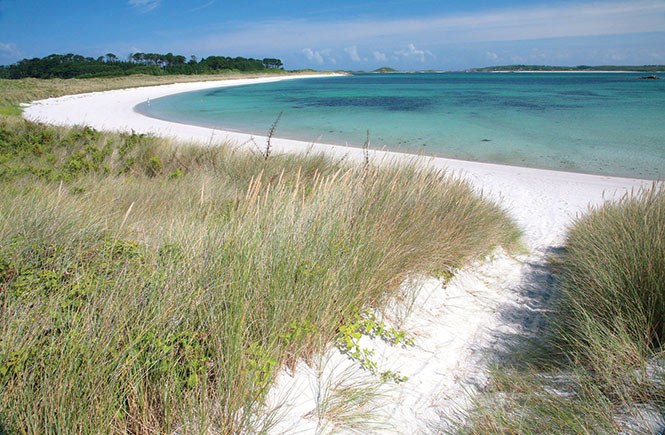 A mere hop, skip and a jump from the mainland, this jewel of a destination is perfect for day-tripping.
Living in Penzance, I'm lucky to have been to the Scillies several times, once even sailing across on a friend's 25' yacht Free Spirit. I've camped on St Martin's, boat-hopped to Bryher, visited Tresco's world famous gardens, and cycled around St Mary's, always travelling by sea and usually on the Scillonian. This time I thought I'd maximise my sojourn to the Isles and fly over. Not only is the flight a mere blink-and-you'll-miss-it 15 minutes long, it's also really exciting. Call me a big kid, but there's something thrilling about flying in a small plane that you don't experience with a jumbo jet. And it makes you feel like a VIP!
Arranging your daytrip is a doddle too: either self-book online via the Isles of Scilly Travel website, or speak to one of their helpful advisors. The Skybus operates from Land's End, Newquay, and even Exeter, but for me a Land's End departure was the obvious choice. Secure parking adjacent to the terminal is available for all passengers, but I'm mixing it up by coming back on the ferry, so opt for the shuttle bus transfer which picks up outside Penzance train station.
Driving to the airport past stunning hedgerows – a riot of blue, pink and purple thanks to an abundance of foxgloves, Campion and bluebells – is like a sneak preview of the flowers the Scillies are renowned for. Before we know it we're there, the check-in procedure proving quick and effortless. No passports required, but do bring photo ID. Luggage allowance is one small item per person, unless staying overnight when you can take an additional bag up to 15kg. Recommended check-in time is an hour beforehand, which allows plenty of time to relax and kick back in the cafe. Proper cup of coffee, copy of The Cornishman and a hot cinnamon bun… day trip starts don't get much better than this.
Called to the briefing room to watch a safety video about our Twin Otter Islander, afterwards it's a short stroll across the tarmac to board the plane. Seating is cosy, but it means everyone can see out the windows and into the cockpit. Some passengers are right behind the pilot, an added bonus for any wannabe aviators. Being the first flight of the day, there are some additional safety checks while the engine warms up, but before long we're hurtling down the runway and have 'lift off'.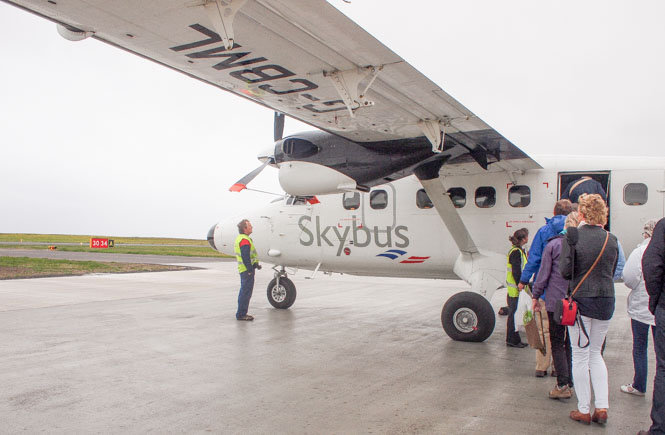 Breathtaking views of Sennen and Gwenver on the left hand side are worth the ticket price alone. Patchy cloud cover briefly obscures the coastline below, but clears in time to reveal Longships Lighthouse – an impressive 35m granite tower a mile offshore keeping ships safe from the treacherous rocks and currents. White foam flecks hypnotically undulate across the sea's surface. A trawler ploughs steadfastly through the waves. Fifteen minutes flies(!) by, the archipelago looming ahead on the horizon. The smoothest of landings sees us arrive in style, ready to go adventuring.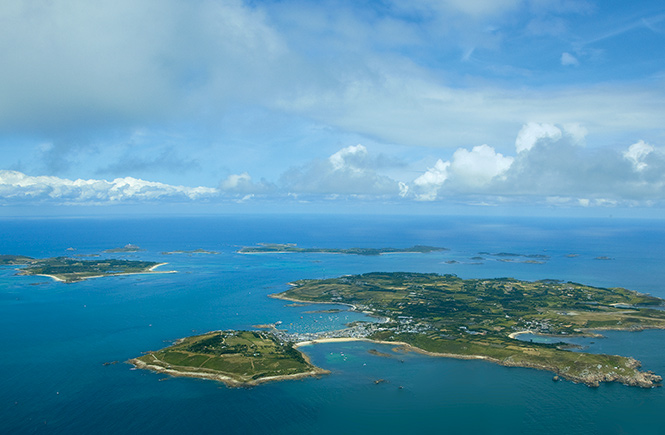 There's island transport on tap to take you anywhere on St Mary's, but I fancy stretching my legs and follow the coast path to Old Town, around Pendennis Head, to Porthcressa. A gorgeous walk – I'm in no rush, having instantly adapted to the Island ethos of enjoying life at a leisurely pace.
If its peace and tranquillity you're after, look no further. Time is immaterial, the day is what you make of it, and less is more. With Tom Hodgkinson's How To Be Idle in my bag, what better place to lazily curl up in the sun and read a few pages than the Scillies? And although the traditional 'welcome' to St Mary's is a pint in The Mermaid Inn, I indulge in a wickedly delicious Troytown Farm blackberry swirl ice cream, made on St Agnes, instead.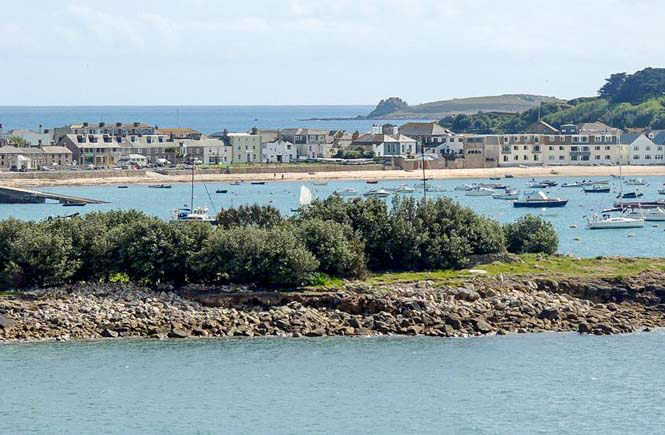 A bit of window shopping and browsing in downtown Hugh Town, and a hike up to the Garrison, feels almost too energetic, but I'm keen to see this historic fortress, not to mention more amazing views across the bay. The Imposing Star Castle hotel greets you at the top, while canons and other military remnants point to long gone assailants dating back to Elizabethan times. Pink thrift peeps out from grassy knolls, gulls wheel overhead, while the fresh sea air seems to have built up my appetite!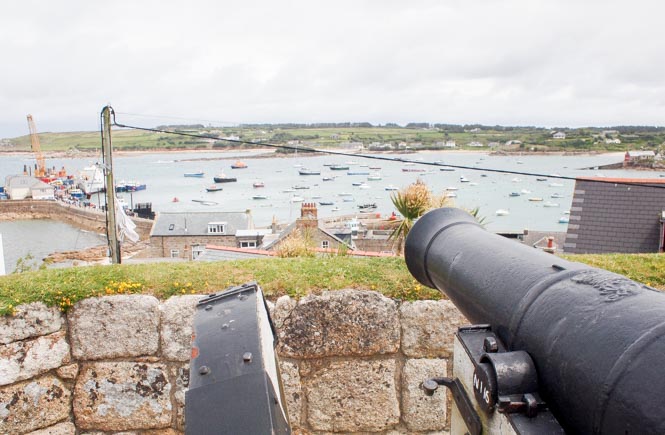 Late lunch in The Atlantic (Korev battered fish, hand cut chips and garden peas) and one final wander to Juliet's Garden with its wonderful succulents, for a Pimms on the terrace, then it's time to head back to the quay and hop on board the Scillonian. Not great on boats, I've already taken two Kwells as a precautionary measure, but I needn't have bothered, as the return sail is exceedingly calm. Up on deck to wave a fond farewell to the Scillies, and take one last look at the islands, I know I'll be back. No dolphins, but diving gannets accompany us out through the sound. Losing sight of land, I head indoors to stretch out on a reclining seat for a well-deserved snooze.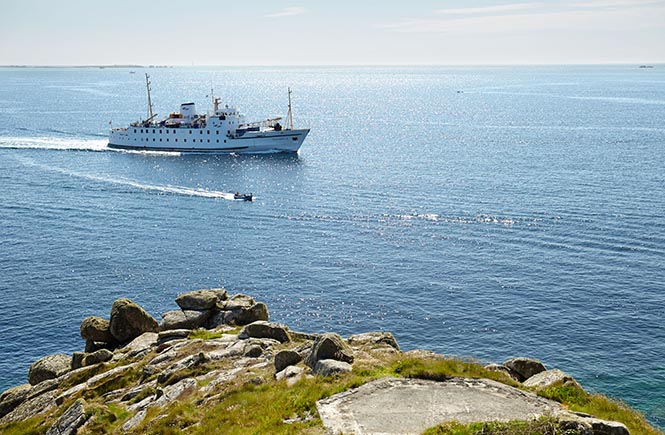 It's grey and misty when I wake, and I can just make out the cliff-side Minack Theatre through the gloom. It's only by being on the water that you get to see this stretch of coastline from such a fascinating perspective, and can appreciate all its crenulations and secret coves. Past Tater-du lighthouse, past Lamorna Cove, Mousehole and its smugglers cave, the fishing port of Newlyn, and the iconic art deco Jubilee Pool, then we're pulling into Penzance harbour.
Hard to believe it's only been twelve hours since I left, but what an extraordinarily eventful, yet surprisingly relaxing, day. Getting there and back is all part of the experience, a day in paradise a must on anyone's itinerary while holidaying in Cornwall. To book your slice of heaven visit www.islesofscilly-travel.co.uk
Family day trips start from just £79 return.
Stay near Penzance if you are getting the Scillonian ferry over, or are looking for a dual destination holiday.
Or stay near Land's End or Newquay if you are getting the Skybus.
Read more about The Isles of Scilly >
Tags: Isles of Scilly | Land's End | Newquay | Penzance | Sennen |