The Isles of Scilly are only 28 miles off the Cornish shore but they feel like another country. The entire archipelago is a designated Area of Outstanding Natural Beauty. There are 5 inhabited islands: St. Mary's (the largest); St. Agnes; Bryher; Tresco and St. Martin's. They are home to over 2,200 people. There are also countless uninhabited islands, they are home to wildlife.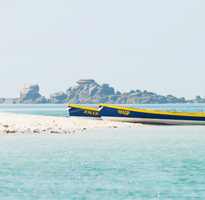 How to get to the Isles of Scilly
If you're staying in a holiday cottage near Land's End, you can fly to the islands from the nearby Land's End Airport at St. Just. For a different experience, you can make the journey across on the Scillonian III, which departs the Quay in Penzance; perfect if you're staying in a holiday cottage in Penzance or down the road in a holiday cottage in Marazion. The truth is you wont be too far away wherever you choose to stay. You need to check timetables with the Isles of Scilly Steamship Company or Land's End Airport.

Scillonian III
There is something special about sailing out to the Isles of Scilly, passing the rugged granite coastline of Cornwall and seeing Newlyn, Mousehole, The Minack Theatre, and Wolf Rock Lighthouse from the sea. The boat takes three hours so you get a true sense of 'travelling to somewhere different'. It can be a lumpy crossing and if you're at all worried about being seasick then take a pill.
Skybus
From Land's End Airport, Skybus takes 15 minutes. It gets you there faster but the sea journey itself can be part of the whole visitor experience of 'island'.
Some people fly out and catch the boat home. If you take the boat both ways on a day trip you only have 4 hours to spend on the islands.
Archaeological Background
Archaeological evidence suggests a human presence on the islands for the past 3000 years. Around about 3000BC the islands probably comprised three landmasses. The largest and most densely wooded would have been St. Mary's, St. Martin's, Tresco and Bryher. The second largest area covered St. Agnes and Gugh. The third area probably covered what we know today as the Western Rocks.
There are 'entrance graves' or 'chambered cairns' around the islands. There are two notable standing stones: the Old Man of Gugh (on Gugh, off St. Agnes); and a smaller menhir on Chapel Down, St. Martins. The Nag's Head is a natural rock formation, which is thought to be of great ritual significance, as it is surrounded by a stone circle. The Bryher cist, date about 200 BC, contained a decorated bronze mirror, one of the oldest mirrors in Britain, as well as other artefacts suggestive of the burial of an important person.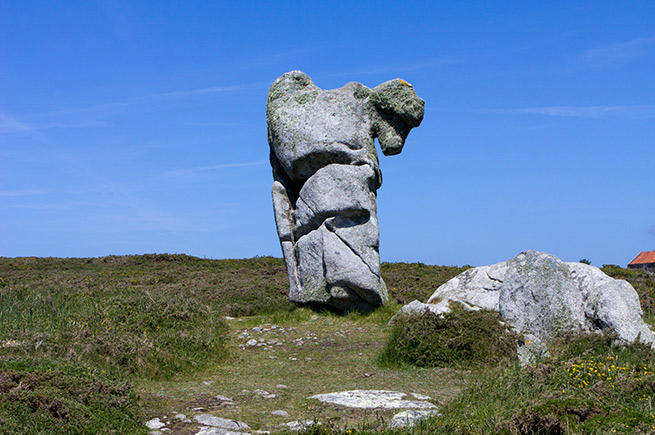 The Islands
The best way to enjoy the Isles of Scilly is to take one island at a time. If it is your first trip, and it's a day trip then enjoy St. Mary's.
St Mary's
St Mary's is the largest of the islands. It has air and sea links with the mainland, shops, pubs, restaurants, school and hospital. It has white sandy beaches, tranquil waters and lovely walks. In common with all the islands, St. Mary's feels very different from the mainland. Take your walking boots and sun-screen! Check out The Isles of Scilly official Visitor Guide website to plan your visit.
If you want to squeeze in a boat trip from St. Mary's; make it a morning one as the boats can over-run and you might miss your departure time!
Hugh Town is on an isthmus with beaches fore and aft. Old Town, once the chief village in St. Mary's, has the oldest church of the islands.
Things to enjoy on St Mary's
One of the first things you notice on the islands is the birds, they're very tame. It's a bird-watching paradise. There are more than 30 miles of coastal path and nature trails on St. Mary's. You can stroll over the cliffs. You can hire a bike and cycle the 9 miles worth of roads; or take a horse ride and get a real sense of 'times gone by'.
Places to visit
Visit the Garrison and view the off-islands while the kids play on the 'pirate ship'. If archaeology's your thing, you can go up to Bant's Carn Burial Chamber and Halangy Down bronze age village.
Water activities
You can snorkel at Porthcressa Beach; go to Porthlow and explore rock pools. If you had more time you could learn to sail at Porthmellon. You might just be able to squeeze in a sea safari to see seals, sea-birds and shipwrecks.
Gig Racing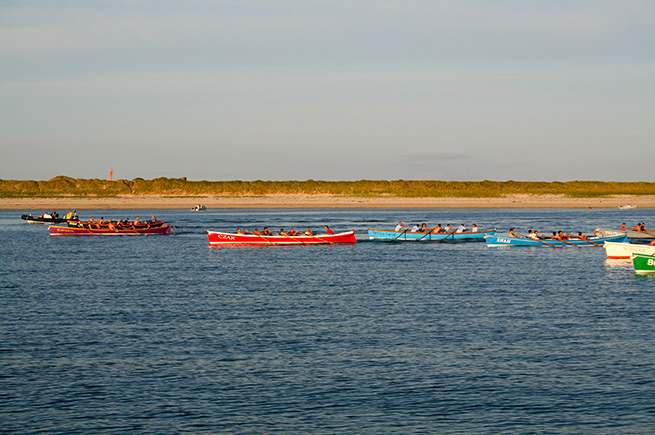 This is the main sport of the Isles of Scilly. Gigs are 32 foot long traditional wooden working boats. Some are over 100 years old. They have 6 single-oar rowing positions and a Cox. Islanders race against each other every other week during the season. Wednesday evening is the women's gigs/ Friday is the men's gigs. You can see the end of many of the races from St. Mary's Quay.
World Pilot Gig Championships 2014
The 25th World Pilot Gig Championship will take place on the Isles of Scilly from Friday May 2nd to Monday May 5th 2014.
Beach activities
Enjoy the white sands at Porthcressa; or the solitude of Pelistry Bay.
St. Mary's Museum
This is an independent museum with an eclectic mix of displays. In the summer months there is a display of wild flowers. There are also fascinating oral history videos.
For regular boat services from St. Mary's to other islands: St Mary's Boatmen's Association www.scillyboating.co.uk
Tresco
Tresco is the only island to be privately owned and is the home of Lucy and Robert Dorrien-Smith. It is most famous for the Abbey Gardens, established by Augustus Smith in the 1830s. This sub-tropical garden showcases 20,000 exotic species, many of which cannot be grown elsewhere in Britain.
Things to enjoy on Tresco
Hiring a bike and cycling round the island; having a pint of real ale at New Inn; visiting the bronze-age tomb on Tregerthen Hill; bird-watching at Great Pool; visiting Tresco Gallery; Visit the shipwreck museum; lie on the beach in Appletree Bay; share crumbs from your lunch with the Tresco birds. Climb up the cliffs and stare out towards the other islands
St. Martin's
St. Martin's is the island for beaches. It is also famous for its flower fields and vineyard on the southern side of the island.
Things to enjoy on St. Martin's
The beach; snorkelling and diving with seals; cruising around the little islands of Ganilly, Menawethan and Nornour; going fishing; swimming in Par Bay; Lawrence's Bay is a family favourite with rock pools; buying flowers at Churchtown Farm; having a cream tea at Polreath Tea Room or a drink at Sevenstones Inn (re-opening in 2014!)
St. Agnes

At the far south-westerly edge of the Isles of Scilly, St. Agnes is rather special. Only about a mile across and connected with its closest neighbour Gugh by a causeway at low tide. It is recognisable by the lighthouse which stands at the island's highest point. St. Agnes is special because it just feels a little bit apart from anywhere, it has a strong sense of past.
Things to enjoy on St. Agnes
Just being there. Walk about and take it all in; visit Beady Pool, Wingletang Bay; buy ice-cream from Troy Town Farm: visit the stone maze, the old man of Gugh, and the prehistoric dwellings at Kittern Hill. As with all the islands, enjoy the birds and butterflies. St. Agnes has a pub and café too.
Bryher
Bryher is the smallest of the inhabited islands. Close to Tresco, it is easy to take a boat trip away from the sub-tropical feel of Tresco to the wilder rugged Bryher. Like St. Agnes, there is something about Bryher which seems timeless and independent. The wind can be harsh on the moorland. From Hell Bay you can see storms sweeping in. From Bryher too, you can also see the hummock of Samson, a neighbouring island, inhabited until the late 1800s.
Things to enjoy on Bryher
As with all the islands, Bryher is a great place for bird-watching, discovering wild flowers, going for a picnic, hiking, kayaking and rock pool gazing. Look out for Anneka's Quay. Back in Series Two of the TV show 'Anneka's Challenge', Anneka Rice came to Bryher to help to build a low water quay. The challenge was completed a day late due to bad weather.
The Uninhabited Islands
The Eastern Isles
Uninhabited, these isles are a haven for wildlife and seabirds. There are boat trips that can take you out to see some of these islands. St. Mary's Boatman's Association has details of boats.
The Western Rocks
Regarded by many as a permanent memorial to the many seamen lost on Bishop Rock; a 50 metre rock column which is totally covered at spring high tides and on which stands the UK's most south-westerly lighthouse: The Bishop's Rock Lighthouse.
Lyonesse
It is thought that the whole archipelago may once have been connected to the mainland. The ancient land of Lyonesse has become synonymous with Arthurian legend. However, Tennyson borrowed from Malory, and Malory from the romance of Tristan. The tradition of Lyonesse is believed to be much older.
Read more about taking a Day Trip to the Scillies >
View all our Cottages in Cornwall >
Tags: Isles of Scilly