Whether you're visiting in the summer when paddling and ice creams are a must, or in the depths of winter when windy walks and cosy pubs call your name, Mevagissey's beaches are a haven for all whatever the weather or time of year.
Within minutes of the pretty harbourside village, you can find yourself stretched out on a sandy beach without a care in the world… and with lots of the beaches only accessible by footpath, you don't even have to feel guilty for lounging in the sun all day because you've already got your steps in! Here are just some of the beaches you can enjoy in and around Mevagissey during your coastal Cornish stay.
Polstreath beach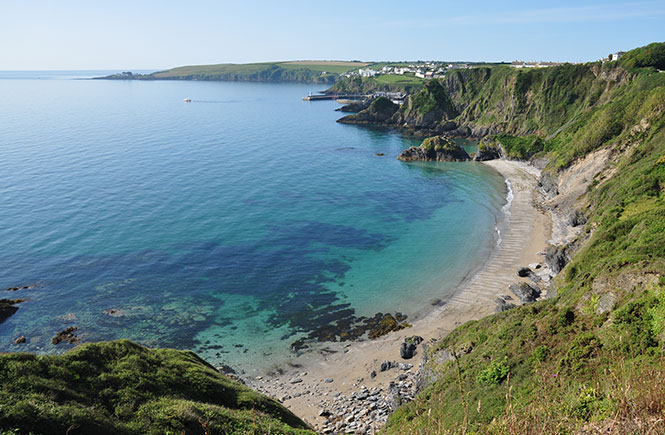 Lifeguards: No
Dog-friendly: All year round
Facilities: No
Accessibility: Coastal walk and a steep climb down to the beach
Looking for a beach to call home while staying in Mevagissey? Just a short walk from the harbour, Polstreath is a sheltered haven just waiting for sunny days by the sparkling sea. There's a steep climb down to the beach, but all those who make the descent will be rewarded by a peaceful shore and waters primed for a swim. Pack up a picnic filled with goodies from The Sandwich Hut and head off for a blissful day amidst, sun, sea, and shingle!
Combine your beach trip with one of the many things to do in and around Mevagissey and a meal at one of Cornwall's top seafood restaurants for the ultimate day-out experience.
Portmellon beach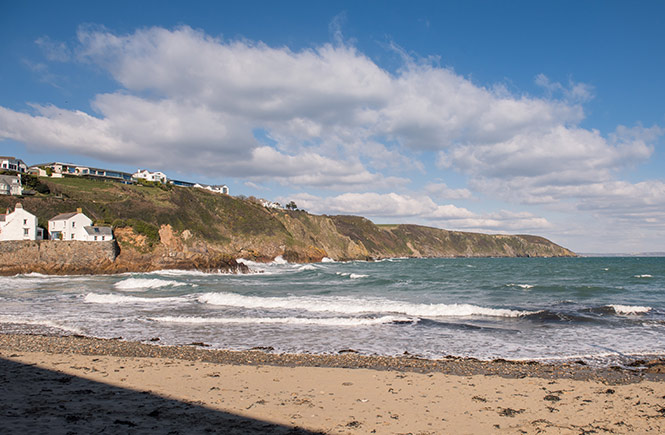 Lifeguards: No
Dog-friendly: Seasonal restrictions July and August, 10am – 6pm
Facilities: The Rising Sun Inn overlooks the beach
Accessibility: The beach is right next to the road with a slipway
On the other side of Mevagissey, you'll find the lapping waters of Portmellon, which, at high tide, almost reach the cars passing along the road. At low tide, however, you can enjoy this surprisingly expansive stretch of sand as you build sandcastles and test your hand-eye coordination in a game of boule. The sea here is reasonably safe for swimming, although care should always be taken anywhere without lifeguards on duty.
After a day spent splashing in the waves and lolling around on the sand, take the few short steps to The Rising Sun Inn where you (and the dog) can sit back and relax, soaking up the last rays of the day.
Pentewan beach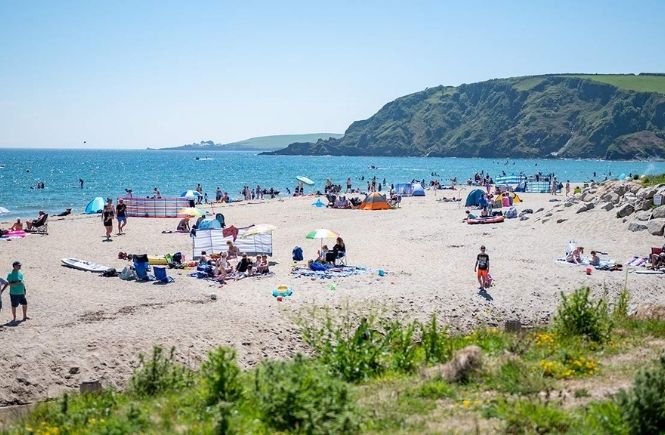 Lifeguards: No
Dog-friendly: Seasonal restrictions March to November
Facilities: Toilets and refreshments at the holiday park behind the beach
Accessibility: Easy, level access to the beach from the car park
If you're looking for a beach that perfectly represents the South coast of Cornwall, then Pentewan is the one. With a great sweep of white sand, serene waters and a backdrop of rolling hills, it can be hard to decide if this Mevagissey beach is real or a desktop screen saver – although the salt in our hair and sand in our shoes point to real. Whether you fancy some swimming, sunbathing or you want to test your mettle with some water sports (you can hire canoes and sailing dinghies from the holiday park), there's something for everyone at this mecca of sand and shore.
Gorran Haven beach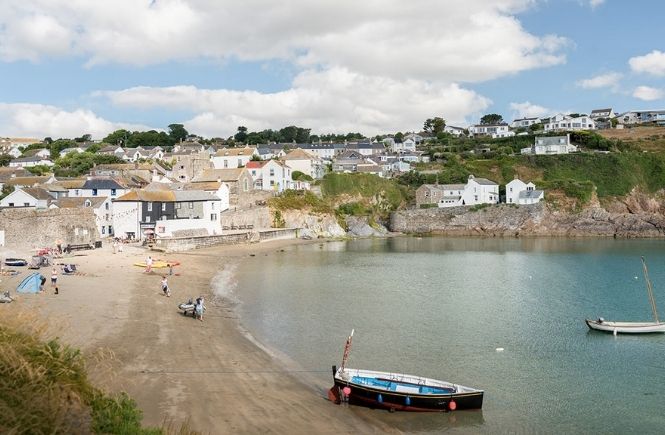 Lifeguards: No
Dog-friendly: All year round
Facilities: Public toilets and shops in the village
Accessibility: Gentle slope down to the beach from the car park
This beach is the perfect starting point for one of Cornwall's popular circular walks as you can begin and end it with a glorious dip in the ocean – what could be better after a good stomp! With the 400ft-high Dodman point offering shelter from westerly winds, this patch of paradise is fairly sheltered, making it a lovely spot for a soak on a summer's day (although do keep a weather eye out for passing boats as it is still a working harbour). Welcoming pups all year round, this is one of the most popular dog-friendly beaches near Mevagissey, especially when you pair it with a meal out at the totally dog-friendly Barley Sheaf.
Vault beach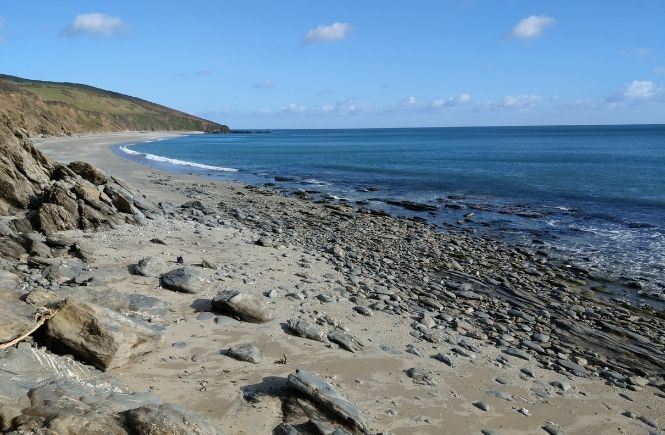 Lifeguards: No
Dog-friendly: All year round
Facilities: No
Accessibility: 20-minute coastal walk from Gorran Haven
On the other side of Dodman point, you'll find a peaceful semi-circle of sand called Vault beach, also known as Bow beach, where you can stretch out and really get back to nature (especially if you visit in the summer when the far end of the beach becomes a nudist beach). It might be a bit of a walk from Gorran Haven (around 20 minutes), but this quiet cove is one of the many hidden beaches near Mevagissey that's worth the extra effort. Calm waters and blue skies add up to an idyllic beach day full of relaxing swims and fresh air.
Little Perhaver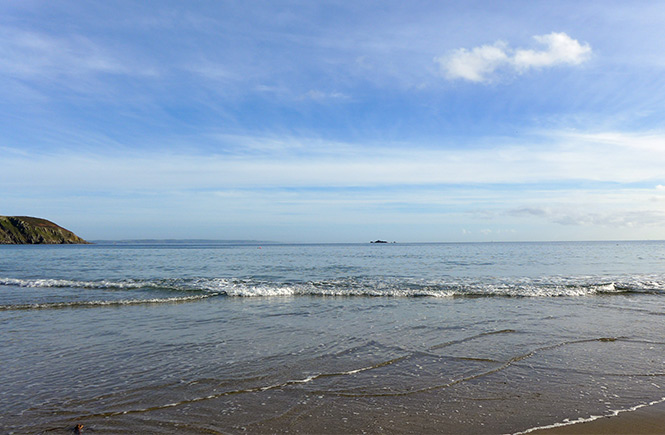 Lifeguards: No
Dog-friendly: All year round
Facilities: Public toilets and shops in the Gorran Haven
Accessibility: Short walk from Gorran Haven or you can walk around from Gorran Haven beach at low tide
This little slice of Cornish heaven is a true hidden gem and testament to the best things coming in small packages! It might not be the biggest beach on this list, but it sure packs a punch when it comes to big and beautiful views. Just around the corner from Gorran Haven (you can even walk around on the beach at low tide), you'll be completely transported by the crystal waters, green-topped cliffs and far-reaching sea views. And if you fancy a change of scenery, on very low tides you can walk around the headland even further to Great Perhaver beach (although be mindful of the returning tide if you do).
Hemmick beach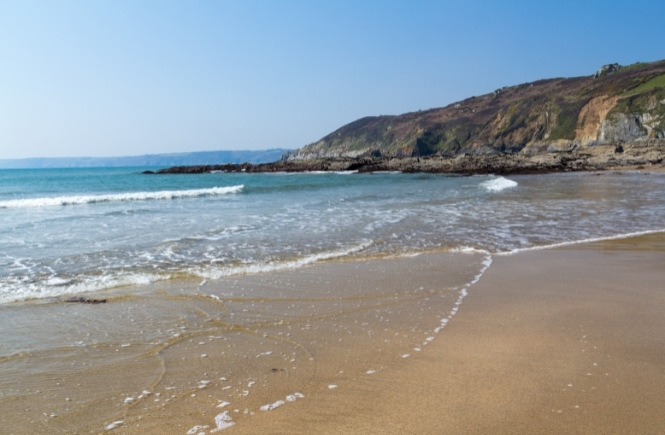 Lifeguards: No
Dog-friendly: All year round
Facilities: No
Accessibility: 15-minute walk down the coast path and cliffs
Nestled happily on the Roseland peninsula, this sandy little beach is definitely one of the hidden gems of the South West Coast Path. Thanks to the short walk that puts most people off, you'll rarely find crowds on this beach, which means more space, less noise, and the perfect spot for an afternoon nap in the sand. Pack up a picnic (there are no cafés here) and swap the background noise of everyday life for the sounds of the ocean.
Porthluney Cove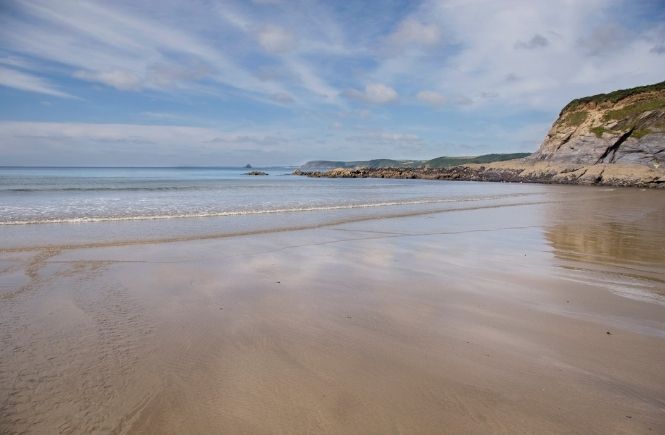 Lifeguards: No
Dog-friendly: All year round (although dogs are to be kept on leads between June and September)
Facilities: Toilets and small shop
Accessibility: Easy access from the nearby car park
When you combine castles with the coast, magic happens! At least it does at Porthluney Cove (also known as Caerhays beach), which lies at the bottom of the beautiful Caerhays Castle and grounds. Plenty of sandy space allows for all manner of beachside activities, whether your interests lie in ball games or recreating the nearby castle with sand. Nip up the south-facing beach to the seasonal café for an ice cream (a beachy must) and let your worries melt away like ice cream on a summer's day. A visit to Caerhays Castle is well worth it as well, with its beautiful gardens and delicious Magnolia Tea Rooms.
Portholland beach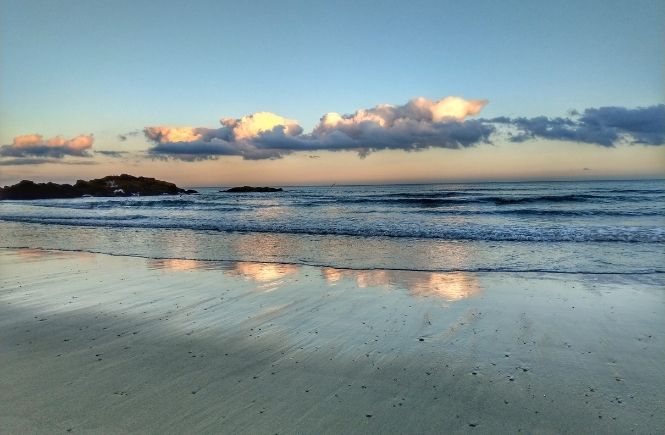 Lifeguards: No
Dog-friendly: All year round
Facilities: Public toilets and café
Accessibility: Concrete slope at the East Portholland end of the beach
You get two for the price of one with this one as Portholland is technically two beaches, East and West Portholland. While high tide splits them up, the two beaches join to make one fantastically grand stretch of sand at low tide, giving you complete access to all the joys of a Portholland beach day. When the tide is in and you have to choose, East Portholland has good disabled access thanks to a concrete slope as well as a café and toilets. While West Portholland doesn't have anything by means of facilities, it does enjoy rockpools for exploring and easy level access from the path.
Porthpean beach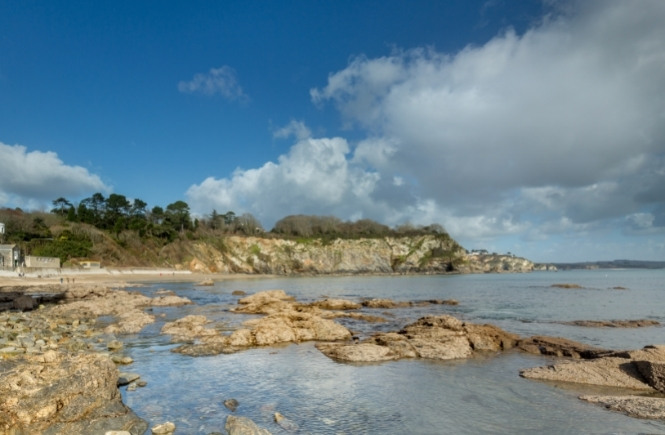 Lifeguards: No
Dog-friendly: Seasonal restrictions July and August, 10am – 6pm
Facilities: Public toilets and snack bar
Accessibility: Sloping slipway down to the beach
One of the most popular beaches in the area, Porthpean is home to sand and sea that wouldn't look out of place in Greece – and we get to enjoy it right here in Cornwall! The turquoise waters are ideal for watersports, especially kayaking and SUP boarding thanks to the relatively calm nature of the sea here. Snorkelling is great too, with crystal clear waters unlocking a whole new world to explore.
Excited to make the most of South Cornwall's stunning beaches? Explore our beautiful cottages in Mevagissey now and start planning your holiday by the sea.
Tags: Beaches | Mevagissey |