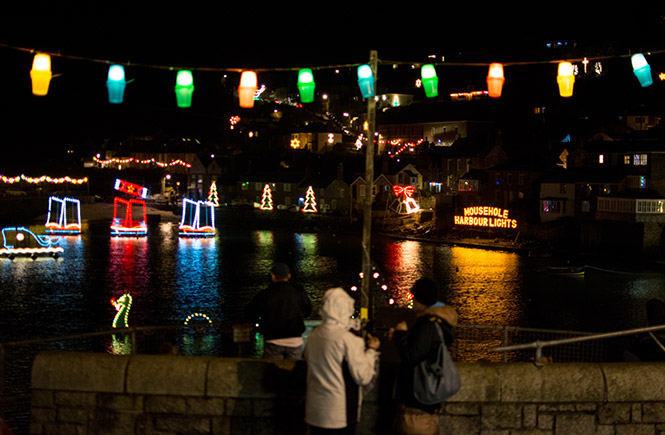 As part of the fundraising push for Mousehole Harbour Christmas Lights 2021, Aspects Holidays have donated £1000 to help illuminate the display this year.
If you're from the west Cornwall area, or know it well, you'll be aware of the famous Mousehole Harbour Lights display. As December approaches, locals and visitors alike flock to Mousehole to take in the wonderful sights of the twinkling Christmas lights. Colourful lanterns adorn the quaint streets, illuminated Christmas trees line the harbour wall and fun character lights bob in the harbour water. As visitors meander through the harbour village, volunteers shake buckets in the hope of receiving donations to keep the lights running each year.
However, little do most people realise the costs of running this wonderful display (around £16,000 per year!), and with much of the past two years spent in lockdown or under restrictions, fundraising has proven challenging. With this in mind, we have donated £1000 and a free holiday towards the cause. The holiday to Corner House Loft in Mevagissey is one of two prizes in a fantastic raffle to raise additional funds for the lights display.
Here's what our Commercial Director Mandy Spencer has to say: "As part of our ongoing commitment to the local community we are delighted to be in a position to help make Mousehole Christmas Lights happen in 2021, it's such an iconic part of the village during the festive season and is a must see, enjoyed by locals and visitors alike."
Peter Taylor, Chairman of the Mousehole Harbour Lights commented "the last two years have been particularly challenging for us, due to Covid. We have tried to keep the tradition of the Lights alive whilst ensuring the village is safe. The complete cancellation of the Lights last year resulted in the loss of most of our annual income, and so we are extremely grateful to local businesses and in particular Aspects Holidays, for their generous contributions to our funds, thus ensuring there will be lights in 2021. Thank you!"
We hope that our donation means the lights can keep shining this year, bringing festive cheer to those who visit the display.
If you can't be there in person to witness the lights display, keep an eye on our Mousehole webcam!
Thinking of visiting Mousehole? Take a look at our holiday cottages in Mousehole >