Sennen Cove should be a priority on anyone's list of places to visit, and it attracts plenty of surfers and walkers throughout the year. In summer the beach is a fabulous place for those less active to relax – but no matter what level of activity you choose, you will always need lunch!
The Apple Tree Café, Trevescan
This café is situated about half a mile out of Sennen in a small village called Trevescan. It provides delicious lunches in a family-friendly atmosphere with everyone welcomed and offered refreshment – including dogs! Special diets such as gluten-free are catered for, and the menu is mainly wholefood and vegetarian, although meat dishes are available too. All lunch dishes come with salad and home-made coleslaw, and ingredients are locally grown and fresh. In winter, if you are lucky, you will get a seat on one of the comfy sofas next to the wood burner, but there are plenty of tables and chairs to accommodate those looking for lunch.
The Old Success Inn, Sennen Cove
Situated right in the centre of Sennen Cove, the Old Success has, according to locals, improved of late, with the carvery lunch in particular recommended to us. There is a wide range of other tempting dishes on the main menu, and the dining room itself is cosy and inviting while giving the impression that this is not just pub grub, but a serious option for good food. Cosy in the winter, there is also a large roof terrace for lunching in the sun after a morning spent fighting the waves or stomping along the coast path. An iconic pub – give it a try.
The First and Last Inn, Sennen
Another landmark right in Sennen itself– a whitewashed 17th Century pub said to have been the haunt of smugglers and shipwreckers who confused ships with lanterns on the cliff tops that drew them on to the rocks so that they could steal any valuable cargo. The lunch menu is good value and consists of sandwiches, garlic breads and the obvious pub grub favourites such as fish and chips. This is a busy place that is proud to call itself a pub, providing a good lunch in a historic setting.
Little Bo Café, Sennen Cove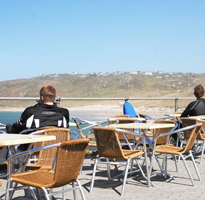 A cute little café with mismatched tableware and a relaxed shabby chic feel, amazing views from the outside eating area and cakes that are to die for. Homemade lunch dishes eaten overlooking the cove – what could be better than that? They will even provide you with a hot water bottle and blanket so you can eat your massive portion of cake outside and not feel chilly. Perfect! Little Bo Café is featured in our blog: The best beach-cafes in West Cornwall.
Ben Tunnicliffe's, Sennen Cove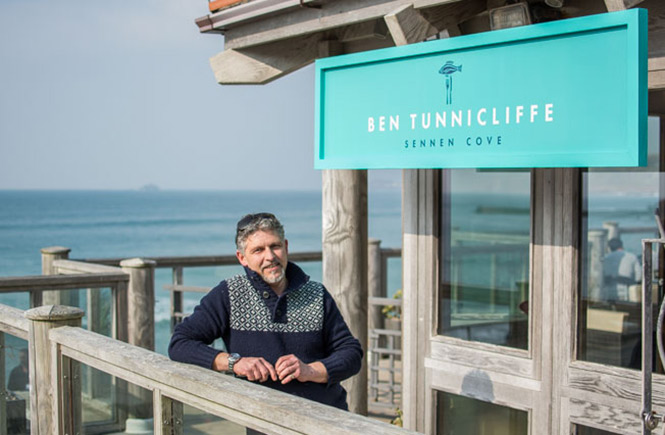 For lunch on a special occasion try Ben Tunnicliffe's. A breath-taking location right on the shoreline will ensure your views are uninterrupted as you sample the delicious food on offer; the menu here changes daily according to the catch of the day, ensuring you get the freshest fish available. The prices are higher here than elsewhere in Sennen, but if you are planning a special lunch in an awesome venue – this could be the place for you.
View all our cottages in Sennen >
If you fancy trying some of the best fish and chips around, Sennen's 190 Degrees West is well worth a visit. You can find out more on our blog post: The best fish and chips shops in West Cornwall >
Tags: Eating out | Sennen |