As you might expect from a region full of seaside villages and holiday makers, there are plenty of amazing fish and chip shops to choose from when you stay in West Cornwall. Whether you want a sit down meal in a lovely environment or a quick takeaway to satisfy hunger pains, you won't be disappointed.
Sanders Fish and Chips, Hayle
Billed as 'posh' fish and chips, this restaurant certainly delivers the goods. It is situated at the Foundry end of Hayle (the end nearest St Ives) by the viaduct and offers plenty of seating or a takeaway service. There is a lot of delicious food to choose from on the menu, with the option of steamed fish and half-chips-half-salad if you are trying to be good. Sanders has a great reputation, and people drive for miles to buy their fish and chips here – join them and make it one of your favourites.
Chandler's Plaice, Hayle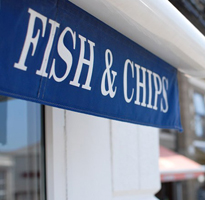 On the main road in Hayle – this fish and chip takeaway has just changed hands but is already being spoken about as a place to grab great fish and chips. Not too heavy, well cooked and delicious, this is a simple fish and chip shop with no frills but well worth a visit to grab a quick meal for the family.
View all our cottages in Hayle >
Beck's, St Ives
Situated on the main St Ives road in Carbis Bay, John Beck's is famed in St Ives for high quality fish and chips and generous portions. They have also fully embraced the sustainable fishing campaign by introducing different varieties of fish such as megrim sole, mackerel and pollock. There is a spacious restaurant for eating in, and a large car park, making it easy to pull in and pick up a takeaway. A traditional fish and chip restaurant that many people staying in St Ives just have to visit to make their holiday.
Harbour Fish and Chips, St Ives
This is a contemporary restaurant situated right on the Wharf in St Ives by the RNLI lifeboat house. As well as traditional fish and chips, the menu includes shellfish and healthier choices to eat in or takeaway. All chips are served with a deep fried parsnip garnish and the mushy peas are delicately flavoured with mint. The harbour views also add to the experience of eating here – make time to stop and enjoy watching life go by, as well as devouring the delicious food.
View all our cottages in St Ives >
190 Degrees West, Sennen
Situated in Sennen Cove, this fish and chip shop has great reviews and is perfectly placed to refill the energy banks after a day surfing. They use locally caught fish and offer mackerel as a more sustainable fish choice, and also have a range of burgers and fritters. There is a small informal seating area if you are too hungry to wait to get your choice of meal home!
View all our cottages in Sennen >
The Pirates' Rest, Penzance
Situated in Daniel Place just off the Promenade heading from Jubilee Pool towards Newlyn, this is a traditional family-run fish and chip shop takeaway and restaurant. The Pirates' Rest boasts that they only cook fish that has been proven to be sustainable, and that they personally check the quality of the potatoes used for chips to ensure the customer is getting the perfect product. So many people recommend this fish and chip shop they must be right!
View all our cottages in Penzance >
Lewis's Fish and Chips, Newlyn
This large and airy takeaway is right next to the famous fish market in Newlyn, and this position makes for an interesting 'catch of the day' option, as the shop's fish is sourced directly from the fishermen opposite. Delicious food served in large portions  – Lewis's food appears on many blogs as the best fish and chips around.
View all our cottages in Newlyn >
Where to find them:
Tags: Eating out | Hayle | Newlyn | Penzance | Sennen | St Ives |