When it comes to the Cornish social calendar, no other event comes close to the spectacle of the Royal Cornwall Show, which is one of the largest agricultural events in the UK and a great day out in North Cornwall.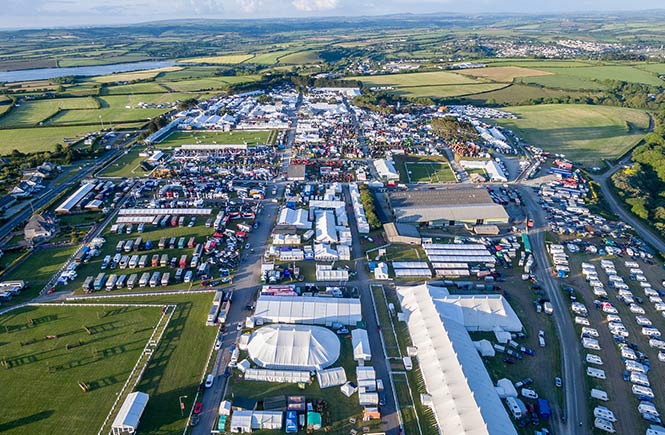 Attracting over 130,000 people over the space of three days, this jam-packed (literally and metaphorically) celebration of agriculture manages to cater to every interest whether you're planning a wedding, want to see what's new in the farming world, or simply want to chow down on some incredible food while watching someone fly through the air on a motorbike. It might only be once a year, but it's definitely up there as one of the best things to do in Wadebridge!
So, whether you're looking to browse some interesting stalls or coo over everything from lambs to llamas, here's everything you need to know about the Royal Cornwall Show.
Animals and birds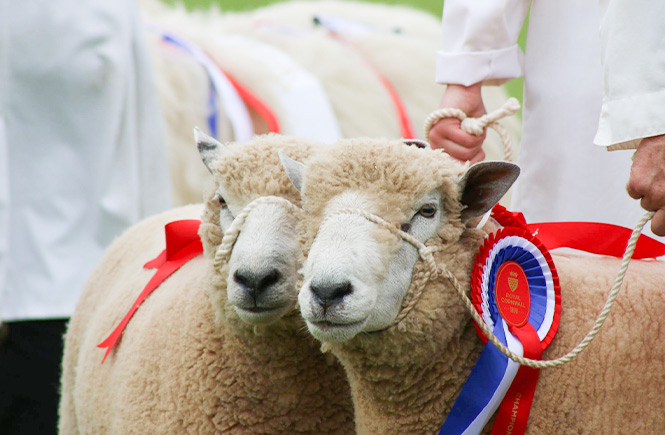 If you're hoping to see some prize-winning cows or some chickens that definitely rule the roost, then there's no better place to be than the Royal Cornwall Show. Tents upon tents fill up with furry and feathery entrants, all hoping to come away with an esteemed prize. From cattle to caged birds, rabbits to rare breeds, there's a creature big and small to interest everyone wandering around the tents.
Forget Crufts, the dog tent at Royal Cornwall Show is the place to be. With over a thousand wagging tails and furry faces, you'll be hard-pressed to decide who's the goodest boy – we really don't know how the judges do it!
Horses have been a major part of the Royal Cornwall Show since its second year in 1794. Walk amongst the horse lines before the valiant steeds head to the main ring for some impressive show jumping and the inter-hunt relay. You'll also be wowed by the incredible Iberian show and the absurdly adorable Shetland Pony Grand National.
Of course, it wouldn't be the Royal Cornwall Show without some very impressive livestock. Take a stroll along the cattle lines as you try and guess which entrants will be presented with a rosette, before heading outside to watch the grand parade and judging take place to see if you were right.
Over in the forestry area, you can meet a variety of birds of prey as you learn about the important role they play and how we can help them thrive, while the caged bird tent houses countless feathery entrants from parrots to canaries to blackbirds.
If you want to begin your own zoological journey, the bee-keeping marquee is a sweet spot to head to. You'll find a hive of trade stands selling all the apiculture basics you'll need to become a busy bee. You can also check out the many competitive classes for honey alongside lots of creative honey and beeswax products – not to mention the live hive that's always a-buzz with excitement.
Entertainment
With a host of live performances, demonstrations, and fairs, you'll need to get there early to take it all in.
Main ring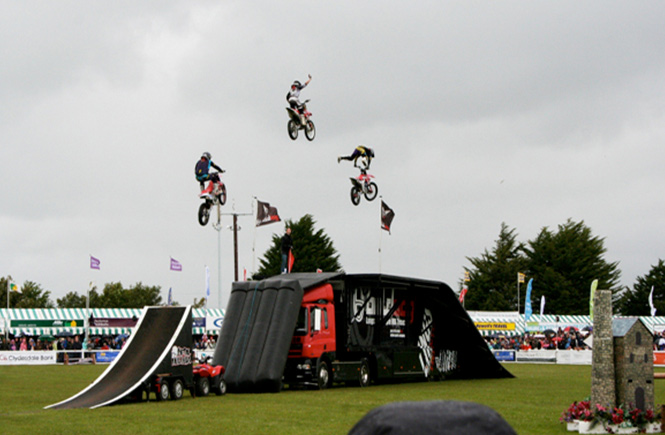 In the main ring, you can expect to have your jaw dropped by an enormous array of entertainment from motocross stunts to the ever-impressive entrance of the RAF Falcons, whose bold descent puts all other entrances to the showground to shame. Grab an ice cream from one of the nearby stalls and claim your seat on the stands as you watch the magic unfold before your eyes.
Live performances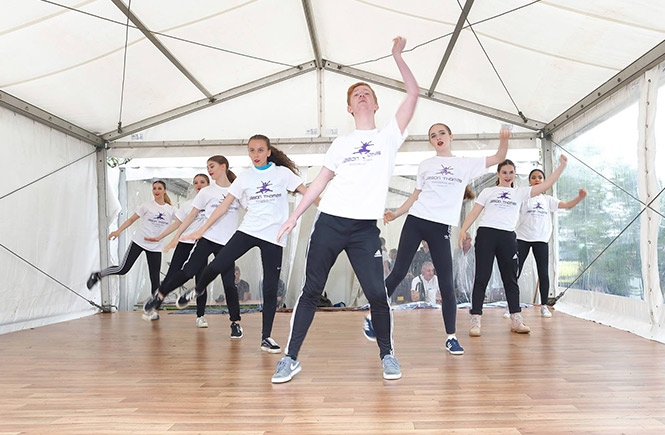 With two stages to choose from, there are always plenty of opportunities to catch some foot-stomping Cornish music from the revelling tunes of JollyRoger to the Irish sounds of Black Velvet.
Both the Kelly's of Bodmin stage and the East Gate stage enjoy a range of performances over the weekend including the likes of Steel Appeal, who bring the sounds of the Caribbean to Cornwall, and the Boscastle Buoys, who pump out sea shanties like an engine pumps steam.
Providing the movements to the music, around 300 performers will be putting their best foot forward as they take part in the Cornwall Festival of Dance, where you'll see everything from Salsa to Cornish dancing.
Keep your eyes peeled as you mosey around the showground as there are certainly some surprises in store from the street performers. Titch the T-Rex will be making another appearance, while roaming musicians fill the bustling air with tunes.
On the other end of the performance spectrum lies the realm of incredible demonstrations, of which Royal Cornwall show has many. For those who love to see hard work pay off, a trip to the forestry area is a must as you'll be able to watch as skilled craftspeople transform tree trunks into incredible, lifelike sculptures. For fishing fans, a walk down to the lake will reward you with demonstrations of fly fishing as well as talks on the importance of conservation. The Royal Cornwall Show is also home to one of the heats of The National Blacksmiths Competition, giving awed onlookers the chance to see a historic and rare trade in action.
Flower show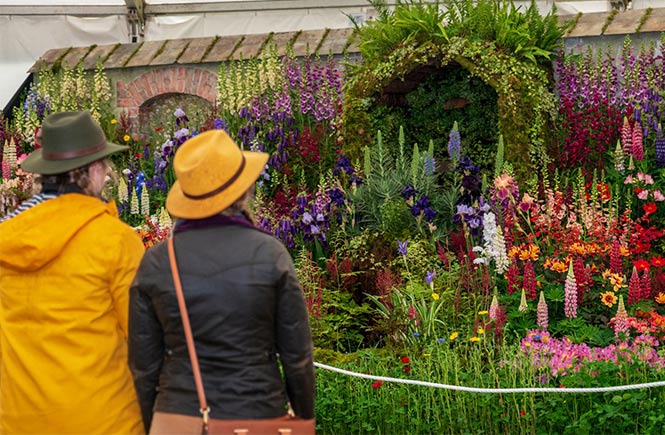 Step aside Chelsea, Cornwall's got its own floral celebration! Every year, the Flower Show gets bigger, better, and brighter as more and more horticulturists come together to show off their displays.
It's not just colourful and creative displays on offer in this sweet-smelling tent though. Numerous demonstrations and talks will provide you with the knowledge to turn your own garden into a cacophony of floral sights and scents, while the stalls provide all the horticultural essentials to see your transformation bloom.
Fairs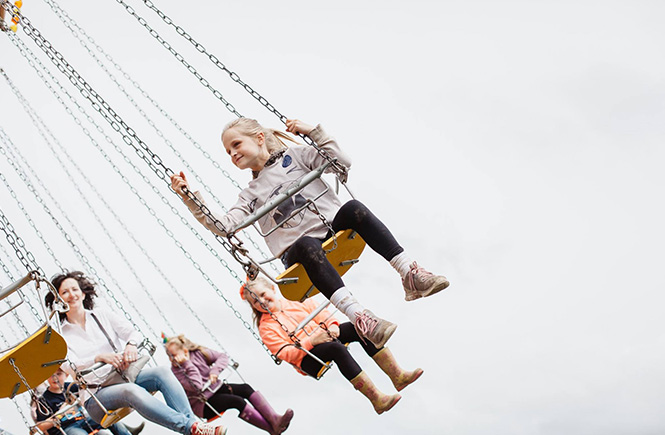 From the gentle chug-chug of the engines to the crowd-pleasing aesthetics of a vintage tractor, step back in time when you visit the ever-popular steam fair. Rare pieces of historic machinery will steal your gaze while the kids will love boarding some of the steam-powered rides before walking through the years of technological advancement.
Moving further down the technological timeline, the motor fair is sure to get your motor going with its impressive catalogue of all things vehicular. Browse the rows of shiny cars that are all the shinier for special show discounts and check out the commercial vehicles that will have you contemplating a complete business overhaul.
And of course, what kind of show would it be without a fun fair to keep the kids (and adults) raucously entertained. Marching to the beat of a Victorian fairground, this 21st century revamp has everything your thrill-seeking self could want, from the ups and downs of the carousel to the heights of the chair-o-planes! Throw in some candyfloss and you're all set!
Trade stands
With thousands of trade stands filling the show over the three days, there are plenty of chances to come away with a memorable souvenir.
West Country Arts, Crafts and Design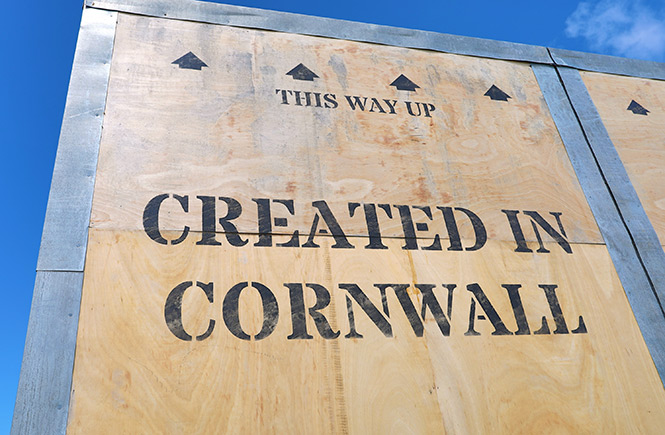 Here in the South West, we're lucky to enjoy an astounding variety of creatives who dedicate their time to producing innovative and beautiful individual pieces. At the Royal Cornwall Show, around 80 crafters and creatives come to display their wares and talk to interested visitors about their incredible processes. You'll be able to pick up everything from jewellery to paintings to ceramics.
Wadebridge street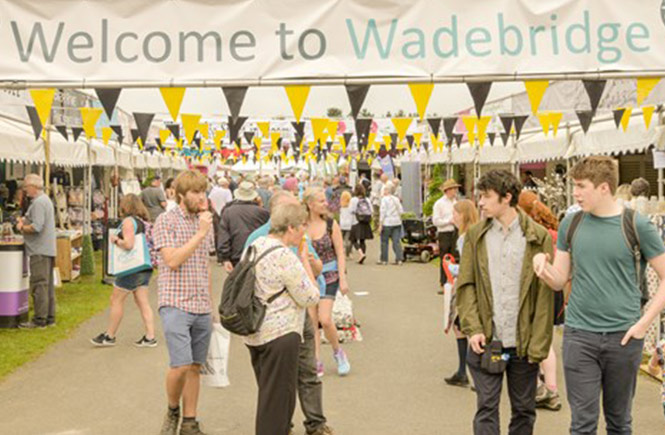 Recreating the vibrant hubbub of Wadebridge town centre slap bang in the middle of the Royal Cornwall Show, Wadebridge Street allows you to browse your way through the many fantastic shops and services of this busy Cornish town. Some 20 traders from textiles to treats perfectly demonstrate the joy an old market brings, while demonstrating the importance of shopping locally. Have a wonder, a chat, and a great Cornish time.
Wedding Marquee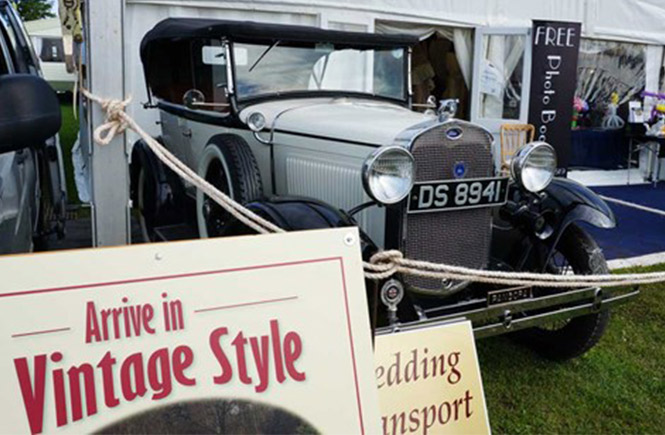 Planning a wedding? Whether you're after 'the' dress or you're on the hunt for a wedding gift that wows, a trip to the wedding marquee is a must. From the ring you slide onto their finger to the car you drive away in, to the honeymoon you planned here, the wedding marquee has been helping happy couples plan their perfect day for over 20 years.
Food and drink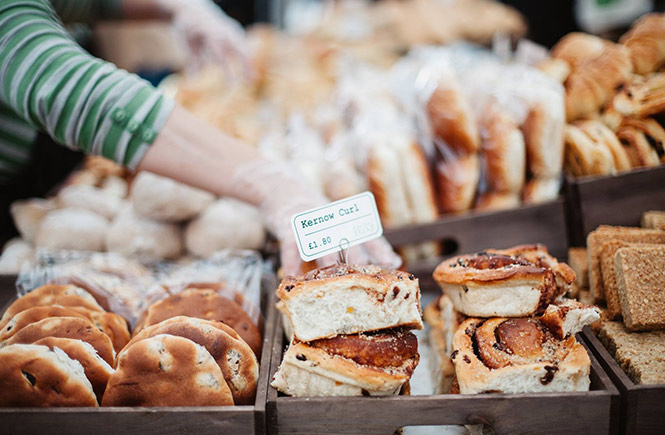 Cornwall is quickly becoming an epicentre for foodie events and festivals, which is why it's of little surprise that the Royal Cornwall Show is full of mouth-watering goodies from the South West.
Feeling hungry? Just sidle on over to the hunger-banishing Royal Cornwall Food & Farming Pavilion, which is full of only the best Cornish food and drink from pasties to cream teas to local chocolate. Pick up a little something special for lunch or find yourself a Cornish treat to take home with you from a wide variety of local businesses that range from new starters to old favourites. You'll even find an array of locally grown and produced fruit and veg so you can hit your Cornish five-a-day in style!
Don't worry if you're on the other end of the showground when hunger strikes though. There are lots of mouth-watering stands and stalls offering lots of tasty morsels throughout the grounds, offering all your show favourites including ice cream, hot dogs, and a good old carvery. Whetting your whistle has never been easier either, thanks to the many local beers and ciders on offer around the show.
Good to know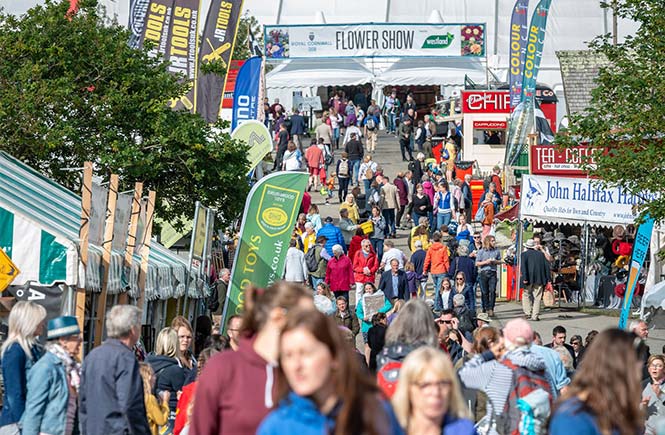 Regardless of which direction you're arriving, the Royal Cornwall Show is always well signposted, with staff on hand around the entrances and car parks for any questions you might have. Once in the showground, there are attendants dotted around if you lose your way, or you can pick up a map to help navigate the expansive showground. If you're planning on spending the day, we definitely recommend packing a bag with something for every eventuality including sun cream, water, a hat, and we're afraid to say, a coat (just in case). There are toilets (and even showers) dotted all around the showground as well.
Dogs are welcome at the Royal Cornwall Show, but it's worth noting that due to the volume of people attending, crowds are common and some of the demonstrations can be very loud and startling.
So, that's everything you need to know about the calendar-topping Royal Cornwall Show! Make the most of your action-packed visit with a stay in one of our lovely cottages in Wadebridge, a perfect base to explore the beautiful north coast of Cornwall and the Royal Cornwall Show.
Tags: Family | Wadebridge |