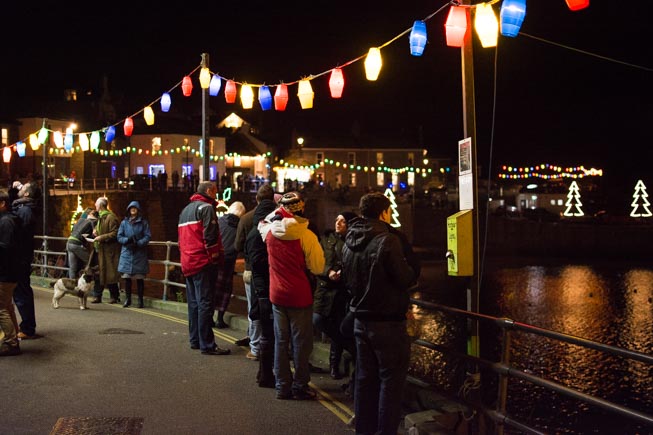 The pretty fishing village of Mousehole is world famous for its harbour lights; a Christmas tradition which started in 1963. These days an estimated 30,000 people flock to see them, both visitors and locals alike as there's something quite magical about the festive themed images reflecting in the water, and perched high upon the hill.
A much older tradition, first written about in 1927, is Tom Bawcock's Eve. Held on December 23rd, it commemorates one man's heroic efforts to save the villagers from starvation. The story goes that Tom braved a winter storm after bad weather had kept the fishing fleet in for weeks. Not wanting the children to go hungry at Christmas he risked the wild seas, determined not to come back without a catch. After realising his boat was missing, everyone lit candles and lanterns in their windows to guide him home to safety, and when he triumphantly returned with a haul of seven different types of fish, a Stargazy Pie was baked in celebration.
Part re-enactment, part living heritage, it's one of the highlights of the Cornish festive season, counteracting the commercialism of Christmas, and a timely reminder that altruism and generosity of spirit is the best gift of all.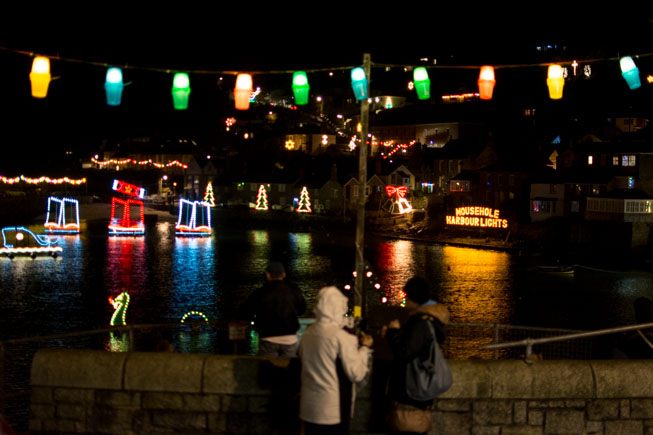 The popularity of the event has seen numbers soar, and with car parking space like gold dust, I cycled. Nothing like immersing yourself in the elemental wind and rain for that true stormy weather, Tom Bawcock's experience… But if spending the night feeling all damp and soggy doesn't appeal, you can always catch the bus.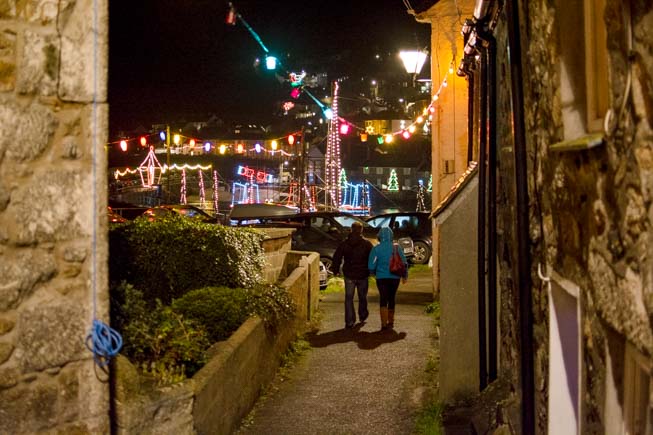 Coloured festoon lights line the approach to Mousehole, to the left a Celtic Cross shines out from St Clement's Island, and a brightly lit WELCOME greets you as you come to the entrance of the village proper. Already the queue outside Janner's Fish & Chip Shop is a big one, but I'm harbour-bound.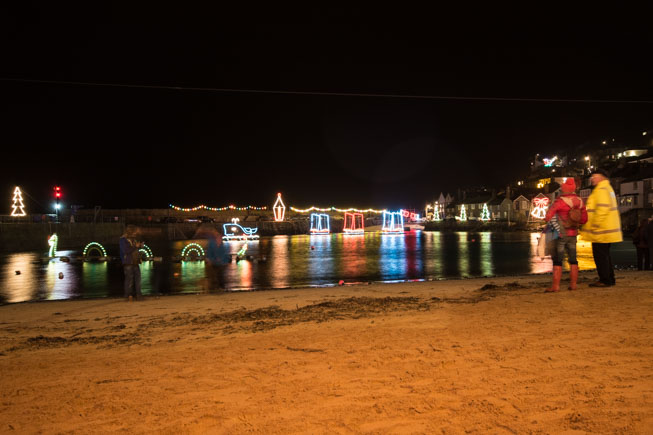 Starting at the school, the children carry fish and lanterns through the narrow backstreets, to finish up quayside where they are joined by Tom himself in his 'boat on bracers'. And what a fine fellow he is! Decked in oilskins with a bowler hat atop the ship's mast, he wears his boat with pride. Equally impressive are the large articulated fish and enormous Starry Gazey pie lanterns, the flat shoals of mackerel looking very effective too.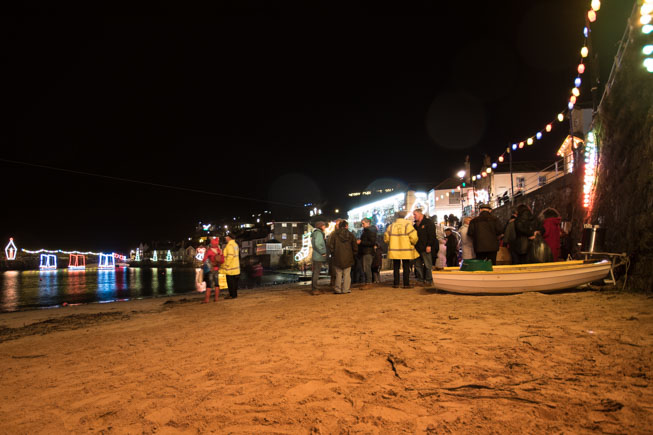 Afterwards, the Mousehole Male Voice Choir strikes up a tune or two on the sands, standing shoulder to shoulder in a circle, steaming cups of mulled wine in their hands. The choir formed in 1909, and are a frequent fixture in Mousehole's event calendar. However, this is one of their most memorable and moving performance dates, singing as they do traditional carols and hymns, with the harbour lights as their backdrop. Stood right behind them, I could hear the blend of their voices so clearly, and feel the deep 'thrub' of the bass notes vibrating through the sand.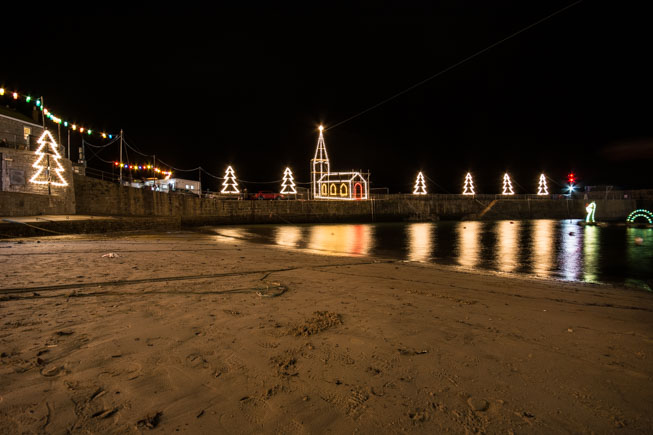 Joining in with 'While Shepherds Watch' and 'Oh Come All Ye Faithful', while admiring the ringing bell, pulled cracker, three ships, partridge in a pear tree, and figgy pudding lights, it's beginning to feel a lot like Christmas… But this is Tom's night and Stargazy pie will still be being served in the Ship Inn, if I'm lucky.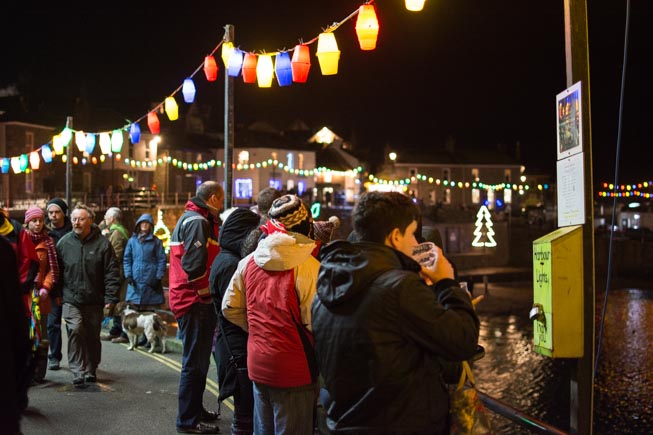 Not surprisingly, the pub is packed, but I somehow manage to squeeze through to the restaurant area where Yvonne dishes up the last few portions, for a donation to the RNLI. Made with fish, potatoes and eggs in a creamy sauce with a pastry top, its signature touch are the heads and tails of fish poking up through the crust. Yvonne's been working at The Ship Inn on Tom Bawcock's Eve for 27 years, and loves it.
Cycling home with snatches of the traditional Tom Bawcock's Eve tune in my ears, my thoughts turn to buying a copy of Antonia Barber's award-winning children's book The Mousehole Cat for my grandson. With stunning illustrations by Nicola Bayley, and focusing on Tom's faithful cat Mowzer, who tames the capricious Great Storm Cat long enough for Tom to cast his net, it's essential reading for anyone who loves Cornwall. And if you're around next December, come see the story come alive.
Read more about the Mousehole Christmas lights here and if you can't make it to Mousehole yourself, then take a look on our Mousehole webcam here>
View all our cottages in Mousehole >