The sea around West Cornwall is so clear that it tempts you every day to get right in it and enjoy it! The variety of beaches can offer either gentle lapping waves for children to play in or larger surf for the more adventurous. If you or your family are adrenalin seekers and love the smell of neoprene, there is plenty to keep you occupied around West Cornwall. As with all activities, please check relevant websites to ensure availability – times can change according to the season and weather conditions.
Surfing at Sennen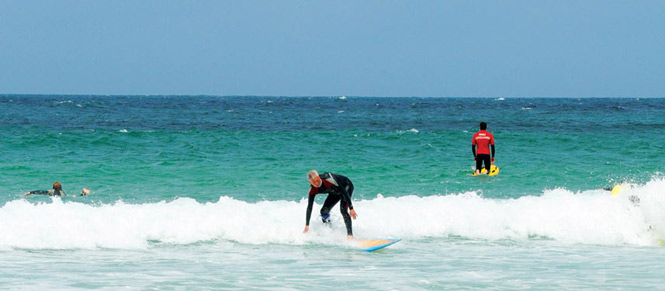 There are two surf schools (Smart Surf School and the Sennen Surfing Centre) at Sennen, the home of surfing! They are both run by local surfers keen to pass on their joy at being among the waves. There is plenty to do at Sennen for those who prefer sitting on the beach and soaking up the view, and plenty of places to refresh yourself afterwards. There are two car parks nearby and the beach has RNLI lifeguards on duty during the summer season. For other places to surf in Cornwall read our blog: Ten of the best surf spots in Cornwall.
View all our cottages in Sennen >
Kite surfing at Marazion
This sport is rapidly growing in Cornwall and Ocean High Kitesurfing has its headquarters on the Penzance side of Marazion Beach. They have all the equipment necessary to give you an introduction to the sport and can help and advise you if you catch the bug! Kitesurfing involves both a kite and a board for your feet, and the kite is used to propel you over the waves, sometimes to a great height. This is a fabulous sport for spectators too – visit Marazion on a windy day and you will see kite surfers performing their breath taking acrobatics.
View all our cottages in Marazion >
Kayaking at Carbis Bay
Glenn and Jill at Ocean Sports based on Carbis Bay Beach can offer a host of exciting watersports. They have single and double kayaks to hire, can offer sailing tuition in topper dinghies, and have a brilliant Hawaiian outrigger for wave catching and exploring the coastline. Glenn is a GB level competitor in ocean ski paddling, so you couldn't be in a safer pair of hands. All safety equipment is provided, so you are in the perfect place to learn some new skills. Carbis Bay has great facilities too, with a fantastic deck area providing great food and evening entertainment in the summer season. The car park behind the beach fills quickly, so you may want to park in the pay and display car park halfway up the hill.
View all our cottages in Carbis Bay >
Surfing at St Ives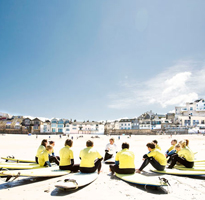 The surf school at Porthmeor Beach in St Ives is owned by local surfer, Harris, who has a team of instructors that have grown up surfing Porthmeor and the local beach breaks. They are particularly good at encouraging children and first timers to get into the water, and local children flock to their surf lessons. They have wetsuits to hire, and can offer intensive courses to increase your confidence quickly. They also have boards to hire if you fancy a little practice between lessons. This surf school is situated right in the middle of the bustling town of St Ives – the rest of the family will find plenty to do amongst the galleries, shops and cafes in this popular town. Read more on our blog about Surfing in St Ives, or find other places to surf in Cornwall here.
View all our cottages in St Ives >
Coasteering
Coasteering is a wonderful way of getting directly in touch with the marvellous coastline around Penzance and the surrounding areas. Kernow Coasteering will provide you with all the equipment you need – usually winter grade wetsuits, helmets and life jackets, and take you on an adventurous tour that is half swimming, half rock climbing! The swimming part is more of an assisted float, as the life jacket supports you and helps you pull yourself around the rocky outcrops of the coastline. You are face to face with some of the wildlife to be found in West Cornwall, and can experience a completely different view of some little known places. The real excitement comes as your group leader encourages you to climb the rocks and jump off into deep water – their local knowledge is vital to do this safely so please make sure that if you feel like giving coasteering a go, you use an experienced company.
View all our cottages in West Cornwall >
Tags: Carbis Bay | Marazion | St Ives | Surfing | Watersports |