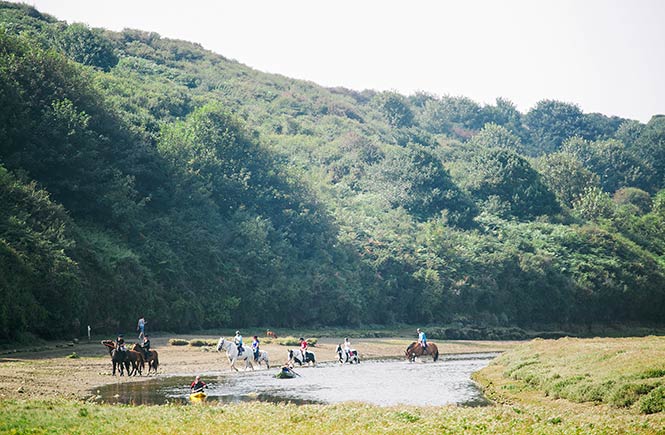 Fancy yourself as a bit of a Ross Poldark? Galloping along a coastal headland, with a stunning backdrop of breathtaking sea views, rugged cliffs, and tin mining engine houses with their chimney's pointing skywards beneath a vast expanse of blue? Well it's always sunny in the drama series! Or perhaps a gentle beach canter across one of Cornwall's many glorious stretches of golden sands is more your thing? Or a moorland meander exploring ancient bridleways and trails, some of which date back to Iron Age times? Or how about trying your hand at carriage driving?
From total novices, i.e. the kind of rider like me, who is 'quite happy just sitting and plodding along, thank you very much', to the going at full pelt, jumping over hurdles and fences, with maybe a quick chukka of Polo in between, horsey experts, there are plenty of opportunities to saddle up in Cornwall. If holidays are about making memories, a morning or a day's riding isn't something you'll forget in a hurry. Fun, exciting, and you get to experience some of the best natural landscapes this beautiful county has to offer, here's a few possibilities to get you trotting.
Tremenhere Riding Stables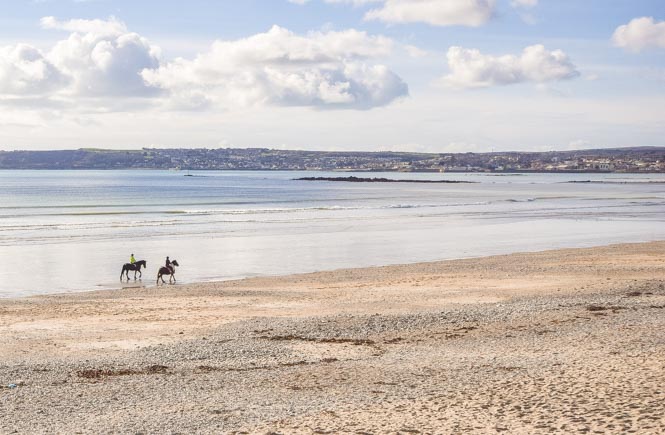 You'll find these friendly stables near Ludgvan, just a few miles outside of Penzance. Making the most of what's on their doorstep, guided rides take in the surrounding countryside on quiet lanes and bridal paths, or there's a picnic ride option to the nearby Tremenhere Sculpture Gardens, where I have to say, the food is fabulous. The gardens themselves are an unusual mix of exotic and semi-tropical planting, woodland walks, contemporary sculpture and art installations, like James Turrell's 'Skyspace'. The stables also offer special parent and child rides, ideal for families, as well as group hacks, and private lessons if you'd prefer some one-to-one tuition. But if a beach ride is what you're after, their two hour one is a beauty. Trekking down to Marazion beach, and overlooking the iconic St Michael's Mount, experienced riders can take advantage of the space and gallop along the shoreline, or you can opt to have a lead rein if you're more of a beginner. Any non-riders can hang out on the beach and take photos, or sit back and relax with a pint in the Godolphin Arms, overlooking the bay and the perfect vantage point for horse-watching.
www.tremenheereridingstables.co.uk
Old Mill Stables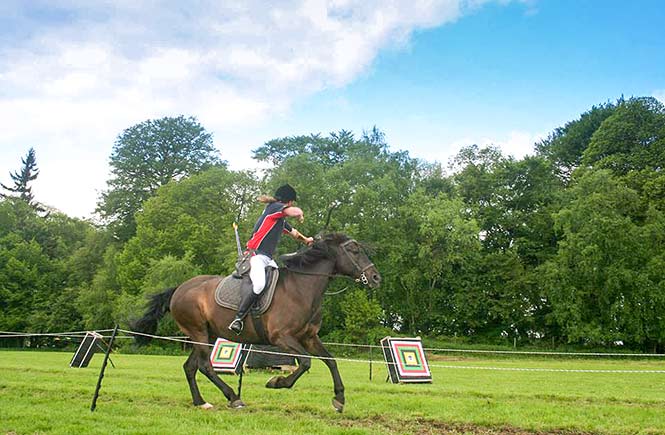 Established for fifty years, in addition to the high quality instruction they offer (riding lessons, lunge lessons, stable management and natural horsemanship) the Old Mill caters for anyone wanting to enjoy a ride out – novice or expert, just call to arrange a time. You'll find them in Lelant Downs, near to Hayle. If you're lucky, you might see some horseback archery in action. The only centre to offer this dynamic fledgling sport in the South West, and one of only 3 in the UK to do so, it involves riding at a canter, no hands(!) and shooting at a target while in motion. Skills. The Old Mill are also a venue for Riding for the Disabled, running sessions on Mondays and Wednesdays, so well worth considering if one of your party has additional needs.
Penalwyn Trekking Centre and Livery Stables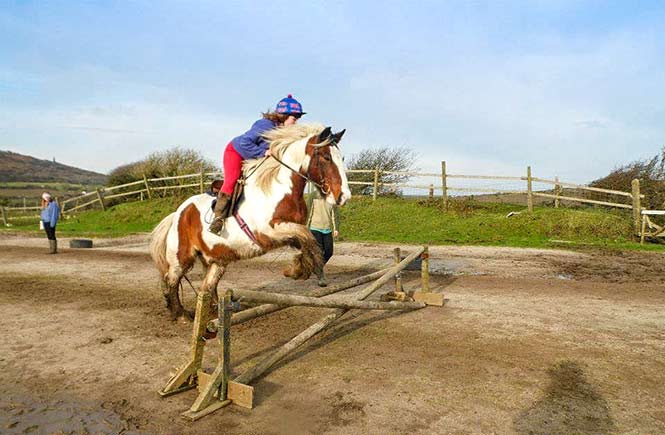 Offering riding lessons and hacks for people of all abilities, the terrain out here in the wilds of West Penwith is more open moorland, and narrow country lanes. When my mum was over visiting from Australia a few years back, we took the kids for an inter-generational ride. She rides horses, we don't, but it was a great day out together we could all enjoy. Based in Halsetown, it's perfect for anyone staying in or around St Ives. Afterwards, why not pop into the Halsestown Inn, which has a fine reputation for its gastro-fare, and ethical ethos. They do a cracking cream tea too. For all riding enquiries call 01736 796597
Reen Manor

Near to Perranporth and its spectacular 3 mile sandy beach, Reen Manor stables offer a variety of different rides and treks along coastal dunes and inland leafy lanes.  Their hour long trek is ideal for newbies, a two hack at a faster pace is more suited to experienced riders, while their popular two hour beach ride takes you over Perran sand dunes and onto the beach itself. Or how about a half-day pub ride? Great for mixed ability groups, this ride ends up at the Smugglers Den Inn, an idyllic 16th century thatched pub, tucked away in a pretty Cornish hamlet. Serving great local ales and delicious fresh-cooked food, you can fill your boots while your horses are being cared for, before riding back again. A quirky alternative to going for a romantic walk, why stride when you can ride?  Reen Manor also caters for the little ones with special half hour children's rides, and they run a Saturday Kids' Club too.
The Lizard Stallions Carriage & Stud Co.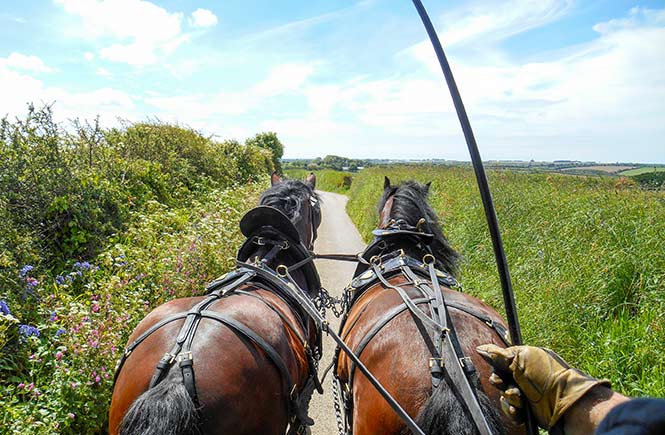 Travel along  quiet country lanes in Poldark territory that many a coachman would have travelled in the times of horse drawn vehicles. This isn't your conventional ride, as such, but a chance to get up close and personal with some magnificent horses, on one of the Lizard Stallions' unique Shire & Shetland Experience Days. Suitable for six year-olds and upwards, you can be as hands-on as you like, or just sit back and enjoy the stunning Lizard peninsula scenery. Start the day by meeting the menagerie – pigs, sheep, chickens, ponies, and of course their stud Shire stallions, George and Ringo. Then roll up your sleeves to help prepare the horses and carriage, before embarking on a 45 minute journey back in time. You can even take the reins if you like, under the watchful eye of Coachman Pete Woodford, to really feel the power of these 'Gentle Giants'. Pete will also tell you about the 1000 year history of these majestic animals. Hungry work, you're welcome to bring a packed lunch to eat on the carriage, or you can book ahead for a pub lunch. But if you'd rather just be driven in style and not muck in, you can always opt for a carriage ride instead, or if you're super keen, why not sign up for a driving lesson!
Browse holiday cottages in Cornwall >
Tags: Marazion | St Michael's Mount | The Lizard |