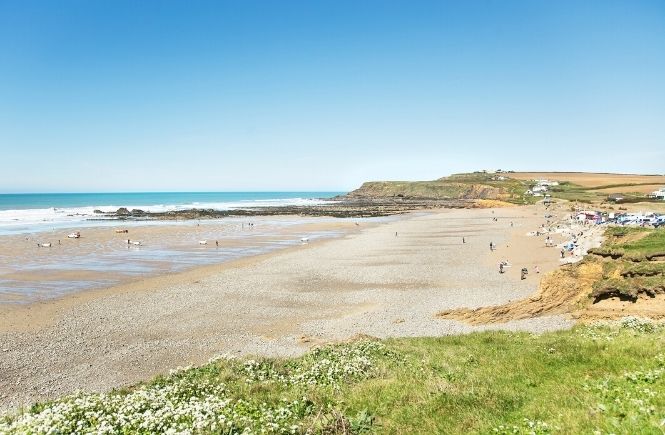 What better way to explore North Cornwall's beautiful seaside destination of Bude than by donning your walking boots and adventuring on foot?
The quaint seaside town of Bude is nestled near the Devon border, presenting visitors with a fabulous seafront, bevy of beaches and array of attractions flanked by gloriously unspoiled surrounds.
Perhaps because it's been recorded as one of the sunniest places in the UK, Bude is renowned for its outdoor lifestyle – including spectacular walking terrain. Walking is a great way to ignite your senses and absorb the various sights of Bude and its surrounding areas. What's more, if you've brought your dog on holiday with you, it's the perfect pooch-pleasing activity.
Combine a walk with any of the plethora of things to do in Bude or dedicate yourself to a walking holiday like no other. From sandy beaches and woodlands to canal and river walks, a variety of trails await anyone eager to explore Bude and its environs via a scenic amble, whether you're a serious hiker or simply fancy getting out and about for some fresh air and a spot of family exercise.
Bude Canal Walk
Walk by the water...
Difficulty: Easy
Distance: 3 miles+ (or less!)
Type of walk: Linear or circular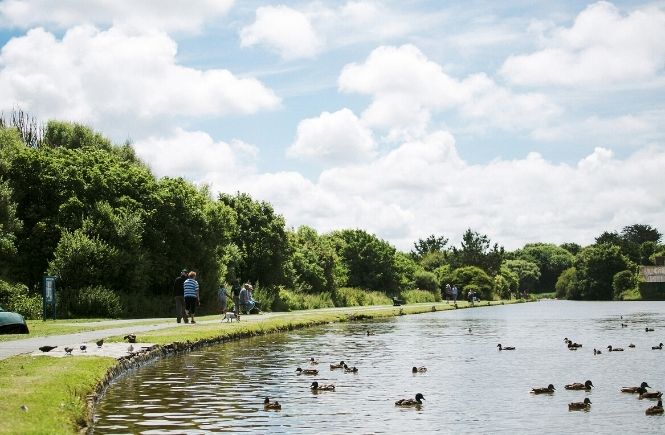 Britain's most westerly canal seems as good a place to start as any, allowing visitors to amble along the waterway for as far as you like. Especially ideal for families, the surfaced wheel-friendly track is perfect for prams, wheelchairs and little ones to safely and easily navigate this gorgeously scenic attraction (with plenty of opportunity to pause for activities or refreshments en route).
The walk can be completed as one longer circular route or two separate short circular routes of just under two miles each: one along the canal and back along the cycle track across Bude Marshes, and the other along the coast to Crooklets beach (view our webcam here) past Bude Sea Pool returning through the town past the Bude Tunnel. You'll pass plenty of shops and cafes including Crooklets Inn, The Globe Hotel, The Barrel and The Carriers Inn, along with wildlife and seascapes aplenty.
Bude to Northcott Mouth Walk
For coastal treasures...
Difficulty: Easy/moderate
Distance: 3.5 miles+
Type of walk: Circular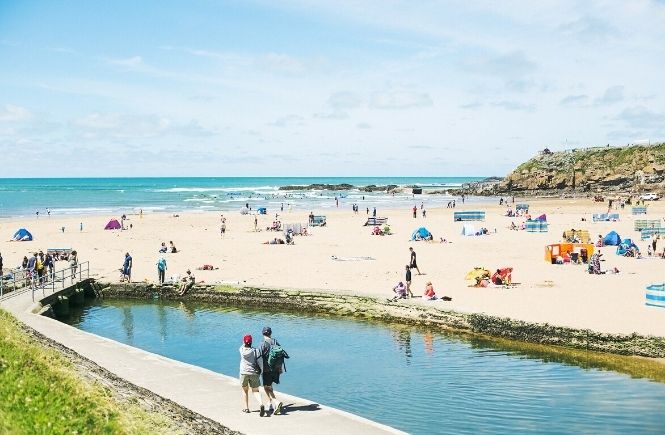 Starting at Bude Tourist Centre, this walk leads past Bude Castle, Summerleaze Beach and the sea pool before joining the South West Coast Path toward Maer and Northcott Mouth (the most southerly end of the Area of Outstanding Natural Beauty extending to the Devon border). Here, you'll spy the exposed remains of the SS Belem shipwreck at low tide before extending your walk further and continuing on to Sandymouth, or returning via a circular route along bridleways and the River Neet toward town. Take your time with a beach stint or two, relax at one of the pubs you'll pass en route (such as The Bencoolen Inn and The Brendon Arms) and keep an eye out for sea and bird life at the myriad of habitats you'll roam during this particularly beautiful route.
Bude to Widemouth Walk
For stunning seascapes and lookouts...
Difficulty: Easy/moderate
Distance: 3.5 miles linear, 6.2 miles+ circular/return
Type of walk: Linear/circular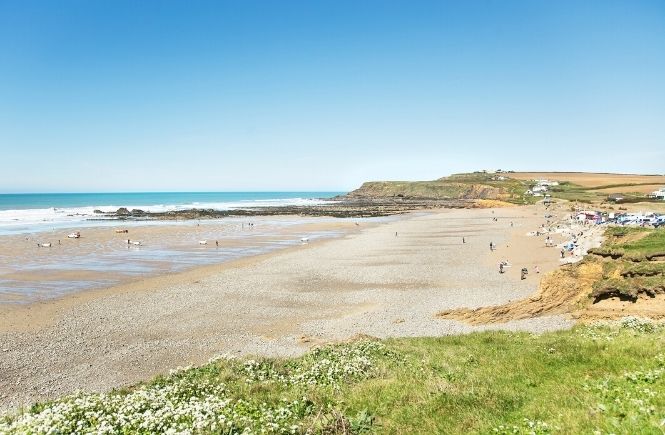 Crossing the canal, the path tracks west to Bude Haven then south to Compass Point (and its pretty watchtower complete with wildflower fields and staggering coastal views) and onward to another lovely vantage point at Efford Beacon. From there, you'll continue toward the nature reserve at Phillip's Point and its picturesque cliffs presiding over views of Hartland Point and your first glimpse of Widemouth Bay. Put your feet up at Bay View Inn or The Brendon Arms, or pack a picnic for the beach.
Bude to Crackington Haven Walk
A hiking challenge...
Difficulty: Strenuous
Distance: 9.8 miles
Type of walk: Linear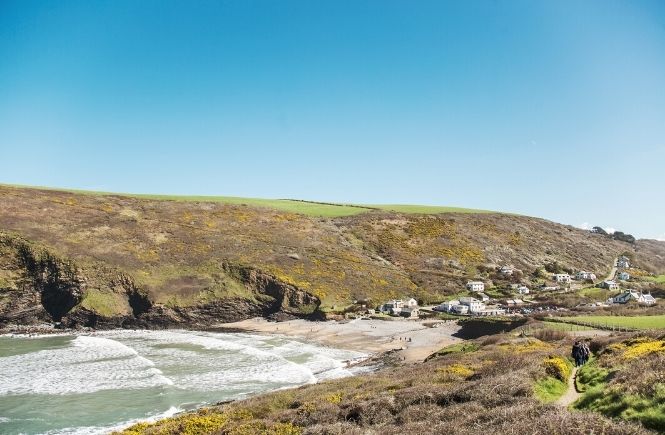 For an extra strenuous walk and to notch up the distance, hike the extra 8 miles along the Shipwreck Coast from Widemouth Bay to Crackington Haven. Tackle high cliffs and steep valleys as you're afforded some seriously swoon-worthy views and stop-offs such as Millook Haven, Hartland, Tintagel and Castle Point. This isn't for the faint-hearted, so stock up on supplies and be mindful of the uneven terrain underfoot.
The Bude Aqueduct Trail
For wildlife spotting...
Difficulty: Easy/moderate
Distance: 5 miles (10 miles with the loop)
Type of walk: Linear/circular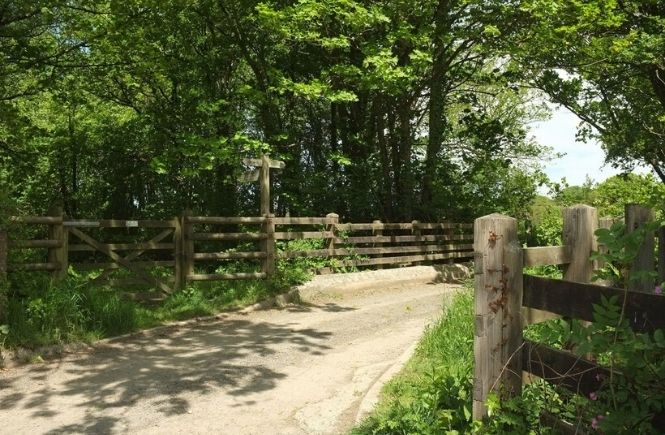 Beginning at the Upper Tamar Lake car park, this walk winds past the dam and Lower Lake toward the Cornwall-Devon border as you make your way to Pancrasweek. Make sure you incorporate a visit to the Dunsdon Nature Reserve, which is home to a wealth of plant-life, including a number of rare species. No less than 26 species of butterflies have been spotted in these parts, so this is prime nature-lover terrain. The return route passes the aqueduct section of the old Bude tub boat canal, a prized remnant of Cornwall's unique transport heritage.
Bude to Sandymouth Walk
For coast-meets-countryside...
Difficulty: Moderate
Distance: 6.2 miles
Type of walk: Circular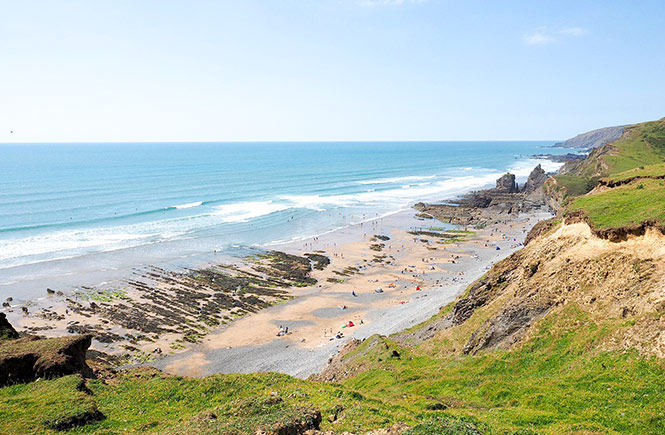 If it's a Bude coastal walk you fancy, the route to Sandymouth presents something special by combining show-stopping sea views with a variety of other landscapes. Not only will you pass attractions such as Bude Castle, Bude Sea Pool and Summerleaze Beach as you first embark upon the route, but you will be treated to further beaches as you strike out along the South West Coast Path to Maer, Northcott Mouth and finally, Sandymouth and its eye-catching geological origami. The way back to Bude is an easy and scenic stroll along bridleways and the oh-so pretty River Neet (keep your eyes peeled for its varied birdlife) as you explore Bude's beautiful hinterland. Plus, there are plenty of pubs and picnic spots in which to refresh and reboot, including Crooklets Inn, The Bencoolen Inn, The Carriers Inn and The Globe Hotel.
Walks Near Bude
Tintagel to Boscastle Walk
For the land of legend...
Difficulty: Moderate/strenuous
Distance: 9 miles
Type of walk: Linear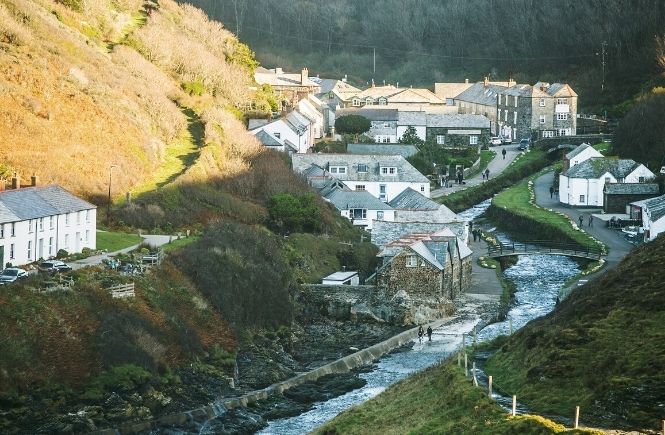 Explore north Cornwall's magical coastline and wild landscapes with a walk that takes you straight through the centre of King Arthur territory. Starting in the picturesque fishing village of Tintagel, head past the old post office toward the castle and continue east on to the coastal path to lap up staggering views with every footstep. From the headland of Willapark you'll descend into Bossiney and a series of climbs and drops that include the spectacular Rocky Valley. Traverse the southern side of the harbour and continue out of the village through fields and farm tracks to St Nectan's Glen, reputedly one of the UK's most spiritual sites (as well as being assigned a Site of Special Scientific Interest). With ancient woodlands lining the banks of the Trevillet River, a walk here transports you to a sublime elsewhere, especially when you encounter the crowning glory of St Nectan's sixty-foot waterfall. Replenish your energy and rest a while at the nature-inspired, Tree of Life Cafe.
Millook to Trebarfoote Walk
Roam remote ancient woodland...
Difficulty: Moderate
Distance: 3 miles
Type of walk: Circular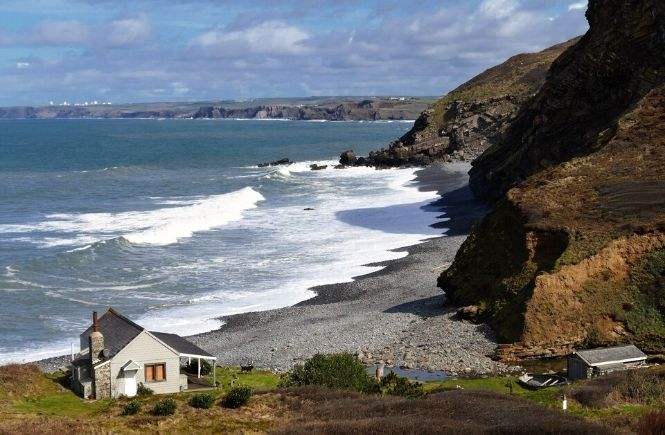 Crossing the ancient Millook Woods, this achingly beautiful walk also reveals exquisite meadows and the former smuggling den and 1920s party destination of Trebarfoote. Expect breathtaking ocean views from Millook Common and incredible rock formations at Millook Haven Beach, which is of huge geological importance owing to its striking zigzag folds of sandstones and shales in the cliffs. If you're looking for a woodland walk near Bude, this is one of the most popular and picturesque.
Morwenstow and Marsland Mouth Walk
For far-flung views and farmland...
Difficulty: Moderate/strenuous
Distance: 4.4 miles
Type of walk: Circular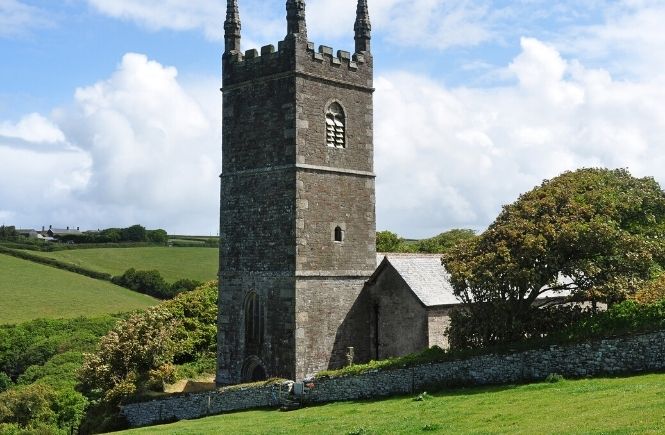 Starting and finishing at the Rectory Farm Tea Rooms, the route merges the South West Coast Path and inland footpaths to lead walkers from the cliff top and far-reaching views of Lundy Island (on a clear day) to acres of unspoilt farmland. Highlights to look out for include St Morwenna's Holy Well, Marsland Wood Nature Reserve (that straddles the Cornwall-Devon border), Morwenstow Church and Rectory, and a smattering of natural scenery at every awe-inspired turn.
Port Isaac to Polzeath Walk
Cornish coves and TV settings...
Difficulty: Moderate/strenuous
Distance: 9.4 miles
Type of walk: Linear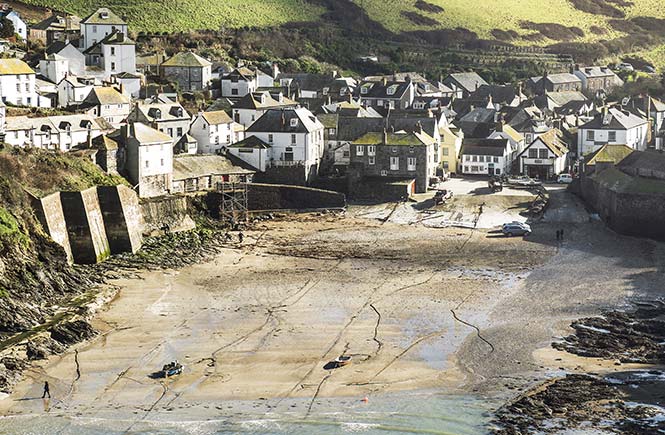 Once you've meandered the cobbled streets, follow the coast path (aka: 'the rollercoaster') from the quaint fishing village of Port Isaac (backdrop to famous TV series, Doc Martin) to the equally-as-enticing Port Quin. Continue toward the mines of Doyden Point before reaching the gorgeous beaches of Epphaven Cove and Lundy Bay. Take in stirring seascapes afforded by the stunning headlands of The Rumps (and its Iron Age fort remains) and Pentire Point as you weave your way toward the enchanting Camel Estuary for even more stretches of sand in the picture postcard form of Pentireglaze and Polzeath. Take a pit stop in a pub such as The Oystercatcher and The Golden Lion, or pull out a picnic and sprawl out on a beach, clifftop, quayside or grassy nook.
Discover the perfect base for your walking holiday by browsing our wonderful range of cottages in Bude here.
Tags: Bude