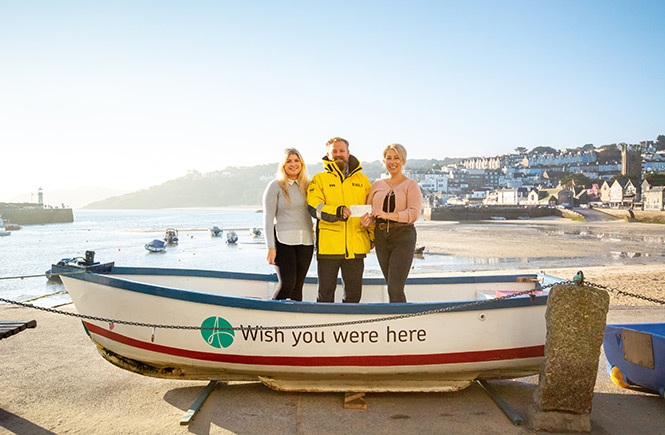 (Pictured above: Paul Le Bas from RNLI St Ives accepting a £2000 cheque from Laura Heard and Sarah Bond outside Aspects Holidays' St Ives office.)
As part of our support of the local community and to help keep Cornwall's oceans safe for locals and visitors alike, we're pleased to have recently donated £2000 to RNLI St Ives. Our continued support over the last 10 years brings our total contribution to the charity to over £22,000.
Working closely with the St Ives team, we've provided jackets for crew members for numerous years and also purchased a VHF (very high frequency) beacon for long distance communication. In addition, we've supported the charity during events such as St Ives Lifeboat Day.
We're passionate about the coast, the community and assisting charities in the local area. By supporting the RNLI, we hope we are doing out bit in keeping the Cornish coast safe for people to enjoy.
Here's what Commercial Director, Mandy Spencer, has to say:
"We've always had a great relationship with the RNLI team in St Ives, from taking part in their annual Lifeboat Day every year, to sponsoring Bands in the Boathouse; we are so grateful to them for helping keep our beaches and seas safe. Our ongoing support has become an integral part of our business, and we love that we know so many of the crew personally."
If you'd like to donate to the RNLI, visit their website.
View all our holiday cottages in St Ives >