Volunteers of St Ives Lifeboat welcomed Aspects Holidays' Operations Manager, Amanda Stinchcombe, to their station for a tour of their facilities. While at the lifeboat house Amanda presented a cheque for £1,500 that the company raised during 2013 towards the station's new launch and recovery vehicle. The donation comes just months after Aspects provided the St Ives Lifeboat crew with new jackets.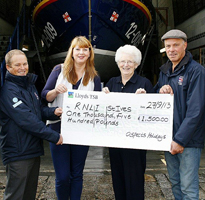 Amanda comments: "Being a St Ives based company, Aspects wanted to support a local charity in 2013 and what better than the RNLI of St Ives. The crew has to undergo rigorous training and provide an invaluable service to the local community not to mention the tourists who can be less knowledgeable about the dangers of the sea. Like many of the Aspects team I have grown up and worked in St Ives most of my life and we are all immensely proud to put something back into the community via Aspects Holidays."
Aspects Holidays will continue to support the St Ives RNLI and Lifeboat Day in 2014.