Dare I say that Cornwall's association with pasties and cream teas seems to be paling in comparison to the latest breed of artisan producers who are creating a new wave of world-class edible delights - and chocolate is one of the most scintillating foodstuffs on offer?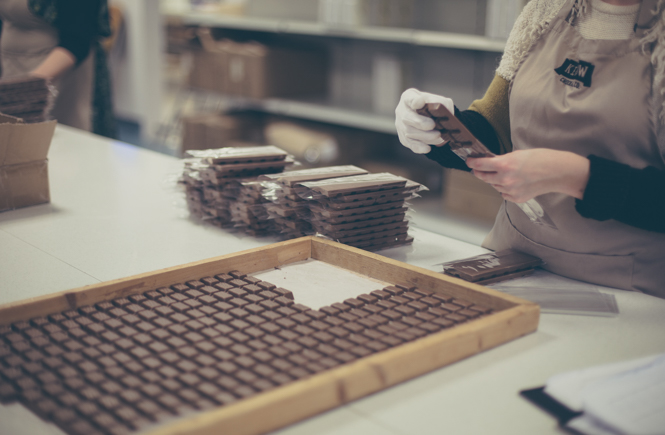 Whether you fancy treating yourself to a slab or two as you sample the full range of the county's gastronomy, or wish to take a stash home as a gift for a loved one (or yourself), you'll find a flavour to tantalise your taste buds and elevate your post-holiday spirits in equal measure, as Ursula Kohaupt quite rightly observed: "Chocolate is happiness that you can eat."
Here's some of the hottest Cornish chocolatiers du jour to seek out during your stay…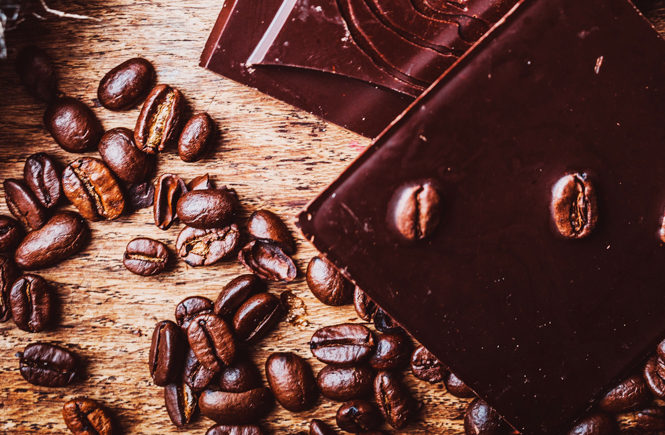 Cornwall's Chocolate Cove
Whoever thought chocolate was unhealthy should think again. The fabulous brainchild of Judy Heddon, Cornwall's Chocolate Cove presents a mouth-watering mix of mindfully handcrafted products. Everything is raw, vegan and organic, as well as being totally soya, gluten, refined-sugar and palm oil-free, meaning that the chocolate not only tastes incredible, but is benevolent to you and the planet to boot! What's more, Judy donates profits from specially selected chocolates to The Born Free Foundation, making the Chocolate Cove a wonderfully philanthropic enterprise.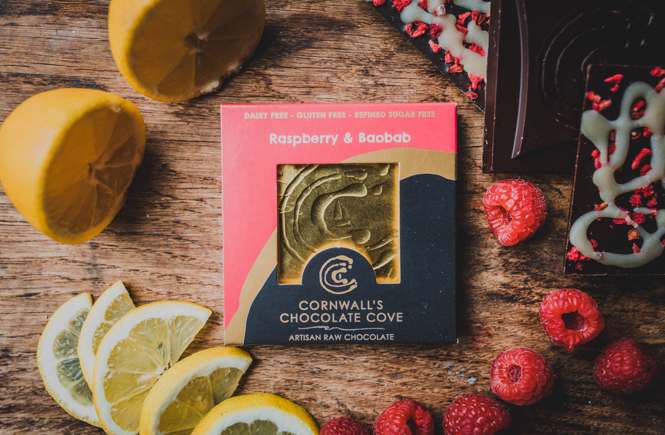 From start to finish, the chocolate-making process is designed to offer an enriching taste experience while minimising environmental impact, from nutrient-rich ingredients to the recyclable and biodegradable packaging.
The result? Some of the most delectable, mind-spinningly good chocolate I have ever tasted. Reeling off the list of flavour combinations alone will leave you salivating even before the moment they seduce your palate: caramel truffley fudge; vanilla, pineapple and lemon; lemon and Baobab sorbet; salty cracked pepper and caramel; freshly ground Fairtrade coffee; toasted hazelnut and vanilla…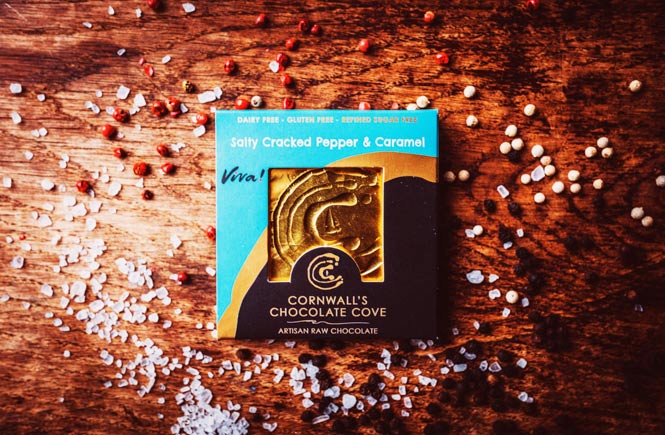 Seasonally changing ranges and new products means that this Easter will see special eggs in the form of raspberry and lemon sorbet drizzle, pistachio and deliciously dark choc, and nut crunch beautifully boxed with truffles, energy ball bites and truffley fudge delights available with other hamper ready gifts at the St Ives Guildhall Market every Thursday until 2pm and online.
Mococu
Raw chocolate maker and cacaoista Alison Fleming launched Mococu in 2018 after travelling to Central America where she attended a Mayan Cacao ceremony and chocolate workshops before establishing her brilliantly bespoke business.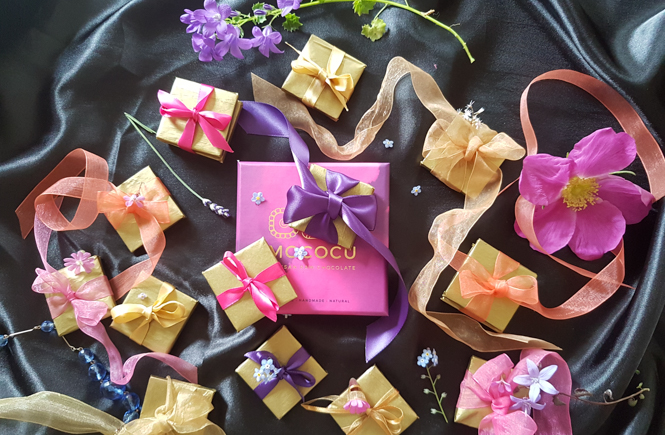 The luxury range of organic and vegan cacao gifts, body paints, massage butters and sharing dips are as crave-worthy as they come, think orange, cinnamon and chilli; cardamom and geranium; ginger and orange; lemongrass; rose; lime and lavender; star anise; vanilla; mint and orange and geranium. In short, the unique flavour combinations and sensuously melt-in-the-mouth chocolate is simply divine.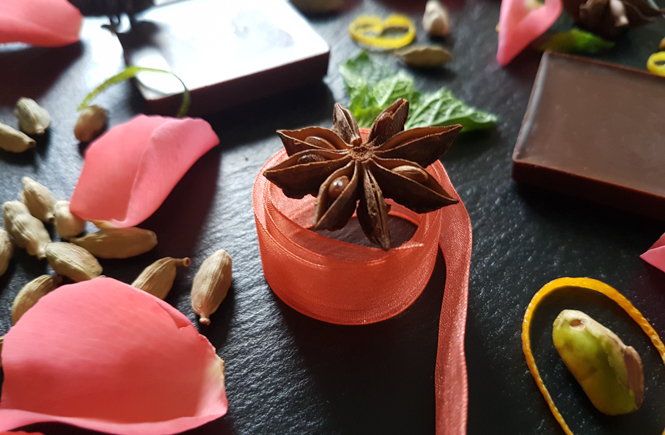 Using ethically and sustainably sourced raw organic Peruvian Criollo cacao and high-purity food grade essential oils including sweet orange, cardamom, rose and ginger, every chocolate is lovingly hand made in small batches and decorated with fruits, nuts and flowers before being individually wrapped in gold tissue paper, tied with a satin bow and placed into a beautiful recyclable, zero-plastic gift box.
Kernow Chocolate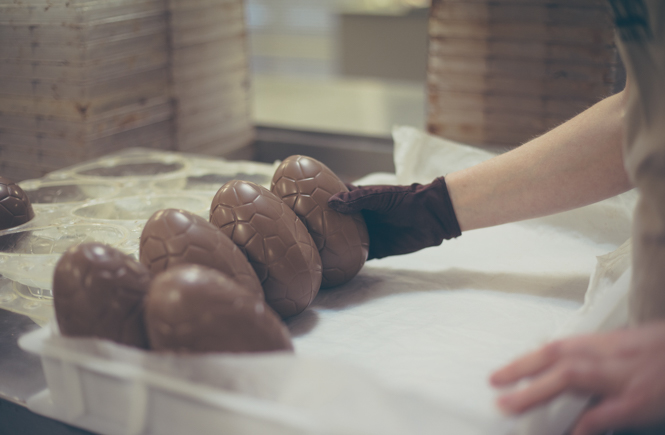 Sustainably grown and ethically sourced, Kernow Chocolate's participation in the Cocoa Horizons initiative helps towards positive change in the industry, from improving the livelihood of farmers and their families to eco-friendly practices, including their recyclable and reusable packaging.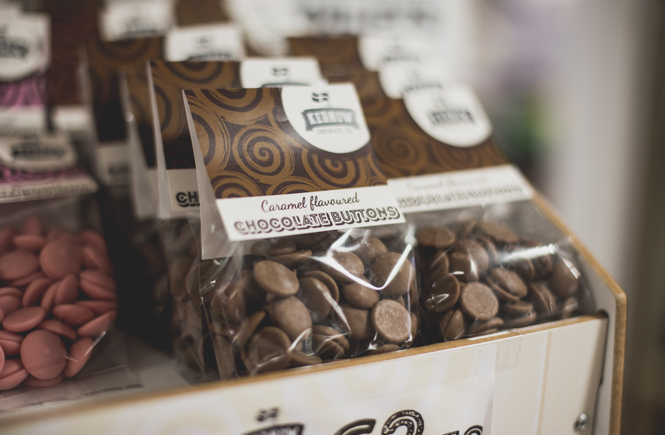 The innovative range features everything from hot chocolate spoons and cooking chocolate to luxury gifts including dinner mint thins, shot cups and floral thins. Then there's the chocolate bars, with the luscious likes of fudge, gingerbread, banoffee, and bakewell tart milk chocolate alongside chilli and lime, mint, and raspberry dark chocolate, and Eton mess and lemon meringue white chocolate, to name but a few.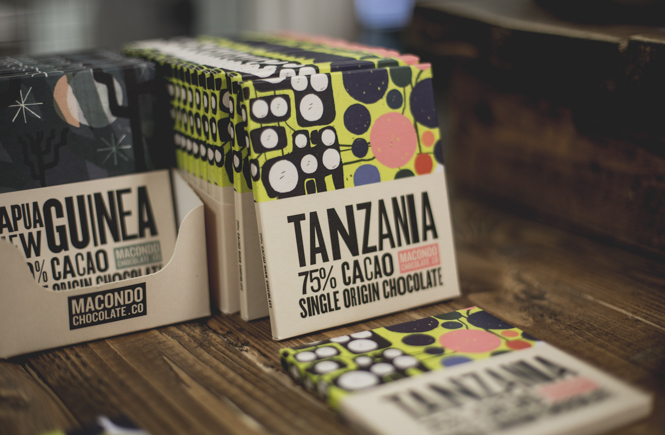 Also not-to-be-missed is their fantastic seasonal range, with Easter bunnies, simnel cake, and hot cross bun flavoured bars, and Easter eggs in crème caramel, honeycomb milk, caramel sea salt, dark and milk flavours all highly devourable this Easter.
Browse our holiday cottages with Easter availability here >