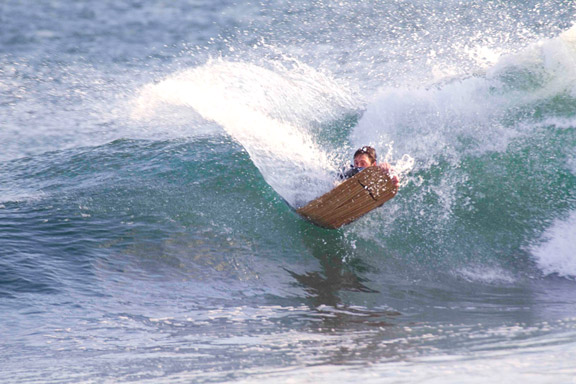 Daft I know, but I frequently forget how amazing it is to live by the sea. And that for many people, a week's holiday in Cornwall is their only chance to bum around on beaches and frolic in the waves. This concentrated timeframe has resulted in holidaymakers being one of the hardiest folk imaginable. They'll brave the great outdoors whatever the weather, and venture into the less than tropical waters sun or no sun, surf or no surf, soggy sandwiches notwithstanding.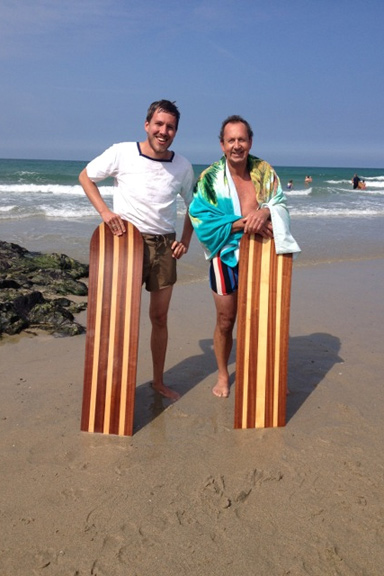 For years, a chap called Arthur Traveller holidayed in St Agnes and Chapel Porth, going surf riding on a 1ft x 4ft plank of ply, every day, regardless of conditions. With no wetsuit, but plenty of gumption, Arthur enjoyed this hardy pastime well into his twilight years. In honour of his indefatigable passion for the sport, in 2003 the inaugural World Bellyboarding Championship was held at his favourite spot; rules stipulating the use of a traditional board and strictly no neoprene.
Organised and hosted by the National Trust, with generous sponsorship from Skinners Brewery and numerous other local companies, the event has grown from twenty or so enthusiastic entrants to a field of over 300 seriously keen competitors.
I first dipped my toe in the Bellyboard Champ waters in 2010, a mere technicality like never having tried it before, or having a board, somehow overlooked as I smugly entered in the ladies U/60s 'juniors' (the only sport where I'm not officially a veteran). Age is no barrier when it comes to surf riding though. The superior knowledge and experience of the seniors' shines through, with surfers in their 60s, 70s and 80s hurling themselves into the pounding surf and catching waves with aplomb.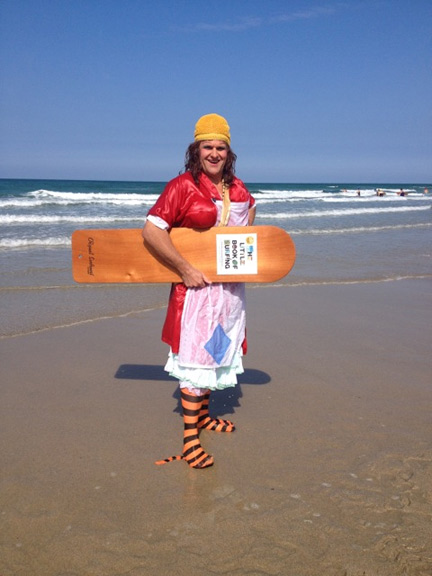 How it works is like this: heats of up to ten people, each wearing a different coloured swim hat, have ten minutes to impress the judges in the various categories. To speed things up, men's and women's heats are run simultaneously on a split peak system, with the judges looking for the following elements when scoring waves:
– Length of ride
– Directional changes with flow, wave speed and glide
– Innovative and progressive manoeuvres
– Style, finesse and enjoyment
The Arthur Traveller Challenge Cup is awarded according to a less progressive, more traditional approach, with those all-important smiles being paramount.
Needless to say, I didn't make the podium, but I did get the WBBC bug. And these days I have my very own bespoke Fi Read Flyer 'stick', shaped by Gavin Randall of Traditional Surfing Co. Hand-crafted from marine ply, coated with environmentally-friendly linseed oil and decorated with a sultry mermaid, I love it. Aesthetic charms aside, I also love that I now belong to a long-held fraternity of original wave-riders.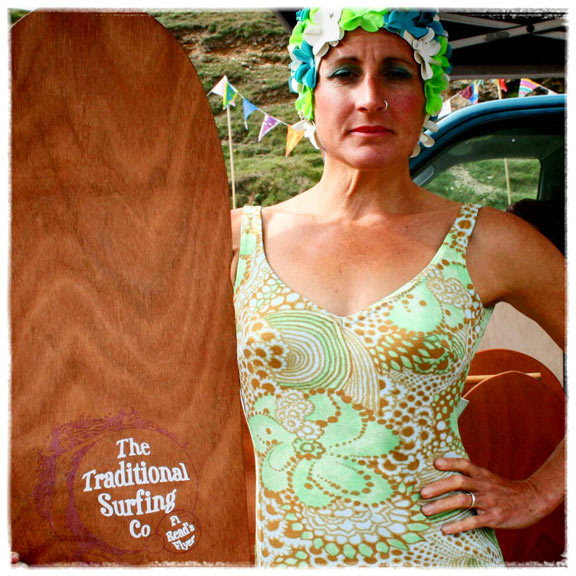 More convention than competition, over the years the number of stalls and stands has mushroomed ensuring there's plenty to see and do while waiting for your all-important heat. Spoilt for choice, there were six traders selling boards alone, including Otter who were running a make-your-own workshop. One of the vanguards of the ply renaissance, Sally Parkin founded her Original Surfing Company in 2008, as she was terrified that the retro boards she grew up with and learned to surf on, would cease to exist, and that this particular type of wave riding would be wiped out.
Thankfully her fears have come to naught, and both business and bellying are booming. But purists like Sally are quick to point out that it's 'surf riding' not 'bellyboarding' and unlike stand-up surfing, it's a friendly, sociable pastime where 'dropping in' is never an issue and every wave's a party wave. Recently Sally republished a surf riding guide from the 1950s, which is a gem of a booklet full of priceless illustrations and 'how to' advice. Sharing Sally's stall was local author Emma Mansfield with her brilliant range of Little Books, the Little Book of Surfing a must-have glove-box-sized tome to refer to at beach breaks everywhere.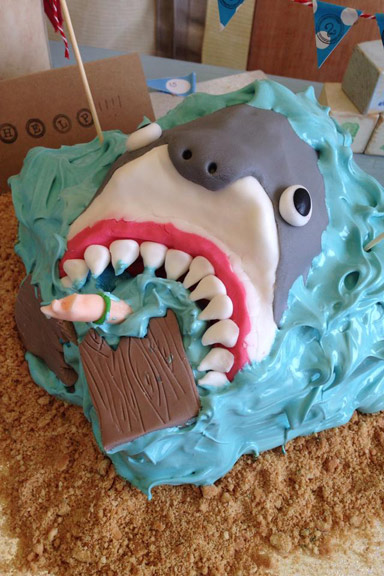 Hula hooping contests, best vintage swimwear accolades and wave riding winners aside, the real competition took place inside the marquee with the return of the Great Bellyboard Cake Off. Oh yes. And I just happened to have been one of the judges (an onerous task, but somebody had to do it!) Step aside Mary Berry….
With Gavin kindly agreeing to organise and host this free to enter belly baking battle, the Cake Off ethos matched the whole WBBC participative spirit, as the emphasis was firmly placed on humour and a sense of fun rather than finesse. Attracting twenty-nine cake, bun and biscuit entries, it proved deliciously popular too.
Scoring them based on taste, quality of bake, visual appearance, inventiveness and the care and love manifested in the creation was tough work. Standards were phenomenally high as were the stakes: a stab at glory, Cake Off immortality and a coveted Trad Surf hand plane prize. You could've cut the tension with a cake slice.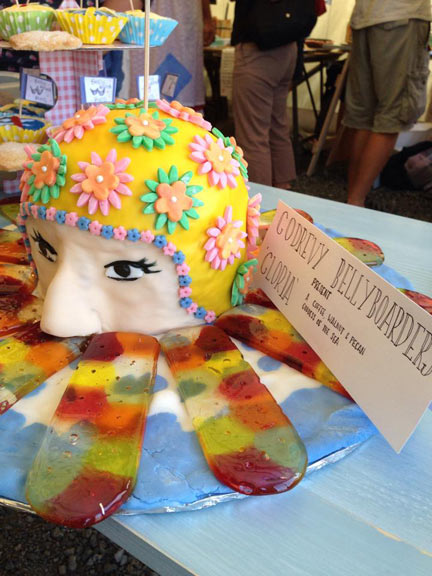 After much agonising deliberation, Londoner Hugh's Godrevy Goddess 'Gloria' (a disembodied floral swim-capped head on a platter, pandering to Gavin's favourite coffee and walnut preference, decorated the night before by head-torch in a tent, and surrounded by boiled sweet bellyboards – won Best Adult Bake. 'Storm in a Teacup' won Best Kids Bake, and the giant rice crispie bellyboard was the Judges' Choice.
The What The… Is That? category (invented in shocked disbelief at a bizarre entry) and commemorative Cake Off mug went to one of the WBBC founders, Chris Ryan.
Afterwards, all the amazing entries (bar Chris's) were sliced up and sold for a donation, the money going towards running next year's event, and the queue out into the car park. A win-win-win for all concerned put the Bellies in your diaries for 2015.
View all our cottages in St Agnes >
www.bellyboarding.co.uk
www.traditionalsurfing.co.uk
www.originalsurfboards.co.uk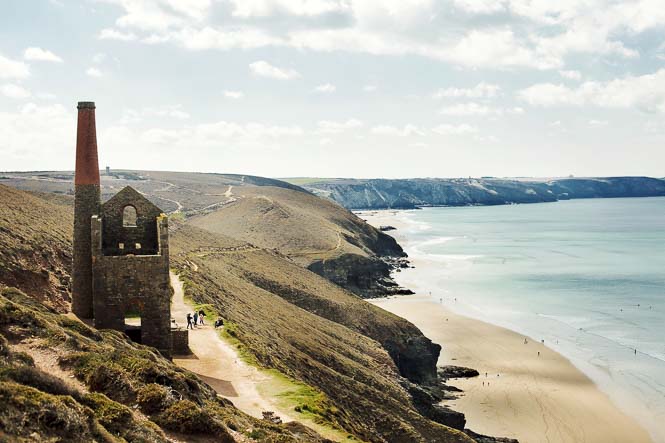 Tags: St Agnes | Watersports |