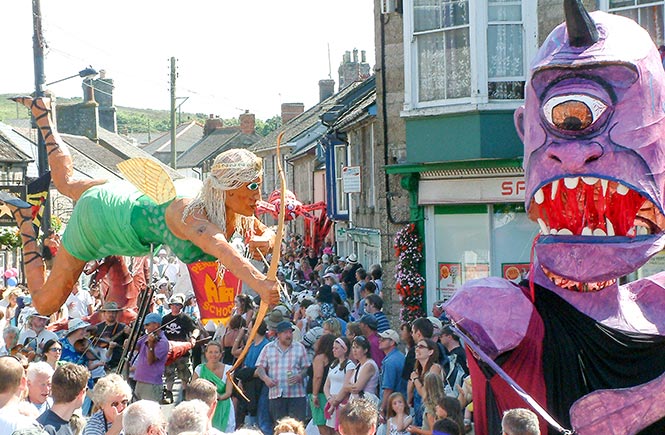 Summer heralds festivals just about every weekend in Cornwall, with Penwith hosting more than its fair share. One that started as a showcase for youth bands twenty years ago, in 1996, has evolved into a fortnight of all manner of arty events, with a strong emphasis on taking part.
Lafrowda Day itself sees music from midday to midnight, zany street theatre entertainment, children's storytelling and lots of hands-on activities, colourful stalls, delicious food vendors, three community processions featuring magnificent giant willow sculptures, ab fab costumes, and it's all free! Highlighting the wealth of creative talent in the St Just area, there is something happening every day, from music and comedy to yoga and local history, and even a buggy race. This year's theme is Fast and Curious, so best get your skates on as you won't want to miss out.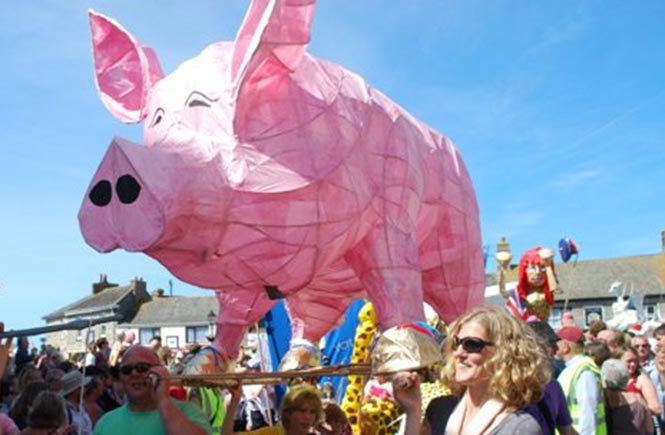 The festival traditionally high kicks off with the Dreckly Come Dancing night. Always a sell out, it gives Strictly a run for its sequinned money, with the Fire Brigade troupe past winners on numerous occasions. Two years ago, Debs' and Isobel's paired tap routine was up there with Gingers and Astaire. If you've always fancied a go, Debs is holding a free beginner's tap class at the W.I. Hall Thursday 7th 6pm-7.30pm.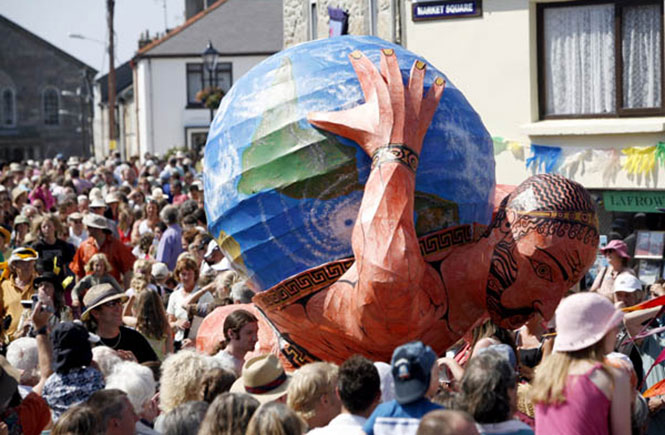 But before that, there's the annual Lafrowda Quiz at the Queen's Arms in nearby Bottallack. A lovely pub with tasty grub, its pens at the ready 9pm on Tuesday 5th.
Wednesday evening, you can catch some pure Cornishness in Market Square, thanks to a concert by the UK's most westerly brass band, Pendeen Silver Band. As a World Heritage Mining Area, choirs and bands go with the territory. Pendeen's formed in 1892, with its members then being predominantly miners, playing, as they still do today, beautiful hymns and psalms as well as stirring marches.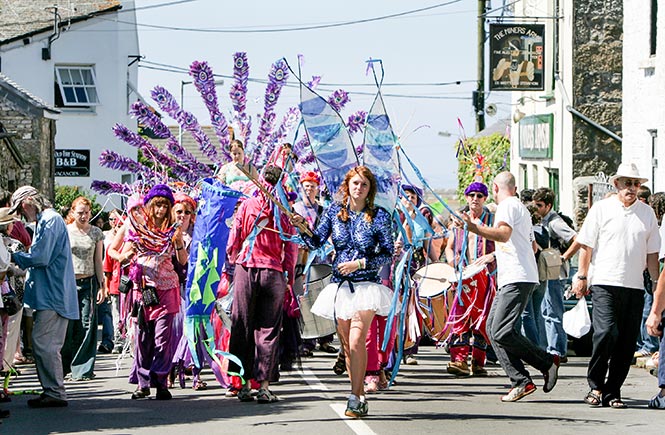 Saturday afternoon, July 9th, there'll be a spot of Cornish Wrasslin' in The Plen between 2pm and 5pm. Gwary whek yu gwary tek or 'good play is fair play', is the motto of the Cornish Wrestling Association, formed in 1923 to promote the Duchy's unique sport. The object is to throw your challenger to the ground from a standing position, by grabbing hold of their canvas jacket, and involves various manoeuvres including 'crooks' and 'heaves' and 'flying mares'. Relying as much upon skill as brute force, it's a genuine cultural experience, best watched with a pasty.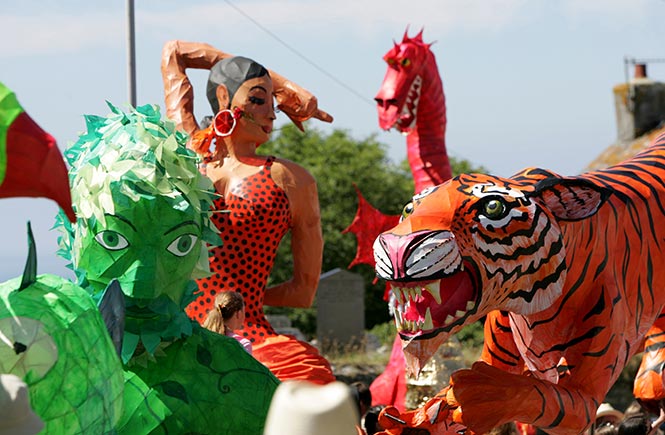 In The Plen Sunday evening is the traditional summer Ceilidh. Displays by local Cornish dance groups, traditional Cornish music, and a caller to put you through your circle dance paces, it's a fun, family-friendly affair guaranteed to get you in the Lafrowda spirit. 5-7pm, everyone welcome, bring a picnic.
Take your pick of events on Tuesday 9th. There's the award-winning Penzance Youth String Orchestra performing at the Methodist chapel at 7.30pm, or the legendary St Just's Got Talent taking place once again at The Star Inn 9pm. Entries on the night are welcome, so if you have a little party piece, or know a song or two, then don't be shy. Who knows, the judges might vote in your favour, while the epic raffle ensures just about everyone's a winner.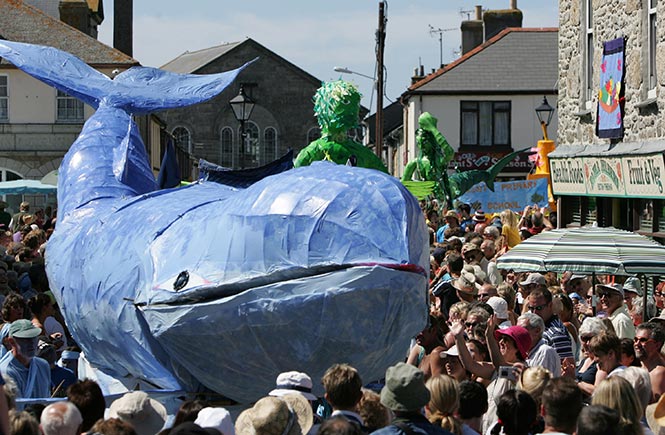 Wednesday 10th, there's a brilliant theatrical rendition of Dylan Thomas in Cornwall. Incorporating live performance, archive film and photographs, you'll be surprised to discover this famous Welsh poet's connections with this part of the world. Show starts 7.30pm in the WI Hall. Friday afternoon it's whacky Buggy Races from 3pm onwards, as twenty entries vie for the Fast and Furious speed record down Fore Street. A gravity only race, as in no mechanical forms of propulsion, one buggy at a time will be let loose on a time trial basis. If no buggies complete the race distance, the one that goes the furthest will be declared the winner. Penelope Pitstops and Dick Dastardlys beware, as rumor has it, there'll be some stiff competition on the start line.  Later that same evening, dance to the free band in Market Square as a prelude to the big event on Saturday 16th, Lafrowda Day itself.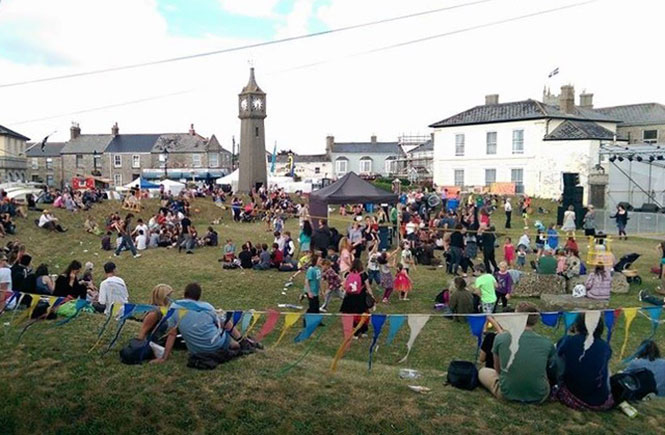 And that's just a fraction of what is going on. If you get a chance, pop into The Knut, adjacent to The Plen, which is staging an exhibition celebrating the twenty years of Lafrowda. Photographs, programmes, press pieces, films, slideshows and paraphernalia, will fill you in on what this wonderful community festival is all about. Open 10am – 7pm, Thurs 14th – Sat 16th, entry is free with donations welcome. You can also find out about the fascinating history of the Plen an Gwary itself, or 'the place of the play' Britain's oldest working theatre, and where many of Lafrowda's events take place.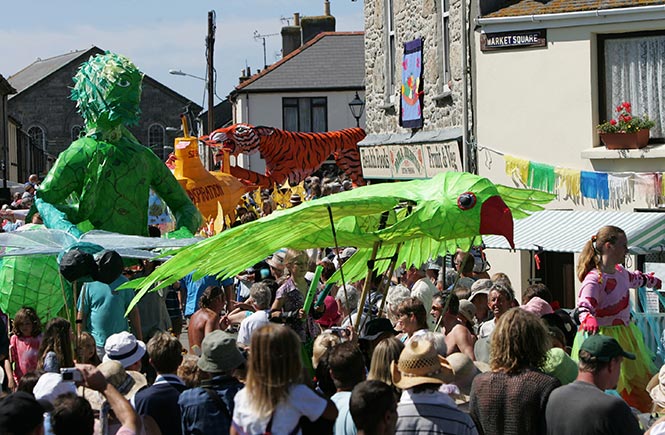 Festival chairman Jonathan Hancock (painter, decorator and potter by profession) has done another sterling job helming the current committee, who alongside dozens of volunteers, have all worked incredibly hard to make it all happen. The banners are up, as is the knitted bunting, and the exciting programme is in full swing.  A town that is 'twinned with your wildest dreams' St Just never disappoints. See you there.
For more details have a look here.
For holiday cottages in St Just look here.