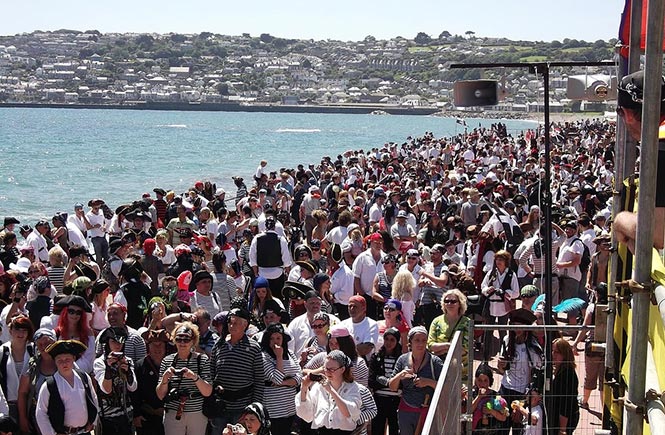 Wanted: 20,000 pirates. Age, size, not important. Sense of fun essential.
Six years ago, the Penzance seafront was awash with a motley crew hell bent on World Record domination. 8,734 ordinary folk (and several dogs) donned stripy shirts, eye-patches and brandished cutlasses, to make both Guinness history and a treasure trove of money for charity. It was like walking onto a film set. Some looked so convincing you'd have sworn they'd stepped straight off the Black Pearl. A few came with real live shoulder-perching parrots. But most were smiling, laughing families where not even babies in prams escaped the pirate makeover.
Community stalwart, Angie Butler, initially planned to put on a pirate-themed day to raise money for the Jubilee Pool's sensational silk flags. But when she heard about the 'most pirates in one place' world record (first held by Brixham in 2009, later scooped across the briny by Ontario, only to be seized back by Hastings, and returned to UK shores in 2010) like a spark to gunpowder, the idea ignited.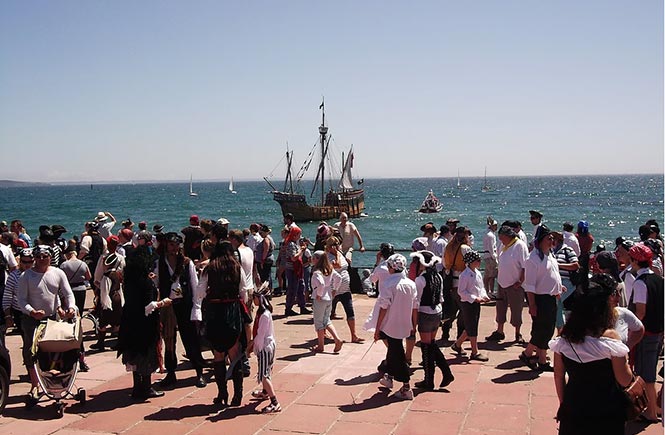 Teaming up with former Golowan Festival director Andy Hazlehurst, and Clare Trevaskis of the Bag O' Rags pirate shop, plans were duly hatched to incorporate a record-breaking attempt as part of Golowan's Quay Fair Sunday celebrations. And so the call to muskets and peg legs was made, canon fire echoed across the bay, while the promenade swarmed with more and more pirates, smashing the previous record, and raising a hearty £7584 for the flags and the RNLI.
Winning aside, the event was also about identity and civic pride. Cornwall has a long tradition of dressing up, local festivals and feast days being a case in point, while the Bards do a grand job with their natty Cornish Gorseth outfits. New Year's Eve sees the streets of St Ives packed with costumed revellers, but Penzance is where it's at if you want to be a pirate. And on Sunday August 27th you too can enjoy some Cap'n Jack Sparrow action, as the town seeks to regain their record after Hastings mustered a staggering 14,231 pirates in 2012 to claim it back again.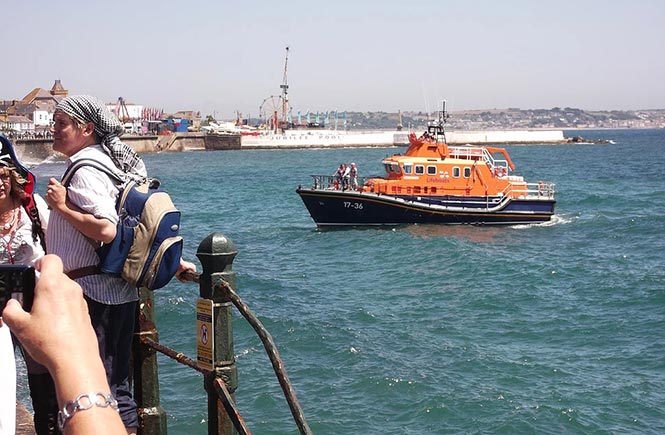 While Penzance's most recent piratical attempt in 2014 narrowly missed out by just 77 salty seadogs, as all participants needed to be in the designated area for the official 4pm count. Turns out 14,849 wristbands were sold on the day, which would've beaten the record by 618 pirates, had they not slunk off home or to the pub!
So here we are, three years later and the town is ready to try again, with a packed weekend programme featuring live music, circus performers, walkabouts, street theatre, re-enactments, craft stalls, food stalls, licensed bars and funfair rides. But Penzance needs your hep. The population isn't big enough, so they're hoping the whole of Cornwall will come on board, as well as visitors down for the bank holiday.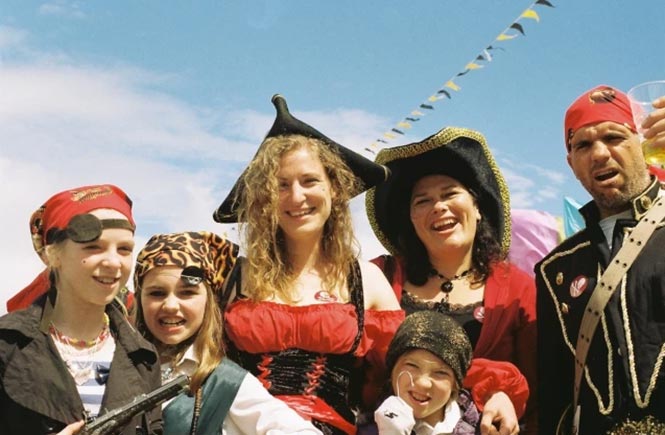 How do pirates know that they are pirates? They think, therefore they ARRRR!!!!!
Of course no-one supports real piracy; this is all about celebrating community, and enjoying being fantasy swashbucklers for the day. Trust me it really is brilliant fun, with no walking the plank required, and rum rations all round. So when you're packing your suitcases at home, you might want to include a few buccaneer basics, because to be counted in and become a World Record holder on August 27th, you must be dressed as a pirate. Costumes should consist of the following:
• pirate style hat or bandana/kerchief
• striped shirt, white t-shirt or shirt
• appropriate skirt or trousers (rolled-up, tatty or pantaloons)
• an accessory: sword, hook, musket, skull & crossbones flag, parrot, eye patch
It's a £2 suggested donation (under fives free) payable in advance or at the entry points. All income goes to cover costs, with profits going to the RNLI. For more info www.piratesontheprom.co.uk or find them on facebook. See you there me hearties.
Have a look at our Holiday Cottages in Penzance here.