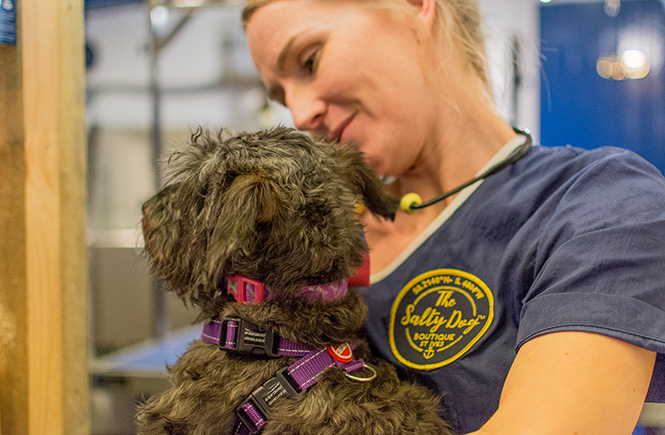 With beaches aplenty, coastal walks and muddy woods, our four-legged friends are prone to getting messy and muddy in Cornwall. Dog walkers will know that familiar feeling when their dog heads home splattered in mud or sand, or with twigs and leaves entwined in their fur!
So, with the festive season approaching, I decided to take Rosie, my miniature schnoodle, to our friends at The Scrub Yard in St Ives for a wash, cut and blow dry in time for the festive season.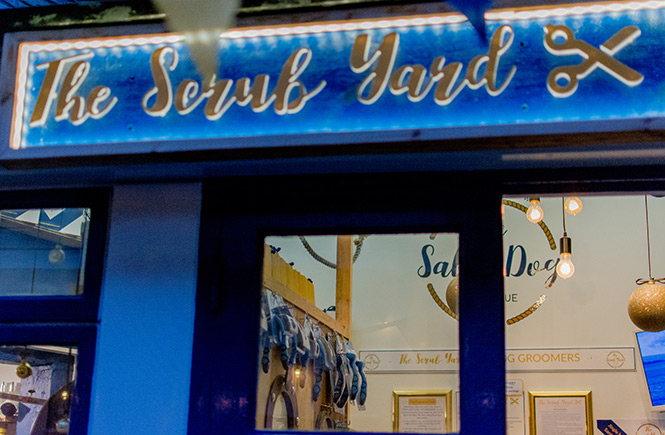 With the same owners as the well-established St Ives shop The Salty Dog Boutique, The Scrub Yard, established in July 2017, has built a reputation second to none! The Salty Dog Boutique sell a range of luxury pet products, including the finest dog collars and leads made from genuine leather (and with Swarovski crystals!). This high quality feel has been fully replicated within The Scrub Yard salon.
When it comes to our four-legged furry friends, we like nothing more than to spoil them, so arriving at The Scrub Yard was a real treat for myself and Rosie! Entering the spa we were welcomed by the inviting scents of Christmas and, of course, the very friendly Jo, who Rosie took to instantly. This was her first groom and Jo made us both feel very comfortable.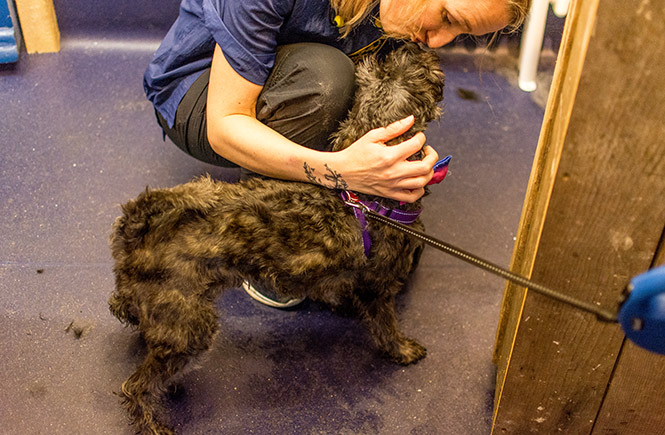 After filling out the necessary paperwork, Jo talked us through the grooming options available for Rosie; we opted for a 'Soft Schnauzer' cut and the Christmas scent we'd smelt on arrival - a festive combination of cedarwood, sweet orange and coriander. Jo uses high end Wildwash products which are 100% natural and plant based; the scents are created using essential oils giving them a unique (and non-synthetic) scent. Rosie would be receiving the Ultimate Scrub, which would include a shampoo and creme rinse, blow dry, brush through, ear clean, nail trim, hygiene clip and full body styling (clipping and scissoring). This would certainly be one pampered pooch!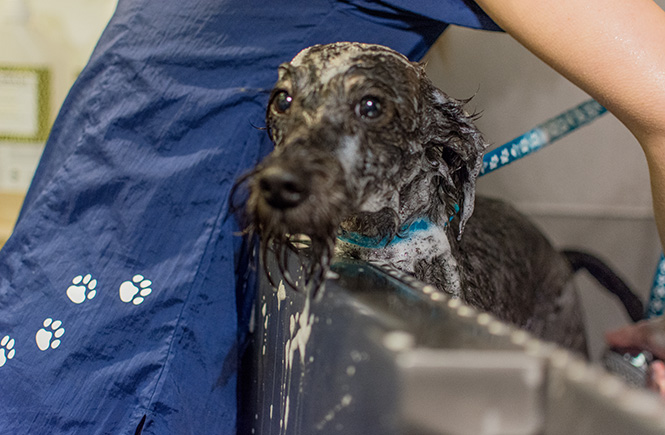 Though excited, and a bit nervous by the new experience, Jo kept Rosie calm and content, talking to her as she entered the spa for her treatment. Once secured in the large bath tub, Rosie was treated to a fabulous smelling shampoo and creme rinse, followed by a head massage - how indulgent!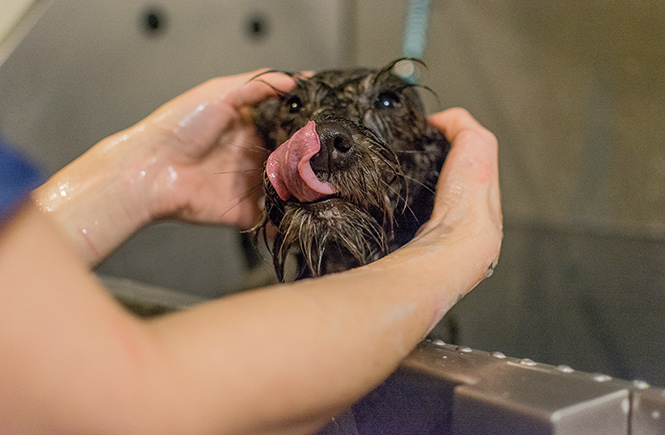 Of course, while your dog is at the spa, you'll be treated to 1-2 hours of dog-free time to yourself. The Scrub Yard is ideally located in the centre of town for a spot of shopping, or you could treat yourself to a nice lunch or a coffee and cake in one of the many local cafes. In the summertime, take the time to relax on one of the nearby beaches at The Wharf or Porthmeor. Alternatively, why not book into one of the St Ives spas for your own spa treatment? Whatever you choose, you can rest assured knowing your pooch is in the safe hands of the capable Jo.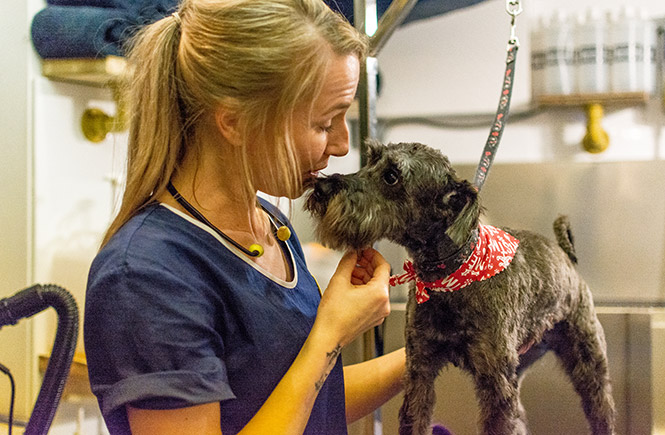 On returning to The Scrub Yard (after a delicious festive hot chocolate at the Hub), I was delighted to find Rosie not only looking splendid, but also seeming incredibly happy and content. Not to mention, she smelt divine!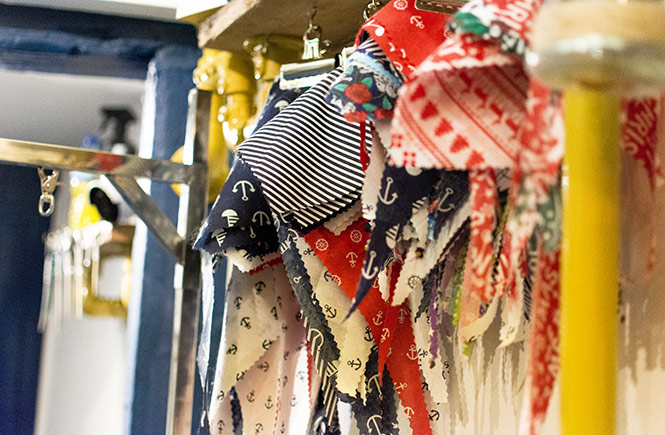 When companies 'go the extra mile', it makes all the difference (especially where your pets are concerned) and the Scrub Yard certainly do this; it's the small details that make all the difference. Every dog that receives a treatment at The Scrub Yard leaves with their own bandanna and a bag of treats, such a lovely touch.
Before leaving, there's an opportunity to purchase a range of pet products to enable you to continue your pet's pampering at home. By choosing these high-end products you'll know that they're perfectly safe for your dog and are guaranteed to be of the highest quality. The Scrub Yard only sell the products they use and trust. To top off your experience, you can purchase a Salty Dog tag for your pooch, a lovely memento if you're on holiday.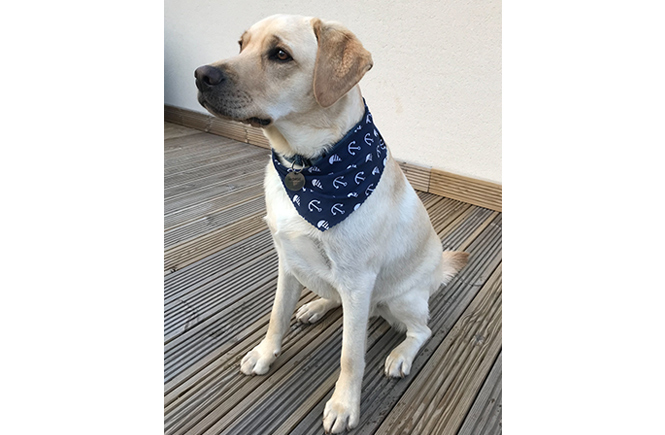 Of course, The Scrub Yard caters for all sizes and breeds. Here's Morse, another Aspects' dog who popped into the spa for a treatment post-Christmas. Doesn't he look dapper in his anchor bandanna?
Jo is an experienced groomer and has worked with a wide range of different dogs, including rescue dogs, who can be seriously anxious and show fear aggression. Jo finds that the calm and quiet salon allows a better environment for the dogs to relax in. If you are concerned about how your dog will manage at the spa, give Jo a call on 01736 799766 to discuss this further or to arrange a consultation.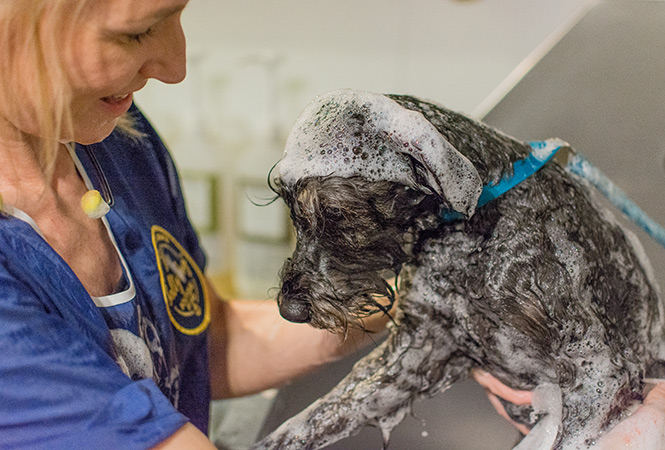 If you're staying in St Ives with your dog/s, then you simply must visit The Scrub Yard and treat your dog to the best spa treatment in town! The Scrub Yard is open Wednesday to Saturday 9.30am-6.30pm and Sundays 10am-4pm. In the summer, the salon is open six days a week.
If you're looking for somewhere to stay in St Ives, then view our holiday cottages in St Ives here>