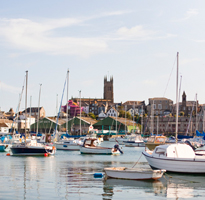 Enjoy a self catering holiday in Penzance and you wont be short of things to do during your stay with us. In this blog post we delve in to the myriad of things that Penzance has to offer:
Gardens, Museums, Galleries
Morrab Garden
A sub-tropical garden with Victorian fountains and a band-stand, which still plays host to concerts in the summer. The Morrab Library sits in the gardens;  founded in 1818, and financed through membership subscriptions, this library is an absolute joy. You can visit on a day membership. The photographic archives and collections are wonderful.
Penlee Park
Squirrels and trees in this run-about-and-play park. There is a specific dog-free and child-friendly play-park within the Penlee Park environs. Penzance Tennis Club abuts the park and Penlee House Art Gallery & Museum (with excellent cafe) sits opposite the Penlee open-air theatre. The theatre is programmed annually during the summer months. Details from Penzance Town Council.
Penlee House Art Gallery & Museum
Home to the biggest collection of Newlyn School paintings as well as Penzance Museum. The house itself has a history, being originally built for a wealthy miller.
On the outskirts of town, on the Gulval to Ludgvan road, used to be called Chestnut Grove, you will find Tremenheere Sculpture Gardens www.tremenheere.co.ukwith sculpture by James Turrell, David Nash, Richard Long, Kishio Sugar and Billy Wynter. It is also the home of The Lime Tree Cafe (excellent). A special place.
Penzance Jewish Cemetery
There are 25 Georgian Jewish cemeteries outside London. The Penzance cemetery is regarded as being the finest. It is English Heritage Grade II listed. It has the distinction of being enclosed by a substantial wall (1845) and at the entrance it has a complete Bet Tohorah (Cleansing House), a very rare feature. The burial ground was established around the 1740s.
Trereife House
Just outside Penzance and easily accessed from the bypass. Holds fairs, events and exhibitions. Owned by the Le Grice family for generations, the house and gardens are full of history.
St. John's Hall
A special word must be said about St. John's Hall. Built in 1867 it is one of the largest granite buildings in the UK. The top step, over 17 feet long, is one of the largest pieces of granite ever cut. It has housed museums, municipal offices, it is the Town Hall of Penzance. There is a car park behind it, and a weekly Farmer's Market is held in front of St. John's Hall every Friday 9 am til 2 pm.
Penzance School of Art
Built in 1880 and designed by Silvanus Trevail, this is situated at the top of Morrab Road
Walking in Penzance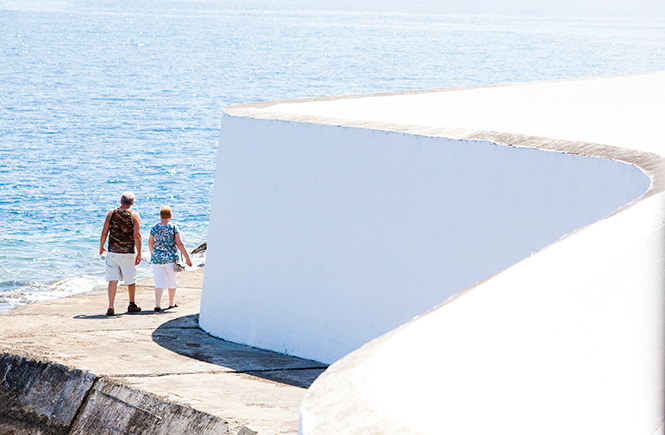 Take a day to explore the town on foot and you will discover it's beautiful parks, its Regency and Georgian architecture. However, to ensure you do not miss some of its secret treats, you may prefer a more structured walk:
The Penzance Town Trail. (Guide books for the trail are available at the Tourist Information Centre at the station).  The trail takes you to: St. John's Hall; The Cattle Market; The Savoy Cinema; The Green Market; Humphry Davy Statue & Market Jew Street; The Union Hotel; The Georgian House Hotel; The Lifeboat House; The Dolphin Inn; Jubilee Pool; St. Mary's Churchyard; Regent Square; Morrab Sub-tropical Gardens; Penzance Promenade; Penlee House Art Gallery & Museum; The Penzance Art School; Penzance Public Library. For other walks around Penzance check out our blog post on Walking in Mousehole.
Sport in Penzance
Penzance has a leisure centre at St. Clare, on the road out of town past West Cornwall Hospital towards Madron. The Leisure Centre is opposite Penwith College. Penzance, Mennaye Field, is also home to the Cornish Pirates, Cornwall's premier rugby team. That's a good reason for a winter visit!! For more places that are well worth a visit during your stay, view our blog post on Days Out around Penzance.
View all of our Self Catering Holiday Cottages in Penzance >
Tags: Penzance