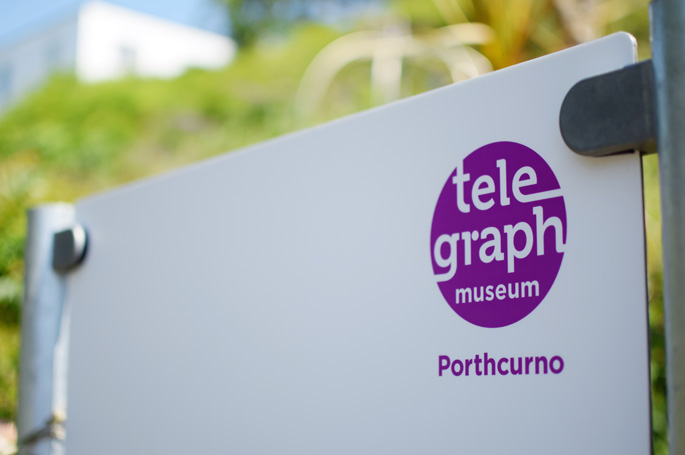 Having been closed for nine months for major refurbishment, the Porthcurno Telegraph Museum is keen to let people know that they're up and running again. Communications and marketing manager Rachel Webster says:
"We're really grateful to have the doors open – we've missed our visitors."
Never intended as an attraction, PK (the telegraphic call sign for Porthcurno) was built as a working cable station, the £2.5 million makeover having transformed the building into a spacious and light contemporary museum. It's also much more family friendly, and there's an exciting new archive centre, The Clore Learning Space.
It's hard to believe that this small cove was once the epicentre of communications around the world. Today we take long distance communication for granted. We all carry mobile devices and can call, text, email, even skype anywhere pretty much instantly. 150 years ago it would have taken weeks to send a message overseas.
The upper gallery of the museum tells the story of 'telegraph' or 'distant writing' explaining the science behind how it works, how it evolved, as well as its significance to the Cornish village of Porthcurno itself, the nation as a whole – particularly when the country was at war – and to the broader international community. The electromagnetic signals were transmitted along wires or cables, with the first successful undersea cable having been laid from Ireland to America in 1850.
Information is presented in an attractive way, with clear displays, hands-on opportunities like tapping out Morse code (an experienced operator could tap out as many as 20 words per minute) as well as audio recordings of genuine telegrams, and aural histories where older local people talk about their life, back in the day.
Eagle-eyed visitors may even spot a carrier pigeon or two, part of the Pigeon Pals puzzle devised to keep the youngsters happy as they go through the museum. Find the pigeons, match the letters to their names, and crack the secret code.
A fascinating overview of PK's history, and live demonstrations of some of the equipment, is provided by long term employee and self-confessed cable and wireless geek, Sue. With some of the instruments being well over a hundred years old, it's amazing to see them in action. Afterwards you can stay on to watch a short film, before wandering round the rest of the upstairs exhibition. If you like turning handles, spinning things, smoke and mirrors etc, do pop into the activity room.
Memorabilia relating to the thriving training facility that ran here and how students spent their leisure time, as well the substantial numbers of ex-pats sent overseas to operate cable and wireless stations abroad, show a side to this remote village you'd never have believed existed. Few other professions of the day gave such opportunities to travel, the B&W photos of overseas staff providing a rare insight into their exotic experiences. PK itself was positively cosmopolitan in its heyday, later becoming the most important communications college in the country, right up until 1993, at which time it relocated to Coventry.
According to Napoleon Bonaparte, "The secret of war lies in communications."
He was right. Downstairs in the gas proof, bomb proof WWII tunnels, you can see all the whirring machines in operation – lovingly oiled and cared for by a dedicated team of technical volunteers.  There are various vintage toys for the children to play with like Meccano and wooden jigsaws. Or they can have a go at sending semaphore flag messages, make their own paper gas mask, or maybe deciding what to pack in an evacuee's suitcase is more their thing?
If you're feeling fit, try climbing the one hundred escape stairs, an emergency exit to prevent staff from being trapped inside if the station was under attack. While the final underground corridor has a section devoted to the modern day communication marvel of fibre optic cables. All that data sent in the blink of an eye… mindboggling.
If you're like me, by the end of a couple of hours you're probably suffering from museum legs and feeling decidedly peckish. Luckily the re-vamped cafe, with its delightful outdoor sun terrace, serves a selection of hot and cold drinks, delicious homemade cakes (I can vouch for the lemon drizzle) and has a tasty lunch menu featuring freshly prepared salads, sandwiches, paninis and puddings – not forgetting the little visitors, who are catered for with their own bite-size meals.
The museum also hosts special events, with a Brilliant Basking Shark day coming up Thursday July 31st; a World War One week Monday August 11th to Sunday August 18th; and a Sandy Sunday sand-sculpture competition August 24th.
To find out more about what's going on, and for opening times and prices (Gift Aid your entrance fee, and you'll receive year-round entry) visit their informative website.
And if you overlook the irony that there isn't any mobile signal reception in the cove, Porthcurno really is a communications wonder. Cornwall should be shouting its fascinating heritage far and wide.
Fancy staying in Porthcurno? View all our cottages in Porthcurno >
Tags: Porthcurno