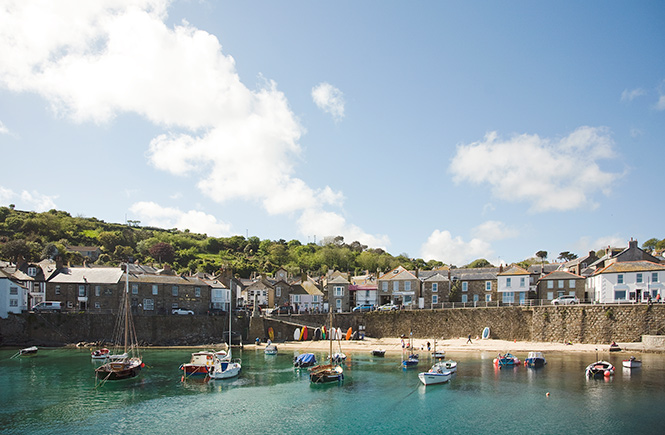 Mousehole has a rich fishing heritage and was once known as Porth Enys, meaning 'port of the island'. From the 13th century, it was the main port in Mounts Bay until the 16th century when Newlyn and Penzance became more dominant. The origins of its modern name 'Mousehole' are unknown, although it is suggested that it was derived from the Cornish word Moeshayle, meaning "young woman's brook", while others maintain it as simply being a reference to the original tiny harbour, or to a nearby sea cave, which resembled a mouse hole.
Tom Bawcock's Eve
In the past, the villagers of Mousehole have suffered from harsh winter storms. In the 16th century, villagers faced starvation as the harsh conditions meant no fishing boats could leave the harbour to catch the fish that they relied upon.  A local fisherman named Tom Bawcock braved the storms and caught enough fish to feed the whole village. This event is celebrated on 23rd December each year. Read more on our blog about Tom Bawcock's Eve, a legendary tale of a fisherman from Mousehole.
The Spanish Invasion
On the 23rd July 1595, four Spanish galleys appeared out of the morning fog and 200 men, armed with pikes and shot landed in the village. Houses were burned to the ground in Mousehole and the nearby village of Paul. The fire in Paul Parish Church was reportedly so fierce that it ruined the stone pillars. The Spanish attacked land and people for a radius of about half a mile. It was an act of reprisal for the sinking of the Armada. It is recorded in Carew's Survey of Cornwall, 1602.
Only one house from the Tudor period remains in Mousehole; the old mansion house of Jenkin Keigwin who was killed in the invasion.
Dolly Pentreath
Dolly Pentreath of Mousehole was recorded as being the last person to speak solely Cornish by Daines Harrington in 1768.It is thought that there were Cornish speakers after this date. Certainly the language survived in phrases, dialect and place names, and in ancient manuscripts. It was revived in the 1920s and is currently taught to many Cornish schoolchildren.
The Solomon Browne
The whole village was devastated by the loss of the lifeboat Solomon Browne on the night of Dec 19th 1981. All 12 of her crew were lost as they fought to rescue the stranded Union Star, a coaster on her maiden voyage in ferocious seas close to the rocks at Tater Dhu. This is the pain of real life behind the picturesque seaside cottages. The current Memorial Hall in Duck Street is a memorial to the Solomon Browne crew. The RNLI awarded a posthumous Gold Medal to coxswain Trevelyan Richards and Bronze Medals to the crew.
Smuggling
Mousehole, part of Mounts Bay, is renowned for its rich smuggling history. Smuggling reached its peak in the 18th Century, and Cornwall was at the centre of it. With a constant demand for cheap goods, such as brandy, gin, tobacco and tea, 'free-traders' made a living from smuggling for many years. One of the only legal trades was fishing, which could be very unreliable, so fisherman often looked to the smuggling trade to supplement their income. Read about a smugglers' tunnel discovered in one of our Mousehole cottages >
View all of our Mousehole Cottages >