As the main driver of bookings, it goes without saying that the strength of our website is paramount. We always keep a close eye on it's performance, making continual tweaks and improvements wherever we can and, as usual, during the past twelve months we have made quite a few changes to make the site more user-friendly. However, this year we have taken even more steps to optimise the site so that it resonates with search engines for more key search terms.
We're delighted to report that following a myriad of updates, improvements and expansions to the site, the fruits of our labours are shining through. Over the past six month period, organic traffic to the site has risen by 71% against the same period in 2013; a truly outstanding achievement.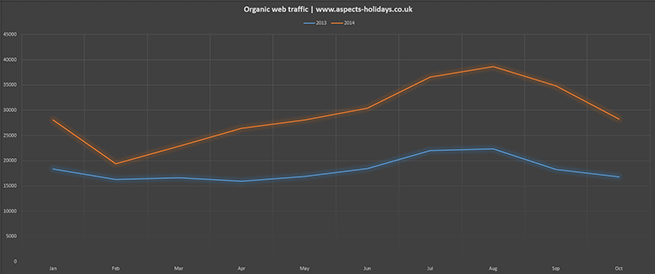 The term 'organic visitors' refers to users who enter the site via general internet search listings, not adverts or other referrals, so this measure is widely considered to be the best indicator of natural prominence.
Part of this work has been – and continues to be – providing information in a way that helps visitors find the right cottage, in the right location and at the right times of year. With some thoughtful implementation, we're able to bring visitors into the site on the page most relevant to them (not just the homepage) keeping bounce rates down and conversion rates up.
With the realm of Aspects' website expanding further into West Cornwall, we have been very careful to continue building its online prominence in our original areas surrounding St Ives. An extraordinary number of people search for holidays in both destinations and we are delighted to report that we consistently now appear in the top three positions for the most popular search terms.
But as we know, search engine prominence is only half the battle. Once we've attracted a customer to the right part of our website, we want to make their experience of the site to be as pleasant and intuitive as possible.
Over recent months you may have noticed some of these improvements, to name but a few:
– A new short breaks section that makes finding and booking a short break so much easier;
– Auto loading of additional properties in the cottage search results;
– A new-look blog section to promote the area year-round. This is now much more attractive with integrated social media interaction;
– Customers are also prompted to share the cottage they have booked on social media;
– Special offers and new properties now presented on the homepage, providing continual fresh content to what remains our most important page.
We have some more exciting developments in the pipeline that we think you'll really like, so we'll be letting you know about those in due course too.
Tags: