We're proud to announce that, following an assessment from Investors in People, Aspects Holidays have been awarded the prestigious Silver award!
What's it all about?
IIP exists to help businesses realise the potential of their employees, improve standards within the workplace and gain the accreditation to prove it.  Companies that demonstrate their commitment to this are recognised by IIP and Aspects have done exactly that.
This accreditation means we are among just 2.8% of IIP recognised businesses in the UK to achieve the Silver standard award; a fantastic achievement.
The Silver award builds on our previous success of achieving the bronze standard, back in July 2009. The award represents a massive achievement for us, and reflects all the hard work that has gone into making, and that continues to make Aspects a fantastic place to work.
Our Commercial Director, Mandy Stinchcombe said:
"I'm extremely proud of everyone's efforts and attitudes, especially during all the change and development that has taken place over past 18 months. Achieving this higher level of award shows how committed the team is to providing the highest possible level of service to both customers and property owners. "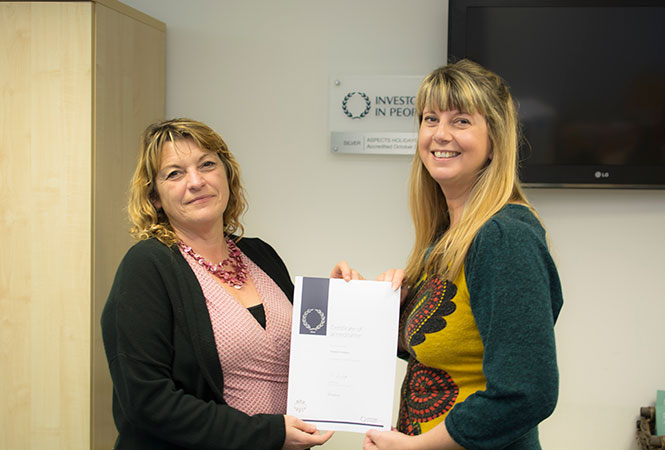 Following the acquisition of West Cornwall Cottage Holidays in October last year, our IIP assessor Carolyn Inger was thoroughly complimentary on how smooth the transition has gone, saying:
'Aspects' ability to look after your staff is faultless, you are at the top of your game in managing change and you could not do it any better.'
She also went on to say that Aspects is:
– "A company with great heart, energy and motivation."
– "A really lovely place to work, everything is done in the best way for the people here and the business."
And that:
– "Easy going excellence is the motto and that encompasses being friendly, relaxed, having fun, being professional, providing excellent customer service and ensuring top quality."
– "Everyone wants the business to succeed there is real loyally to Aspects as a brand."
For more information about Investors in People, please visit www.investorsinpeople.co.uk
Tags: