The team at Aspects Holidays were recently invited to a Cornish culinary experience at Philleigh Way Cookery School; we were all very excited to participate in the cooking class and taste some Cornish delights...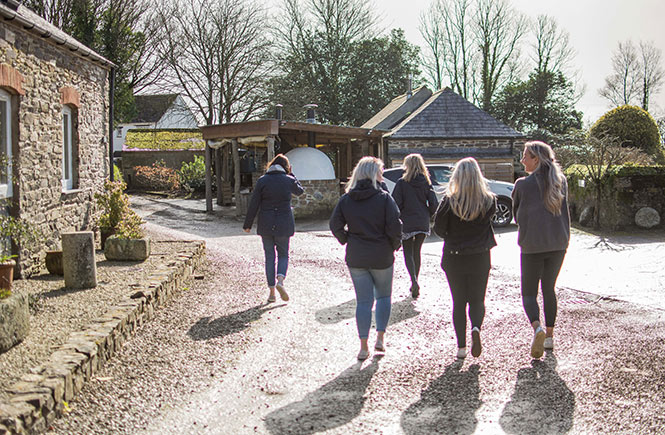 Country hedges and sweeping lanes led to the quaint countryside village of Philleigh on the Roseland Peninsula. Nestled among the cute cottages, village pub and church, we found Philleigh Way Cookery School. Beautifully renovated, this barn conversion is home to a modern, stylish and country-themed cookery school. Complete with all the equipment and accessories required for eight students, along with a demonstration area and a large wooden table, the space is perfectly designed for a relaxed learning environment.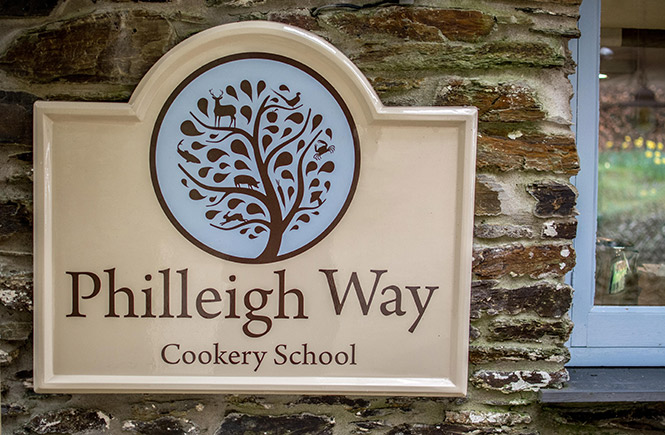 Rupert Cooper, an ex-professional rugby player who played for the Pirates, took over Philleigh Way Cookery School towards the end of 2018. Fourteen months later, he's well and truly settled into life at Philleigh Way, running courses, hosting feast nights and working alongside other local professionals and creatives to bring you a wide variety of courses.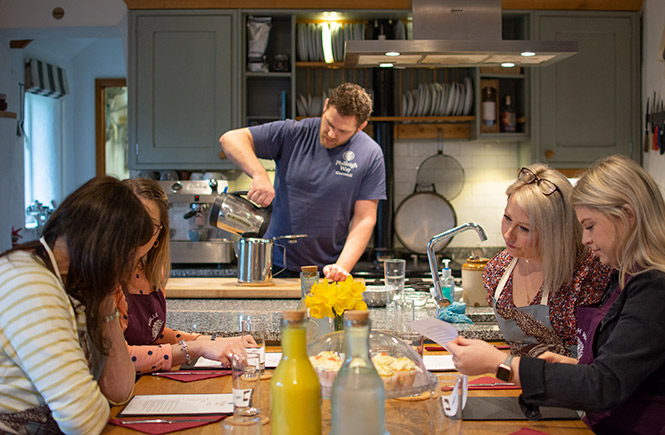 On arrival at Philleigh Way Cookery School, we were greeted by Rupert and the smell of freshly baked cakes and coffee brewing. Once settled with a cuppa, we helped ourselves to delicious carrot cake and lemon sponge cupcakes, what better way to start the morning! Introducing himself and the cookery school, Rupert's passion for his business and his love of food was clear; if you want to learn from someone who really loves what they do, Rupert's the person to go to!
Feeling incredibly relaxed and at ease, we began our Cornish cooking class with… Cornish pasties, of course! Rupert and his assistant Debbie had everything ready to go which made the day easier than anticipated – you don't even have to wash up after yourselves!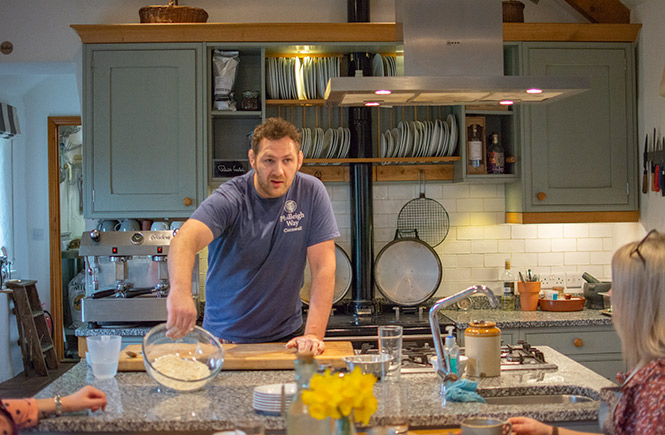 Rupert demonstrated how to make pastry, which we were surprised to discover was not as hard as we had thought. When it was time to have a go ourselves, we got stuck in and learnt from the knowledgeable Rupert that pastry can be adapted to be flakier, or more like shortcrust by the amount you knead it. Knead a little, but not too much, for a simple flaky finish. Delicious!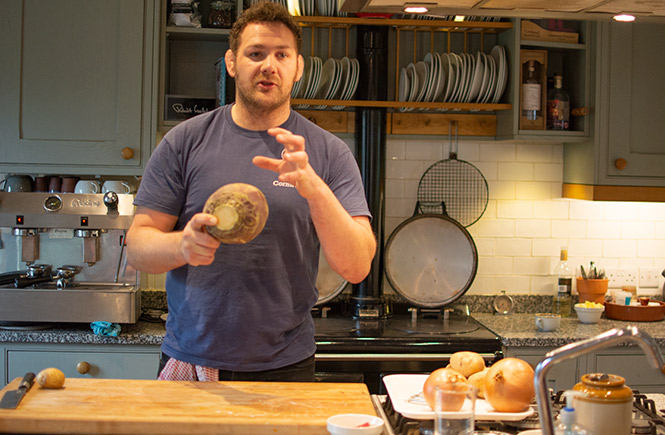 Next came the important filling ingredients, which had all been purchased within a matter of miles. We got into a surprisingly long debate about turnip…or should we call it swede? In fact, our tutor explained to us that swede (as pictured) arrived in 15th Century Britain from Scandinavia, and that the Celts started referring to the swede as a turnip. In fact, a turnip is a much smaller, white root vegetable. So, next time you're eating (or making) a Cornish pasty, you'll know that you're eating swede, not turnip!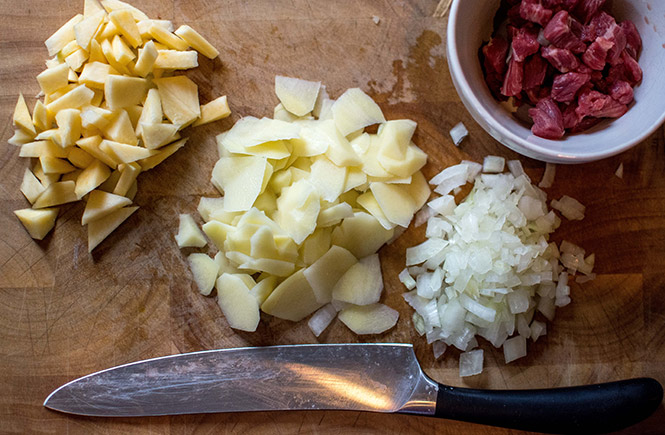 Rupert taught us about the importance of 'chipping' the veg, not cubing; not only is this the traditional way to prepare the veg for a pasty, but the small, thinner pieces of veg mean that the starch breaks down more, adding flavour and sweetness to your pasty. When it comes to the meat, it's important to use skirt (or chuck if you can't get skirt) as the intermuscular fat (also known as marbling) melts before the meat cooks, essentially cooking it from the inside out, keeping it nice and juicy!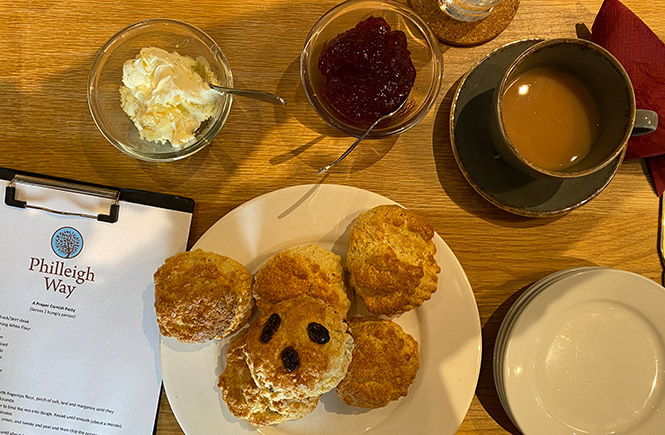 Having prepped our veg and meat, we still had to wait a little while for our dough to rest. And what a treat it was to discover that this time would be filled with Rupert demonstrating how to make scones! The key to making scone dough is to not over combine it or knead it too much! Once popped in the oven, the smell of cooking scones filled the room as we assembled our pasties!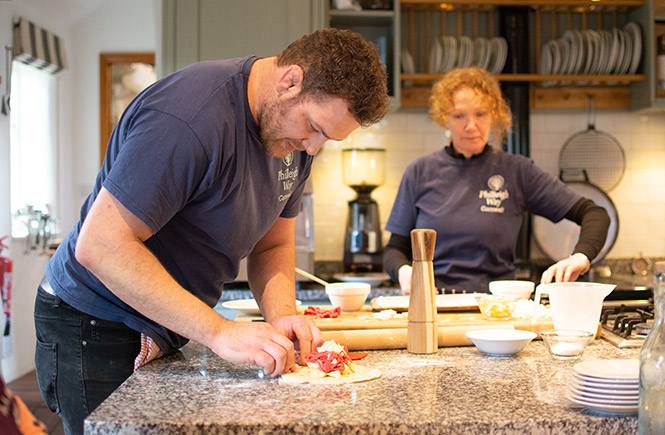 Following Rupert's lead, we rolled our pastry into a circle and began layering the fillings - first swede, then potatoes, followed by the meat and onions on the top, with seasoning on every layer. Then we reached the fun crimping stage! With our tutor's guidance, we all had fun giving this a go – the results were certainly varied!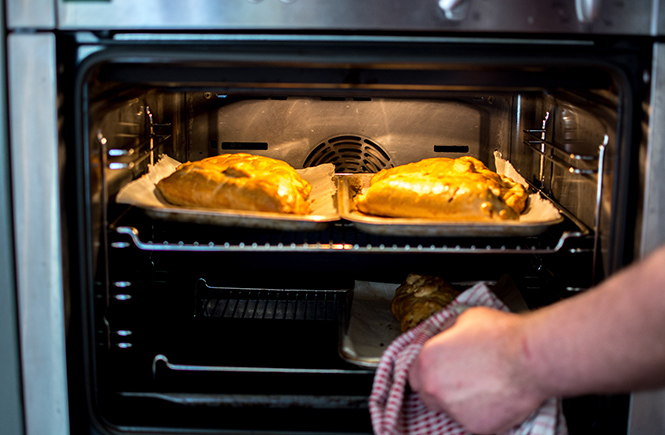 Once popped in the oven, Rupert explained that 'The great thing about pasties is, when they look cooked, they probably are cooked'. Nice and easy!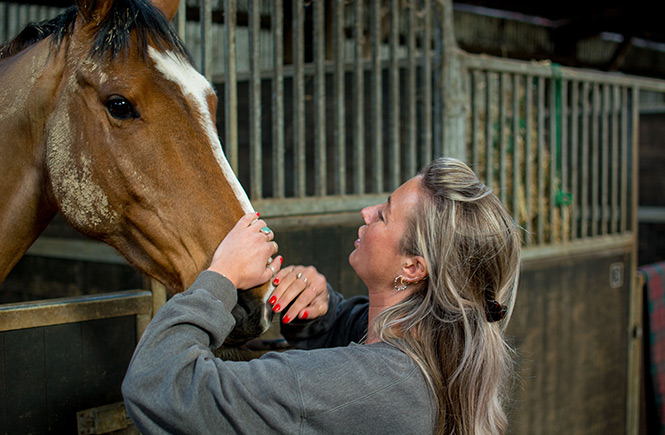 As our masterpieces cooked away, we were able to enjoy the delightful scones with jam and cream (jam first of course!) and have a wander around the gardens, farm and stables. After our sunny stroll, we entered the cookery school to the divine smell of our pasties cooking; we can certainly say they tasted as good as they smelled!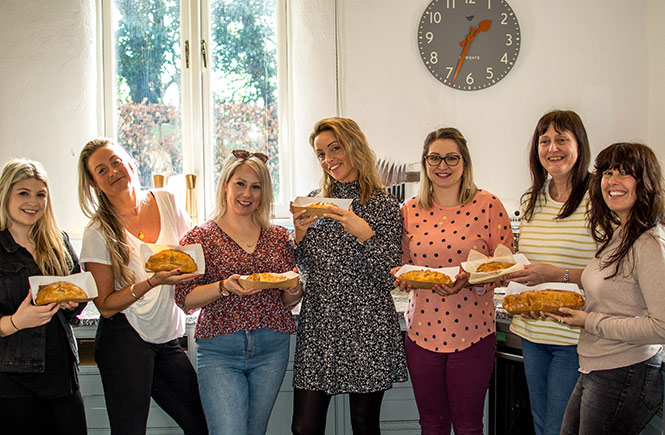 The main thing we took away from the course was 'the best way to make a pasty is to make it how you like it, there's no right or wrong'.
Here's what some of the team said about the day:
Jackie, Holiday Coordinator: "Rupert was full of pasty knowledge, I enjoyed every minute of the day. Nothing was too much trouble and he was more than happy to keep refilling the teapot!! Debbie was also lovely, everyone needs a Debbie in the kitchen. Highly recommend."
Doug, Marketing Manager: "A great day out in beautiful surroundings. I'll definitely be back to hone my cookery skills on another course or enjoy one of their popular outdoor feasts!"
Jenna, Marketing Assistant: "I had a fantastic day at Philleigh Way, I really enjoyed making the pasty and found it much easier than I thought it would be. I'll definitely be making my own pastry from now on too! Rupert was very friendly and the whole day was nice and relaxed."
Laura, Property Manager: "It was very interesting to learn how a traditional Cornish pasty is made, along with finding out how different methods have been developed and changed over the years. I really enjoyed the course and the day, Rupert was great fun."
Lousie, Property Administrator: "Rupert was great fun and a really engaging 'teacher'! What a fantastic way to learn how to make a traditional Cornish pasty, would definitely recommend!"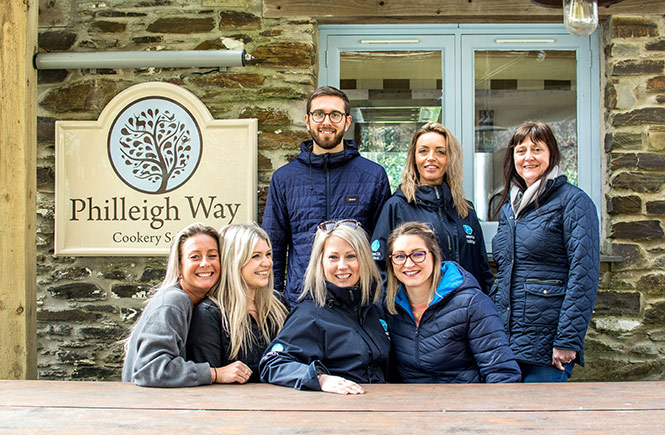 If you're visiting Cornwall, we would absolutely recommend a cookery class with Rupert at Philleigh Way Cookery School; what could be better on your Cornish holiday than learning how to make a Cornish pasty? Alternatively, if you're feeling more adventurous, you could book onto one of the many other courses – street food, Thai curry and patisserie to name just a few. In addition to cookery courses and producer visits, you can also experience alternative lifestyle courses such as foraging, yoga, photography and writing, all teamed up with some fresh foodie delights from the kitchen. Rupert offers bespoke experiences and can tailor the days to suit you.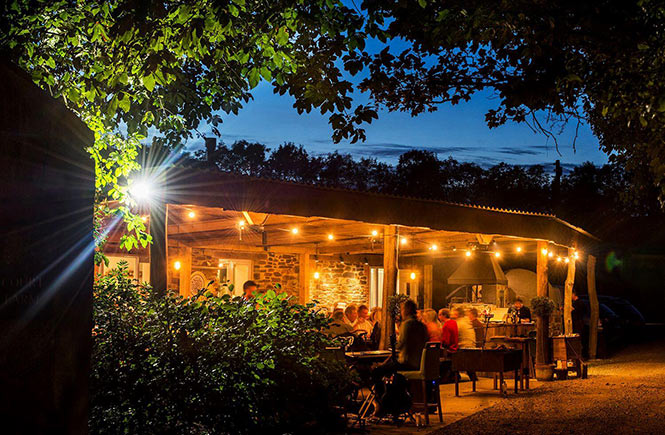 As well as cookery classes, Philleigh Way also hosts Feast Nights throughout the summer months – an evening of delicious food in the countryside, cooked outside on the woodfire; expect a feast of meat, fish or shellfish with wine aplenty, great company and top tips from Rupert.
Keep an eye on the Philleigh Way Cookery School Facebook page for pop up feast nights and events.
If you fancy visiting Cornwall and booking a course, we have a selection of properties close to Philleigh, take a look here >
Alternatively, check out all of our properties in Cornwall here >
Tags: Cornwall | South Cornwall | The Roseland | Food and Drink |