To welcome the start of the Christmas season, the beautiful cathedral city of Truro puts on a show like no other.
A festival of light delights the crowds who line the streets to see a parade of giant handmade lanterns carried by professional artists, local school children, community and youth groups. Samba, brass bands and pipes & drums accompany the procession, all intermingled by flamboyant dancers. Further outdoor music performances take place throughout the evening at various locations and there are many a food and drink stall at which to pick up a tasty snack or warming drink.
The streets of Truro were packed with spectators at this year's City of Lights parade as they watched the procession make its way through the town centre. Inspiration was taken from this year's theme, 'Kings and Queens' and sculpted into spectacular paper creations. In the main square, the smell of venison burgers and mulled wine occupied mouths and hands as people waited for the main event to arrive.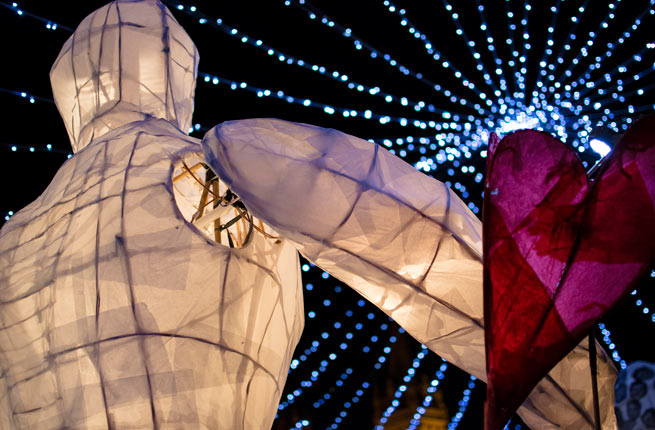 City of Lights 2013
The theme for City of lights 2013 is 'Expect the Unexpected' – and our inside information is that it should not be missed! Taking place on November 20th 2013. Music and Arts start at 5.45pm. City of Lights Parade from 7pm.
If you're thinking about visiting the event yourself, we recommend following the Park and Ride signs on the outskirts of Truro. Those of us that underestimated the magnitude of last year's event spent the majority of the evening trying to find a parking space!
View all our cottages in Cornwall >