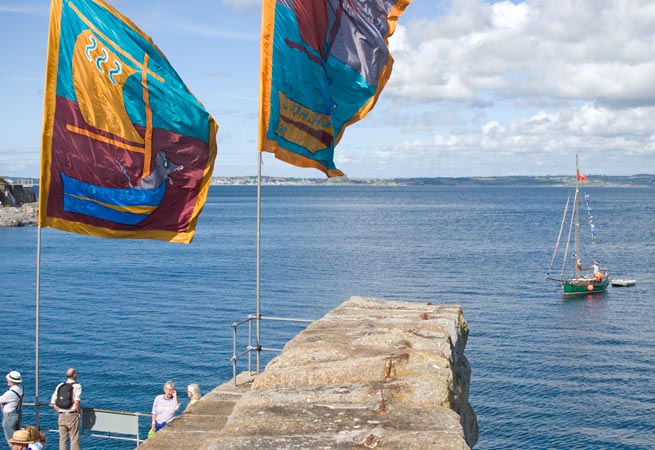 Well, what can I say? I'm still recovering from one of the best nautically inspired weekends ever. In its 20th year, this bi-annual festival celebrates Mousehole's unique maritime and fishing heritage, while ensuring there are plenty of things to see and do for landlubbers of all ages. Music, food, stalls selling local produce, children's activities and the historic village itself adds up to three days of harbourside fun.
The main attraction, however, is the visiting fleet of traditional wooden vessels, which during the 'parade of sails' in the bay, is a truly wondrous sight to behold.
Sadly, I missed Friday's official opening by Chris Blake OBE, and Tom Rickman's legendary Tattyella (like Paella but made with potatoes instead of rice) but arrived in time to hear Mousehole's Male Voice Choir in fine voice, sing with new 4-piece The Super 8s in our debut public performance, and dance my socks off to headliners Sandy Acre 7 – organiser Gail Angove's favourite band and rightly so, as they rock.
Light drizzle failed to dampen Saturday's events, when boat-hopping I ended up chatting to the owners of The Three Brothers, who were busy stowing sails and coiling ropes post-race. "Think we came in second, but it was somewhat disorganised, as our race started ten minutes before we'd even left," said Marsha.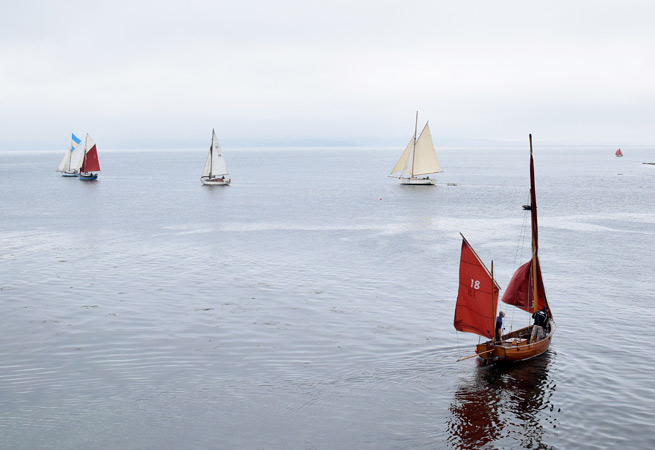 There's something truly magical about old wooden boats. The beauty of the materials, the nostalgia, the sense of freedom as you imagine sailing to wherever the four winds may take you…
Restored by Marsha's partner Chris Rees, The Three Brothers was originally built in Mevagissy in 1901 and worked as a fishing boat for 70 years. The Rees's found her rotting and deteriorating on the Algarve, swapped their Poloperro Gaffer for her, and three years and a complete rebuild later, including a larch on oak hull and changing it from a traditional lugger to a dandy rig, and Chris is about to sail her single-handedly for her first big trip up to Scotland immediately after the SS&S. Ideally she'd have had a working crew of eight, as built for speed, the first boat back to the harbour got the best price for their catch. Chris also built and designed Pete Goss's The Spirit of Mystery which sailed to Australia, and the 3-masted Grayhound.
Down below is surprisingly light and spacious, with a cosy woodburner for cold, damp winter's nights. A stash of books includes the presumably useful: How to Repair Diesel Engines, Marsha's mum's wide-based kettle (stable when heeling over) brewing up a tea storm on the stove.
But the tantalising refrain of gypsy swing music beckons from across the water. It's the Mighty Bucca Du, and boy are they 'mighty'. Violinist Annabel Lainchberry's playing is phenomenal, her virtuosity and breakneck speed precision completely mind-blowing. Richard Evans on trumpet ain't bad either, top musicianship all round.
Surf Action, the charity supporting military veterans, were there with their nifty dry-land surfing set up: a board balanced on a squishy yoga ball surrounded by gym mats. The expression of unmitigated joy on young wave conqueror Ruby before me convinces me to have a go. The only time I'll ever be able to hang five, that's for sure. Fresh back from meeting the Queen at Buckingham Palace, Surf Action director Rich Emerson said, "She was really nice, same height as me too."
On the slipway you could watch lobster pot making, or try your hand at stone carving, one lad in a wetsuit and safety goggles happily chiselling away.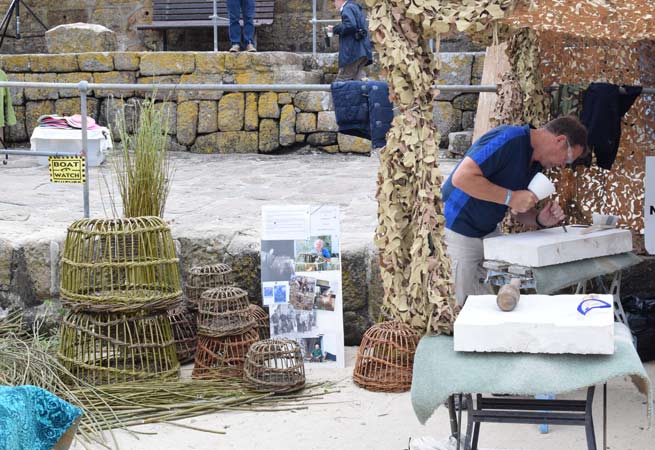 Further along the quay was the rather marvellous Kipper House. A working smokehouse, you had to be up early for your breakfast kippers, as they were snapped up first thing. Adorned with signs like 'no gutting in the harbour' and 'in praise of the humble herring', the teeny shed processes 180 kippers at a time. Salt-pickled, halved and hung on racks, they're cold oak smoked for 18 hours. Mike Smylie (aka Kipperman) and partner Moe are passionate about retaining this traditional practice. "This country was built on the back of the kipper," explains Moe.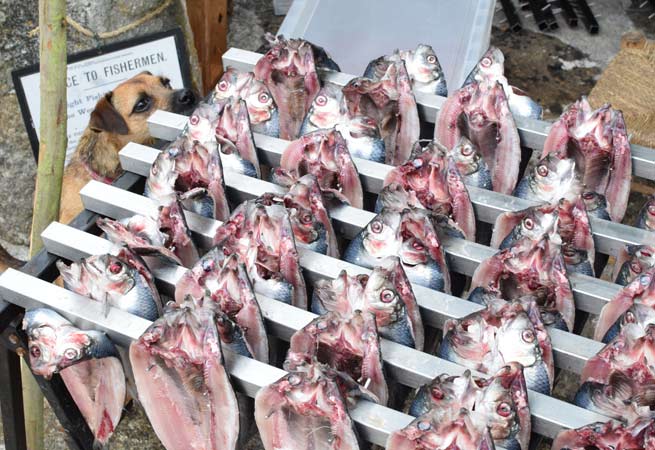 They're also ardent advocates for sustainable fishing practices, Mike having written 22 books on the subject. And he's a whiz in a coracle, paddling in the harbour in his signature bowler hat with consummate ease. Their mini mobile yurt museum tells the stories behind over-fishing, the unfair treatment of small scale fishermen, and the perils of commercial fish farming, as well as highlighting the history of the herring.
Fishing's a cold, messy, dangerous job on the brink, but it feeds you and me, so this is stuff we should all know about, and these guys are doing a brilliant job of both raising awareness and preserving our heritage. Providing a genuine product of real smoked kippers that you can smell and taste is the icing on the cake.
Some things never change though. High water and the kids are jumping off the harbour wall like they've been doing for decades. Then it's time for the hotly contested sculling race. "Got to put water over their oars they get so hot," says race commentator Leon. "Swimmers beware, or you'll be mown down."  After which I get a poetical sailor's tattoo, courtesy of sailor Sally Crabtree (although disappointingly no rum) and tuck into a Janner's fish and chip supper. Lovely.
Sunday felt like I was living the dream, crewing on Grayhound as she fair flew across the bay. A stunning 60ft Lugger owned by Marcus and Freya, she's the first 3-masted ship to be built in 200 years. Constructed solely using wooden pegs, there's not a single iron nail to be seen, and although only two years old, is so authentic she looks positively ancient. A hands-on adventure sailing boat, she's probably one of the most romantic lifestyle businesses you could ever envisage.
A welcome cup of coffee is followed by a brief briefing about the danger zones, and Marcus demonstrating how to sweat and tail the ropes, before tying them off OXO fashion. Given instructions to unfurl the sails and hoist anchor, she grounds for a few tense seconds before finding deeper water and zipping out to sea, where we pick up some pace before jibing round and heading towards the Mount. "Nine knots top speed, at least that's where she likes it", says Marcus.
For the next hour or so, we're hauling on ropes chasing tan sails and spars. The friendly competitive spirit is contagious, Marcus even firing off a canon or two to let the others know we mean business. It's fantastic fun, and the sound when under sail is incredible. I'm still pinching myself, so cheers guys for having me aboard.
To find out more about what they do visit www.grayhoundluggersailing.com
And a massive congratulations and 'thank you' to the organisers and helpers for putting on such an amazing Sea Salts and Sail Festival. Again.
View all our cottages in Mousehole >