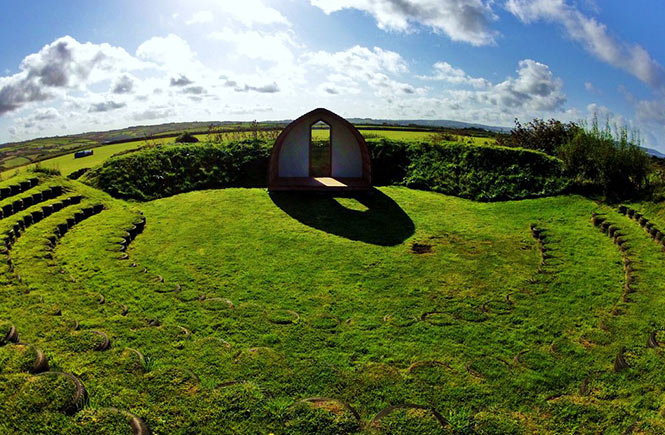 Nestled partway between Portreath and Porthtowan, just a stone's throw from the stunning north Cornwall coast, Mount Pleasant Ecological Park is a unique community resource, offering a range of opportunities for people to learn new skills, find out more about eco living, enjoy a delicious locally grown and sourced organic meal, watch a live performance, or simply explore the natural surroundings www.mpecopark.co.uk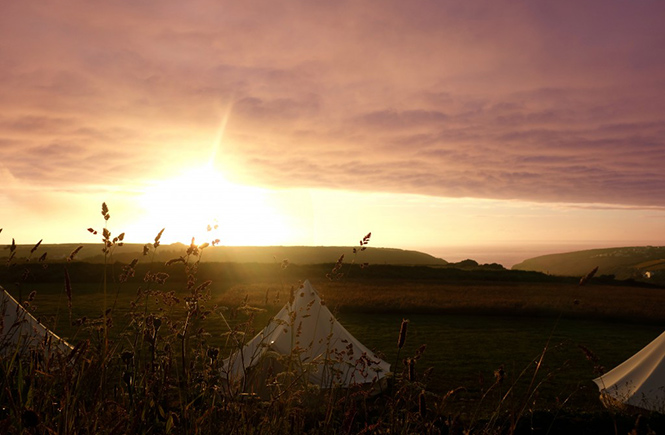 Seventeen years ago, Eco Park founder Tim stirrup was looking for somewhere to set up a workshop for his environmental building company, Pioneer EBC. Using rammed earth as the main material, as there were no trees on site, and heated by biomass burners, the ethos behind it was to create a high quality workspace for local businesses and craftspeople, that people would actually enjoy being in and find inspiring. A unique way of building which generated a lot of interest in sustainable construction, it expanded into a much bigger project. Now a 42 acre haven, set in a UNESCO Area of Outstanding Natural Beauty, the Eco Park is all about sustainable ways of being.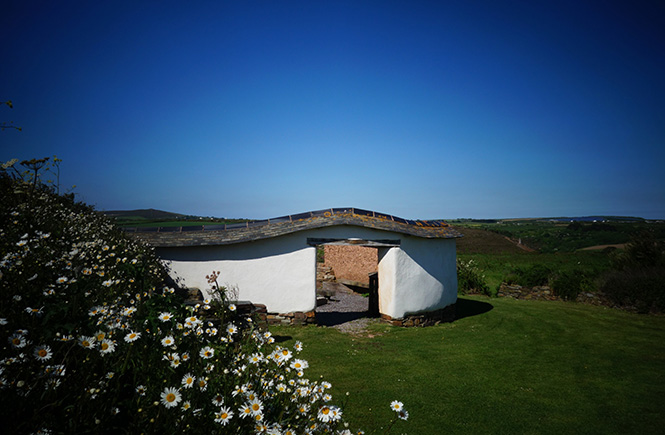 Previously intensively farmed for more than 40 years, conservation work, tree and native grasses planting, brought the site back to life and it now has organic status, with allotment growing spaces producing an abundance of edibles. More than just a great place to work, they also run courses, education and training programmes. Recent hands-on workshops have included: cob blocks and building, pallet wood furniture making, ginger and nettle beer home brewing, basket making, flamenco dancing, even laughter workshops. While coming up if you fancy it are: Basket Weaving on Thursday 27th and Friday 28th September and Botanical and Indigo Dyes on Sunday 14th October. For info about these and other courses www.mpecopark.co.uk/category/courses/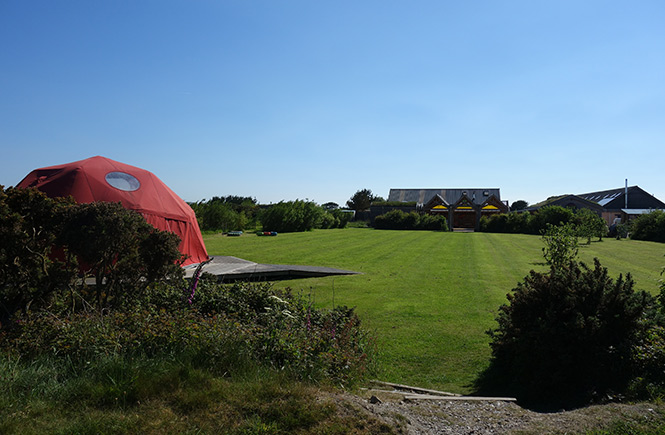 At the heart of the Eco Park is the Eco Barn, an intimate venue which regularly sees world class bands and musicians grace its tiny stage. Light and airy, with excellent acoustics and a sprung wooden dance-floor, this beautiful building not only looks good, but sounds and feels great too. Tim's vision and drive to promote music events is all part of the Eco Park's community remit, as it brings people together. A self-confessed music geek and Dj, his enthusiasm, love of festivals and broad taste, helps with sourcing sensational acts of a calibre rarely seen in Cornwall, like Senegalese kora master Sadio Cissokho, Brazilian singer-songwriter Silvia Nicolatto, Cuban Son 7-piece Asere, Dele Sosimo's Afro Beat Orchestra, Flamenco/Gypsy outfit Mano De Dios, not to mention supporting closer-to-home performers, like their spell-binding evening in the company of Ben Howard, just before he went stellar. Playing next on Saturday 23rd June are Afla Sackey and Afrik Bawantu, one of the hottest African bands, producing rhythm-driven, dance inducing fusion with traditional roots.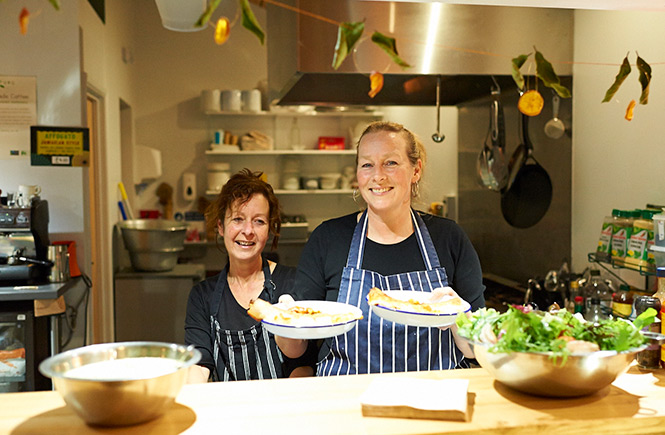 The Eco Barn's small, friendly bar prides itself on its choice selection of local and organic drinks, with special themed vegan and vegetarian food from La Cantina Café on gig nights, making it even more of an event. While the Cantina's legendary Roots Reggae Roasts are a real Sunday dinner treat, complete with laidback reggae vibes. Offering three delicious main course choices, all served with fresh seasonal veggies, crispy roasties, yorkshire puds (including vegan ones) and rich veg or jerk gravy, no need to book, just turn up between 12pm and 4pm. Check their website for dates first though, as RRRs are not always weekly, but for every meal purchased, Keep Cornwall Fed will donate a healthy hot meal to someone living in food poverty.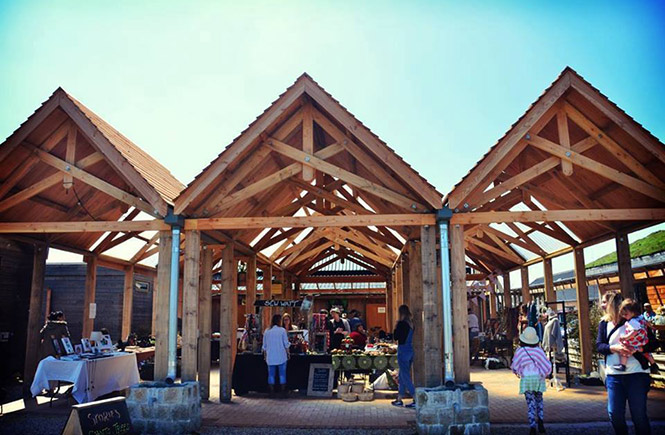 For a fab family day out, this year's Roots Culture Summer Markets take place on June 24th and August 26th. Browse an array of enticing stalls showcasing the work of local artists, makers, inventors, creators and repairers. Handmade, ethically produced jewellery, pottery, clothing, felt hats, recycled crafts, skincare products, as well as books, music, garden plants and more. Pick up a few sustainable living handy hints, or maybe try your hand at willow weaving at one of the drop-in workshops. Enjoy musical performances and summertime tunes from the resident Tropical Pressure Sound System collective, while the storytelling tent is always popular with the kids. 11am til 4pm, parking and entry is free, dogs are welcome, with scrumptious lunches, cakes, coffees and teas available throughout the day.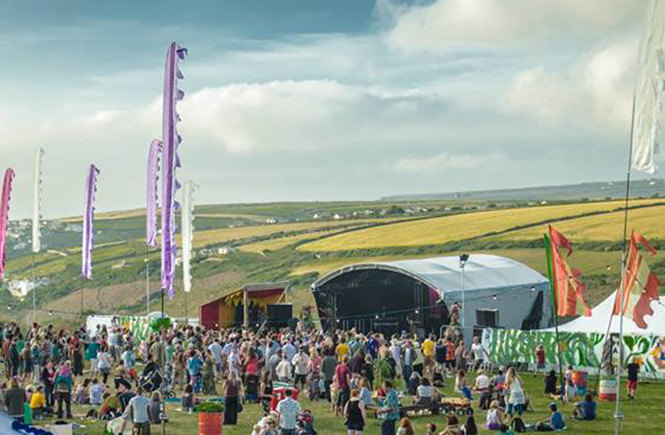 And in July, the Eco Park hosts its annual Tropical Pressure Festival, celebrating the rich cultures of Africa, Latin America and the Caribbean. The music line-up is still under wraps, but expect top quality live acts from across the globe. Held over three days, this super friendly event takes over the Eco Park's award-winning permanent buildings and structures, and spills out into funky, colourful, temporary shacks and tents, adorned with decorative silk flags, artwork and other lovingly handmade festy touches. Fantastic workshops, fun craft sessions, a vibrant kids' zone, yoga and healing, the best 100% veggie street food stalls this side of backpacking abroad, epic sunsets, not forgetting incredible music to listen and dance to. A huge team of dedicated volunteers work extremely hard to make it happen, all they need is people to come along and join in. Unmissable if you're down in Cornwall the weekend of July 13th – 15th, day tickets available here: http://tropicalpressure.co.uk/
Fancy staying nearby, see all our holiday cottages in North Cornwall>
Tags: Porthtowan | Portreath |