Riding the wave of sporting achievements celebrated so far this year, the Human Race Festival of Sport aims to encourage everyone to make their own records at this mass participation event. Taking place in Marazion with the iconic St Michael's Mount as the backdrop, there couldn't be a better setting for this superb sporting event.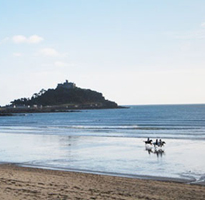 As well as core sports such as a triathlon, cycling, open-water swimming and beach runs the weekend festival will also encompass live music, childrens activities and seminars from athlete speakers.
To make sure entrants are well fed, the festival will be home to Jamie Oliver's Fabulous Feasts – creating the perfect food for post-event hunger, a group sit down lunch or a sumptuous feast for that celebratory hang over.
There's still time to enter a range of sporting categories, so if you'd like to do a 5km beach run or team relay triathlon then visit the website today.
Whether you're a participant or spectator we have many fantastic cottages in Marazion which are a short walk away from all the festivities. Take a look online today >