Penzance's charismatic celebration of midsummer, which takes place every June, always promises a lively and eclectic mix of things to see and do in Cornwall's culture-packed far west.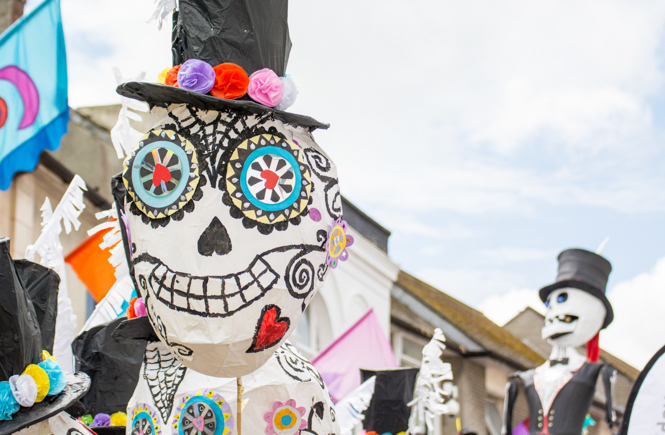 Taking it's thematic cue from the town's plastic-free status, this year's anticipated event is entitled 'Golowan Goes Green!' and has assumed a focus on becoming more sustainable and eco-friendly while raising awareness of today's pressing environmental concerns.
Thousands of revellers will flock to the historic market town for the not-to-be-missed festival that incorporates street entertainment with food and drink, art, pop ups, live music, film, dance, crafts and an assortment of activities and awe-inspiring spectacles.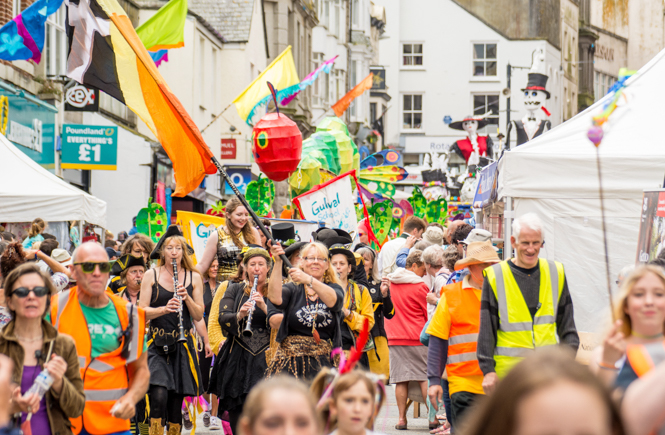 Imbibe west Cornwall's artistic landscape by visiting The Exchange for Simon Faithfull's extraordinary solo show, Fathom; Newlyn Art Gallery for Europe After the Rain, Nina Royle, and Elizabeth Loveday & Ali Corder; Penlee House for Munnings in Cornwall; and Penzance School of Art for objects of vertu: Penwith College's Annual Exhibition of Art.
Penlee Park Theatre presents Flying Tales Children's Theatre Workshop on Saturday 22nd, while The Acorn stages a rib-tickling comedy night with Holcomb, Barratt and Richey.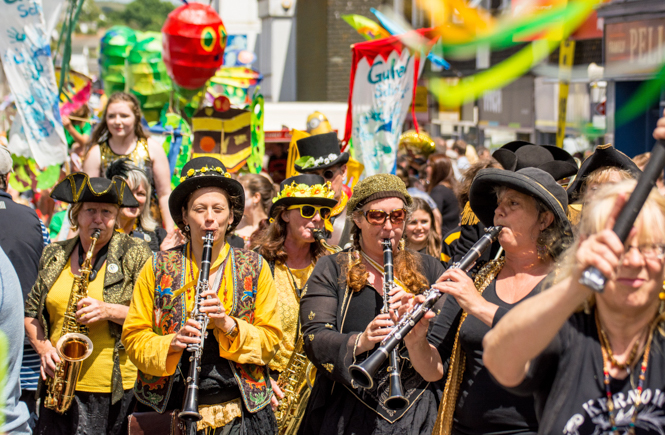 Get your fix of folk at The Acorn on Wednesday 26th for the Golowan Folk Concert – or opt for some family fun at the fair, which opens on the Wednesday evening.
Grammy-nominated and double Ivor Novello Award winning lyricist, Chris Difford will be at The Acorn on 27th, while Cornwall's talented youth string orchestras will present 'Concerto' on 28th at St Mary's Church – or choose something soul-stirringly upbeat courtesy of Kakatsitsi, whose traditional Ghanaian drumming, dancing and singing will hold audiences spellbound at The Acorn.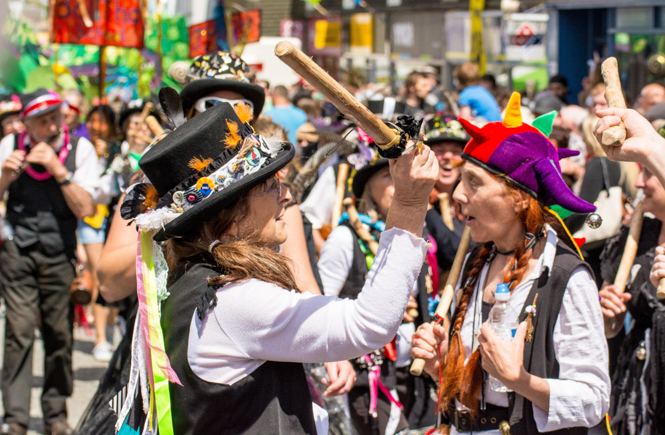 Don't miss the free fireworks spectacular from Albert Pier (between 10.45-11.10pm) on Friday 28th, which launches a fabulous weekend of festivities: Mazey Day and Quay Fair Day.
Featuring a series of stalls, street food, processions and parades, Mazey is the jewel in the crown of Golowan. Starting with the Civic Procession and culminating in the Men and Maids serpent dance through the streets, each parade includes specially dressed school children and their gigantic sculptures, installations and puppets alongside live band music and dance.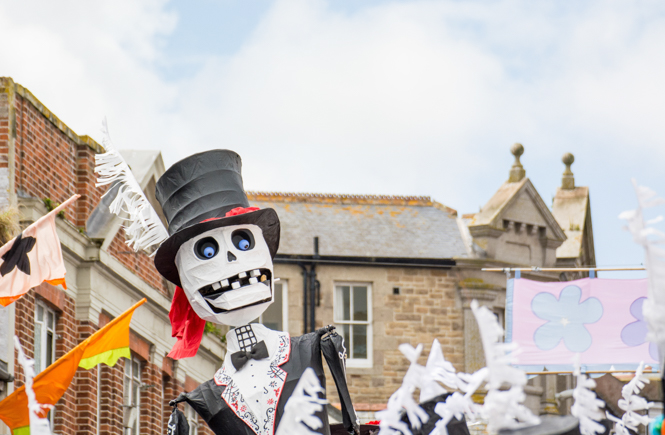 And with The Makers' Market at The Exchange, Mazey Bazaar at Redwing Gallery, Morrab Gardens entertainment and children's activities, schedule of free entertainment on the forecourt of Chapel Street Methodist Church including The Big Dance Company and Redruth Town Band, and Beer Festival at The Dock Inn, visitors can immerse themselves into a variety of scenes for a sensory feast unlike no other.
Sunday's Quay Fair Day is more of a family affair, rounding off proceedings with Penzance Youth Market, Kids on the Prom, petanque in St Anthony's Gardens and Golowan Pop Up Stall and Community Stage, which offer a fantastic range of activities for all ages.
Or for those keen to prolong the party spirit, there's Marvellous Mazey Madness from noon until late at The Lugger, and day two of The Dock Inn's Beer Festival (Real Ales & Cider) and Live Music event.
Enjoy!
Browse our holiday cottages in Penzance here >
Tags: Festivals | Penzance | West Cornwall |