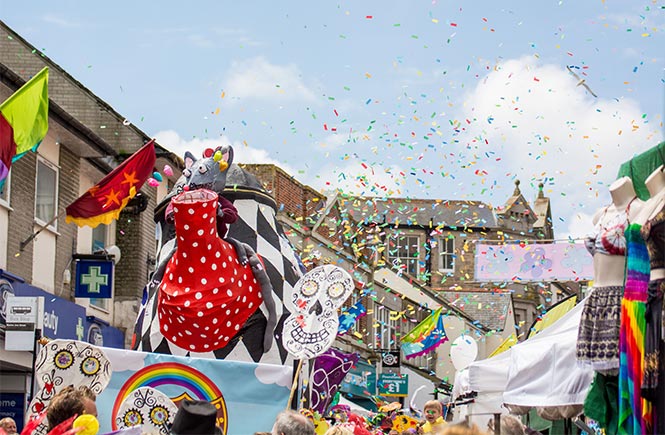 No. 14 on the New York Times Places to Go in 2017 list, in recognition of its sweeping views of Mounts Bay, the stunning Jubilee Pool art deco lido, and its proximity to Poldark territory, Penzance also hosts Cornwall's biggest and best community festival, Golowan. Celebrating midsummer and the Feast of St John, Golowan is set to take over the town for ten days in June, from Friday 16th until Sunday 25th, and is just one of the many reasons Penzance has so much to offer visitors and Penwithians alike.
An anarchic Cornish tradition previously banned by the town council in the 1890s (due to an excess of drunkenness and fire risks) the festival was revived in 1991, by a visionary group of artists and members of Kneehigh theatre company, working with a local school and the town council, to host the first modern day Mazey Day. Now in its 27th year, this much-loved festival has evolved into a packed programme of music, theatre, dance, exhibitions, poetry, storytelling, walks and talks, plus hands-on community banner making, paper costume making and boat-building workshops.
Add to that a prosecco-fuelled fashion show, a photo safari scavenger hunt, hip-swivelling Afro-Cuban music workshops, sensational aerial circus performances, giddy funfair rides, delectable gourmet food stalls and distinctive market stalls, not forgetting the annual 'friendly' cricket match between the Town Mayor's XI and PZCC President's XI, and you can see why it attracts tens of thousands of people.
With this year's theme being 'All at Sea' it's all about celebrating the ocean waves, and all that sail, surf, paddle, swim in and on it. Given that Cornwall's surrounded on three sides by the wet stuff, and the fishing industry remains an essential part of the local economy's backbone, it seems a fitting choice indeed. It's also a great excuse to tuck into plenty of fresh locally caught sea treasure, as Penzance and nearby Newlyn aren't short of quality fishmongers.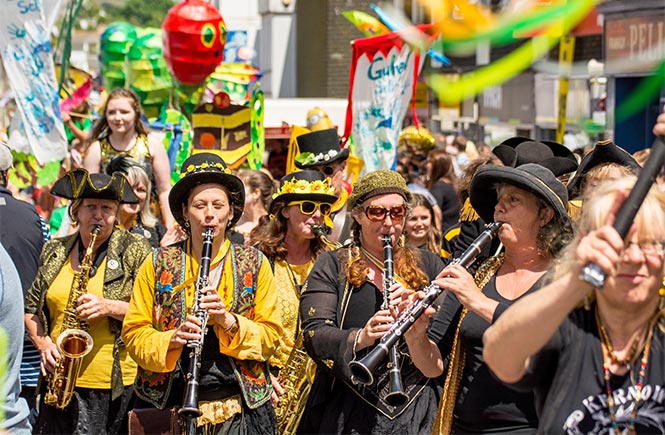 It's an equally good reason to spend some time harbour-side, where a flotilla of traditional wooden boats will be gathered for Golowan's mini maritime festival. The boaties are very friendly, often happy to show you around onboard, ply you with tea, or maybe even something stronger, like a tot of ship's rum, if you're lucky. And keep your eyes peeled for the shimmery, silvery Golowan mermaid, who'll be splashing about all festival, especially over the final Mazey weekend.
The flaming tar barrels and bonfires may have been doused by health & safety zealots, but the as darkness falls on June 23rd, a torchlit procession down historic Chapel Street heralds the start of Golowan proper with the return of Penglaz, Penzance's horse skull 'Obby 'Oss, followed by the wild and wonderful serpent dance, where hand-in-hand in a long snaky line, you get to weave through the streets at breakneck speed, accompanied by the legendary Golowan Band.
And the rumours are true, the exciting news for this year being the return of the marquee in St Anthony's Gardens! Thanks to Josh Dunkley at The Crown pub in Penzance, fine purveyor of Crown Ales, and local empresario Dan Levine, the Big Tow Golowan Marquee will be opening Thursday 22nd for the Mock Mayor Elections. Another revived tradition, candidates put themselves forward to be voted in by the rowdy rabble as parody mayor for the weekend. With three minutes each to win the public over, expect grandiose characters, ridiculous costumes, and un-keep-able promises. Yours truly held this esteemed position in 2007, then again as joint Mock Mayor with Eddie the Snake in 2009, and believe me, it's a lot of fun. It's not too late to go for glory, with wannabe mayors able to sign up on the night – but be warned, the clap-o-meter's decision is final, and you'll be expected to deliver a speech to the Market Jew Street masses alongside Penzance's actual mayor on Mazey morning.
Then on Mazey Eve, come join the Marquee party and dance your socks off with Golowan's favourite feel-good band, from deepest, darkest Zennor. Yes, they're back.... it's Pondlife! Coaxed out of retirement especially for the occasion, the mighty four-horned, twenty-legged ska-beast skanks again, but best book early as this is one summer shindig you won't want to miss. Pop out the tent after for a prime view of the spectacular Mazey fireworks, followed by another other-worldly appearance of Penglaz, and more shoulder-wrenching dancing into the wee small hours.
On Mazey morn, a dedicated team of early birds will be up at the crack of dawn, decorating the streets with greenery and all of the beautiful banners and flags made in the community workshops, while stall holders set up for the mother of all street parties. A traffic free zone, the whole town comes out to play, with musicians and street performers providing non-stop free entertainment throughout the day, as well as a full line up on the Folk Stage in Festival Square, and in the Golowan Marquee.
But Mazey wouldn't be Mazey without the magnificent processions, in which schools and community groups walk or dance their way down the main street in a series of parades, carrying giant sculptural images and wearing fabulous colourful costumes. In the true spirit of Golowan, everyone is encouraged to take part. In between parades, why not mooch down Chapel Street, or along the prom to Wherrytown skate park, or over to Penlee Park, or enjoy the peacefulness of sub-tropical Morrab Gardens, where you can listen to some gorgeous singing, while the kids are entertained by Swamp Circus and Travellerspace PlayBus.
The fun doesn't stop when the parades do, as you'll be spoiled for choice for live music at any number of pubs, or if records are more your thing, The Atlantic Soul Collective will be playing a whole load of Northern Soul Classics for your dance delectation at The Acorn at 8m, while from 9pm, one of the world's most famous DJs, Jeremy Healey, will be on the decks in the Marquee.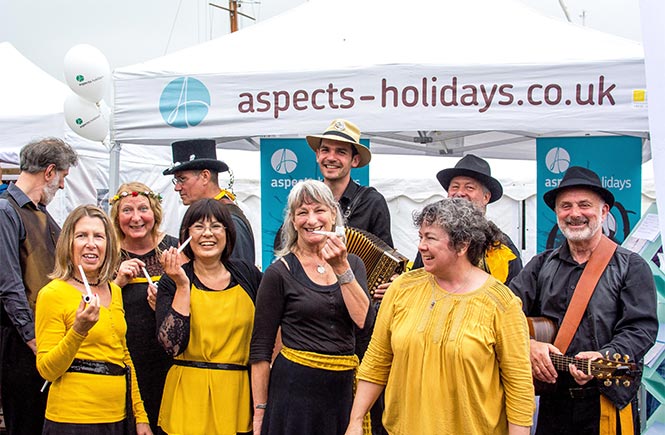 Sunday's Quay Fair Day sees the focus shift down to the harbour for another full day of family friendly fun, with more colourful market stalls, free entertainment and the funfair. Pack your swimming togs as the Jubilee Pool will be open, while the hotly contested Boat Race will be under sail at the Wherrytown boating lake at 11am. Chill out by the South Pier Folk Stage, sponsored again by Aspects. Join in with The Mudflappers' Charleston and Lindy Hop dance class. Watch Stage Struck Theatre's Piratical Doings. Play a game of petanque. Munch on a freshly barbequed mackerel. Make or decorate mermaids, boats, fish, sharks, 3D lighthouses, and lots lots more.
Download a programme form the Golowan website, or grab a copy from the festival info tent on the day. And as the festival is fuelled by the energy and goodwill of dozens of hard-working volunteers, if you see someone shaking a bucket, please pop in a pound or two as every little bit helps... and most importantly, enjoy!
Tags: Penzance