This year, Falmouth will host the annual UK Open Finn National Championships and the Finn Gold Cup. From the 3rd – 18th May, Events Square will be brimming with a festival atmosphere as over 120 elite sailors descend upon the town to demonstrate their skills. The event will be the final opportunity for sailors to qualify for the 2012 London Olympics Finn Class sailing event in Weymouth.
The Open National Championships will take place between the 4th – 7th May and will see a total of 7 races held over the course of the weekend. The Gold Cup will follow the Nationals, taking place between the 13th – 18th May and will see 11 races held over 5 days, with the finale 'Medal Race' held on the Friday for the top 10 competitors.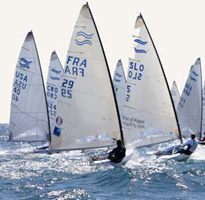 For spectators on the shore there will be lots going on to keep everyone entertained. Ben Ainslie's Finn dinghy 'Rita' will be on display at Events Square from the 1st May and The National Maritime Museum Cornwall will be launching their 'Our Sporting Life – Sail for Gold' exhibition. On Saturday 12th there will be the opportunity to meet some of the elite sailors taking place in the races and on the final day there will be a closing ceremony and a spectacular fireworks display.
Whether you're interested in sailing or not, you can be assured of a fantastic festival experience at the Falmouth Finn Festival.
Want to be close to the action? View all self catering accommodation in Falmouth >
Tags: Falmouth