October is traditionally the month for celebrating all things apple. From cider tasting to apple-bobbing, there's a host of events here in Cornwall to choose from, with community orchards and commercial ventures alike championing Cornish apples.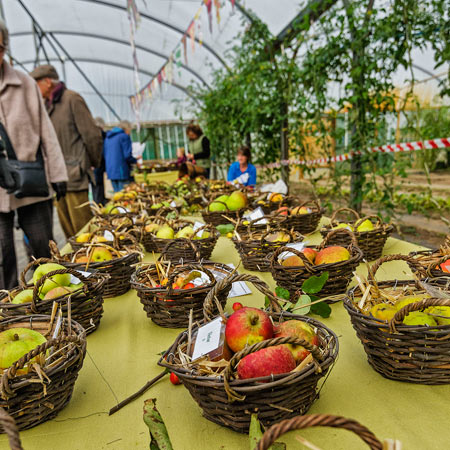 Apple Days help encourage traditional apple growing and orchard preservation, as well as raising awareness in the provenance and traceability of food. Look out for local dessert, dual purpose, cooker and cider varieties with intriguing names like Pascoe's Pippin, Mylor Pike, Queen's Slew, Cornish Honeypin, Scilly Pearl, Onion Redstreak, Sops in Wine, Wheal Alfred, Grow Bi Nights and Pigs Snout.
Here are a few apple day options to start you off:
Saturday October 4th and Sunday 5th
Trelissick Garden at Feock near Truro is holding their annual Apple Weekend. An opportunity to learn more about all kinds of apple related subjects, as well as join in with some fun family activities, you'll be able to see the newly restored ancient apple press in action pressing apples from the orchard, and taste this year's fresh juice. A National Trust property, all activities are free with normal entry.
Sunday October 5th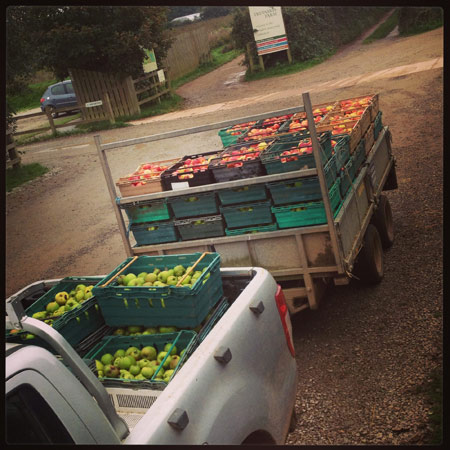 Trevaskis Farm near Hayle will be holding their Apple Day 10 – 4pm, where you'll find a huge variety of English and Cornish Apples to sample and buy, plus Helford Creek Apple Juice and Cyder, Cornish Orchards, and St Ives Brewery will be there with tastings, not to mention local cheese makers. Don't miss the legendary hog roast, featuring Trevaskis's home reared British Lop Pig Society pork, served with delicious homemade stuffing and Bramley apple sauce. There will be a dedicated Kid's Corner, toffee apples and a pumpkin hunt to keep the little ones happy, while the Pick Your Own farm itself is a wonderful family day out. Set amidst 28 acres of beautiful Cornish countryside, there's an abundance of fruit and veg to choose from, information signs ensuring you learn while you wander. You only pay for what you pick, and entrance to both the Apple Day and farm is free www.trevaskisfarm.co.uk
Stay nearby at a cottage in Hayle >
Saturday October 11th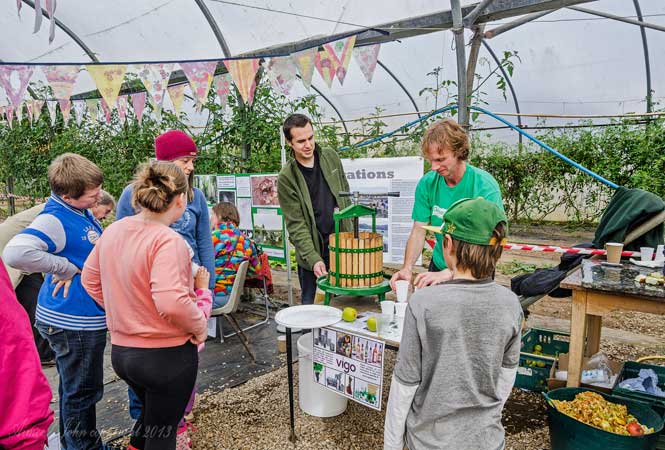 Kehelland Trust will be celebrating their 10th Anniversary Apple Day from 11am – 4pm. With apple tasting, Cornish ciders, a farmers' market, local gourmet foods, arts and crafts, and children's activities there'll be plenty to see and do. Not forgetting entertainment from Swamp Circus, an exhibition showcasing Siobhan Purdy's evocative paintings, and Feadon Farm wildlife encounters. Admission is just £3 with children free, all monies going towards supporting the Trust.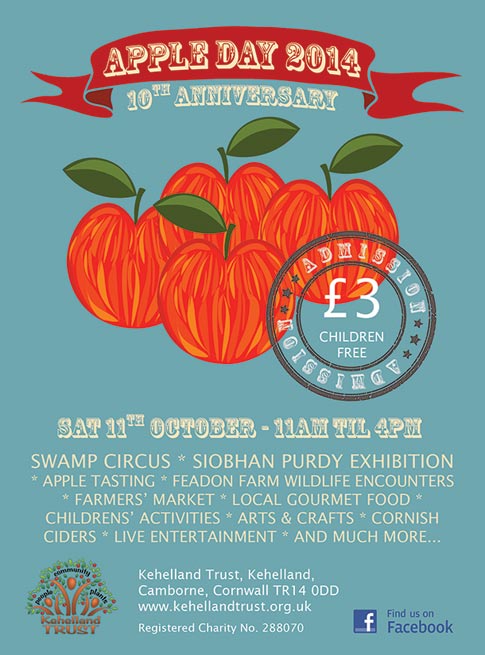 If you've still got the energy, why not stay for the Cider Stomp in the evening with live music from 3 Daft Monkeys, local ales and ciders served at Kit's Pop Up Bar, and scrummy food available from the Silver Server and Truly Crumptious. With celtic and eastern influences, the 3 Daft Monkeys dynamic style of world-influenced folk music and infectious dancing rhythms will leave you breathless, exhilerated and cider thirsty. Tickets are £9 (plus booking fee) through eventbrite.co.uk
Kehelland is a fantastic charity providing a rural, horticultural setting for the support of adults with learning and, or physical disabilities. Through the hands-on opportunities they offer, the Trust is able to develop people's personal and social skills, and helps encourage active participation in the local community. They also sell a range of fresh produce and a large selection of plants grown onsite to individuals and local businesses, while their rewarding Volunteer Programme is ideal for gaining real experience and knowledge in the many different areas of their work. To find out more visit www.kehellandtrust.org.uk
Sunday October 12th
With bands, circus acts, workshops, a bar, cakes galore and juicing (BYO apples) Chyan Community Field at Halvasso, near Falmouth and Penryn, are staging their fun-filled Apple celebration from midday til late. Entry is £5 or £15 per family.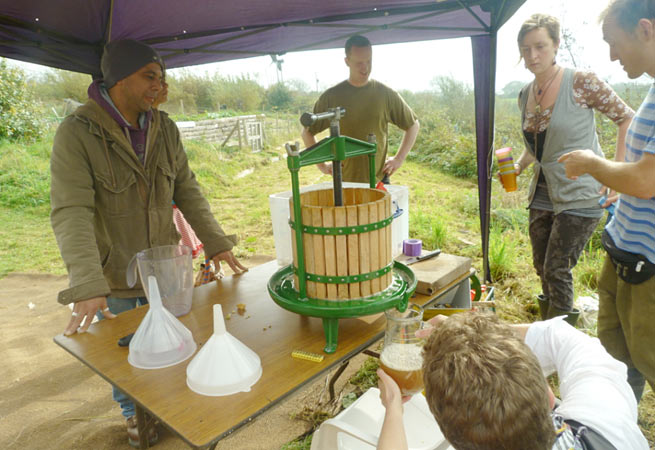 Chyan is a community project providing veggie growing, low impact living training courses and play resources. Work volunteering sessions are held on Tuesdays and Thursdays when everyone is welcome to come and lend a hand, enjoy the beauty and tranquillity of the valley, and have fun. For further information about their Apple Day or becoming involved, ring 01326 377008.
Stay nearby in a cottage in Falmouth >
Sunday October 12th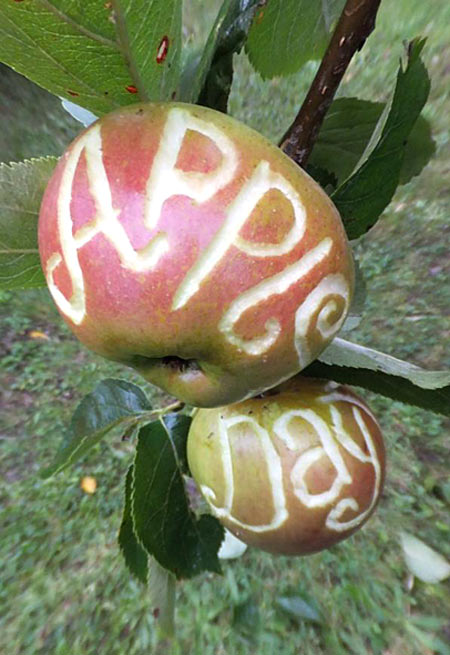 If you fancy travelling a little further afield, there's the Community Apple Day at Linkinhorne Parish Hall, Upton Cross on the edge of Bodmin Moor. Taking place from 11.00am to 4.00pm, there will be apple pressing demonstrations using a large hydraulic apple press (bring your apples and containers for the juice – 30p per litre charge) an apple identification table, apple competitions, local produce/preserves, toffee apples, cakes and cider for sale, country crafts and a raffle.
And in days of yore, the traditional Cornish festival of Allantide was celebrated on October 31st where gifts of big shiny red Allan apples were given to wish people luck for the coming year. You can read more here www.cornishculture.co.uk/allan.htm