Crashing waves, howling winds and heavy rain showers. A typical Cornish evening in November. You might imagine yourself snuggled up by a roaring log fire, drinking hot chocolate or wine. The Aspects team, however, had different ideas. On the last evening of November, we finished up at the office, popped on some comfy clothes and headed to the Porthmeor Studios in St Ives for some relaxing yoga by the sea.
Jo Riley, along with her good friend Julia Rose, both experts in yoga, have recently established 'By The Sea' retreats based in St Ives. When Jo popped in to tell us all about her new and exciting venture, we couldn't wait to find out more and experience it for ourselves! The retreats are run by both Jo and Julia, but are not just about yoga – their retreats are for 'creative minds and adventurous spirits'. They combine an amalgamation of artistic and exploratory activities, including: yoga, meditation, walking, surfing, stand up paddle boarding, sea swimming, photography and healthy eating.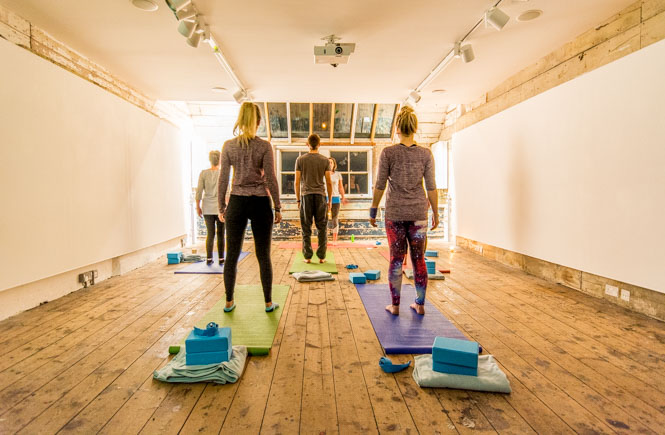 Arriving at the studio, we stepped in from the blustering winds and bitter cold to the warmth and the smells of cedarwood from the quirky wooden building. Jo welcomed us into the candle-lit studio, the scents from the candles drifting towards us and the sounds of crashing waves leaving us all in awe.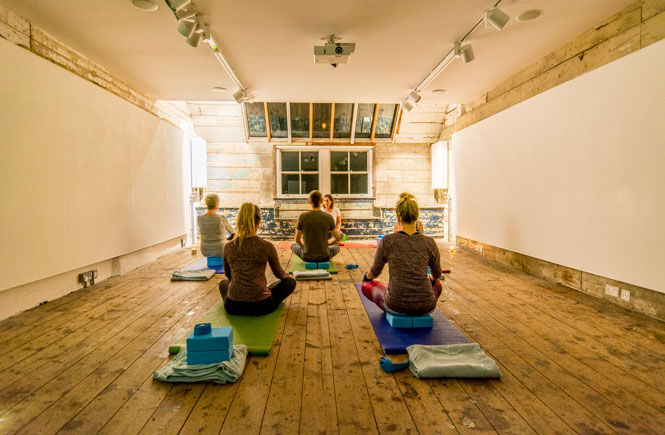 We began with the Sukhasana pose while Jo informed us about the practice of yoga and the many benefits it has on the mind and body. We commenced with a series of breathing exercises and set our intentions for the session. This was followed by a gentle warm up, where we stretched out key muscle groups in preparation for the more challenging yoga positions and stretches.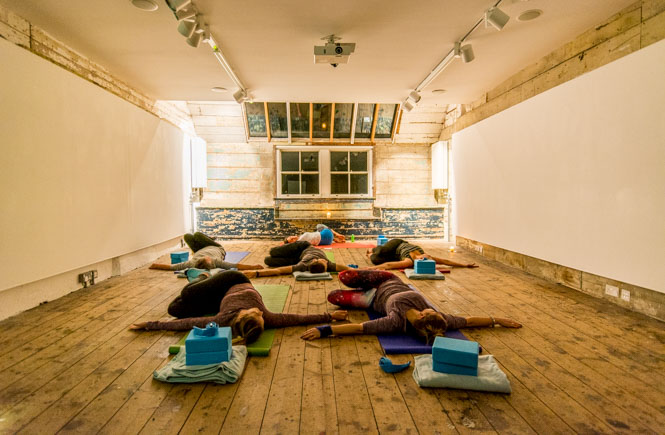 Jo guided us from pose to pose, helping us to achieve the correct positions and reminding us to focus on our breathing. With Jo's guidance and advice, we were able to twist and turn our bodies into poses we'd never thought possible!
To end the session, we relaxed into the Shavasana pose, Jo dimmed the lights and draped a blanket over each of us – a moment of pure relaxation! As we lay still, Jo led us through a guided mediation, listening to the sounds of the sea. Bliss!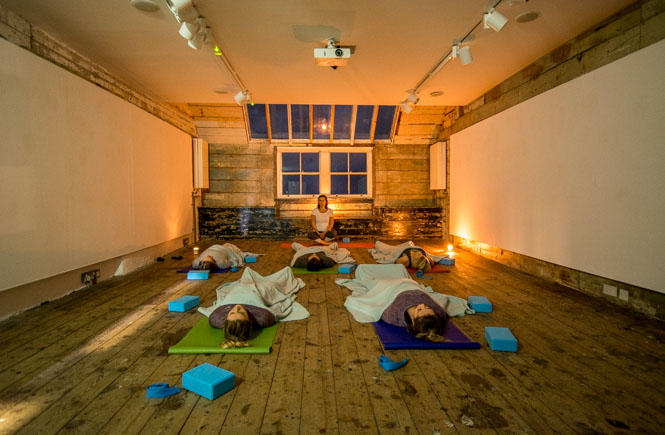 Afterwards, we all felt thoroughly relaxed and refreshed – we didn't want to get up!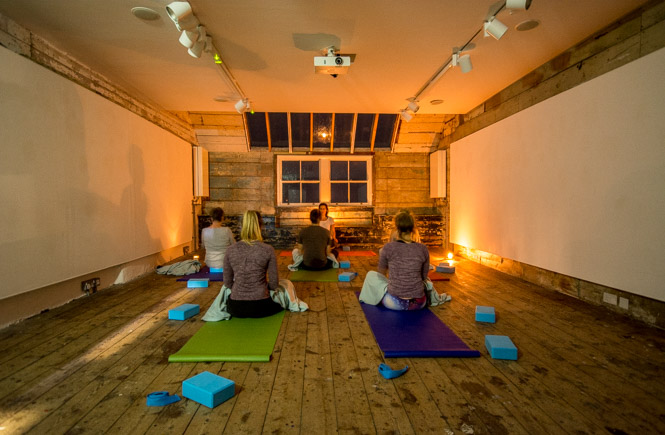 Namaste!
Here's what some of our team said about the session:
Sarah: "After a very busy week I needed some 'me' time. I have tried yoga a few times and thought that Jo was brilliant. The studio was so well positioned too – the sound of the sea and the wind really added to the experience. I felt extremely relaxed and calm after the session and will be seeking Jo out again to do more sessions."
Pat: "I felt thoroughly rejuvenated after my session with Jo – I do yoga on a regular basis and found Jo to be one of the better instructors."
Jenna: "I loved listening to the sound of the waves, it was so relaxing and Jo was great – she took us through every position step by step, ensuring we knew what to do. I felt so calm and refreshed afterwards."
Maddie: "It was so relaxing and rejuvenating, especially being able to hear the sea and the stormy weather outside, whilst we were enjoying the relaxation and warm atmosphere inside the studio."
Doug: "The Porthmeor studios overlooking the beach are an amazing space for yoga. As a beginner, I found Jo really friendly and helpful, but this would suit seasoned Yogi's perfectly too."
By The Sea Retreats
Jo and Julia established 'By The Sea' retreats earlier this year, having decided St Ives is the perfect location to relax, unwind and retreat from everyday life. Their retreats offer a unique combination of yoga, creative arts and ocean-based activities. Following the success of their first year, they are looking forward to the future retreats in 2018. During your retreat, you'll be staying in one of Aspects Holidays lovely cottages in St Ives.
If you're interested in learning more about the 'By The Sea' retreats, which run at various times throughout the year, you can find out more here: www.bythesea.com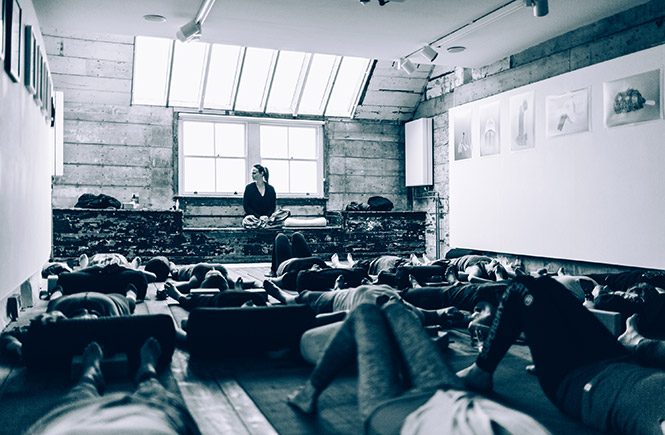 Garden Retreat St Ives
Jo also runs her own business called 'Garden Retreats', currently based at her home in Carbis Bay, near St Ives, where she offers yoga classes and reflexology. Jo will be establishing a class in an outside location in January 2018.
Being passionate about the health and well being of others, Jo began training in clinical reflexology in 2004 and this year completed her Hatha Yoga Diploma at the Bristol School of Yoga. She will be teaching Hatha, Yin and Restorative yoga classes in 2018.
Find out more about Garden Retreats here: www.gardenretreatstives.co.uk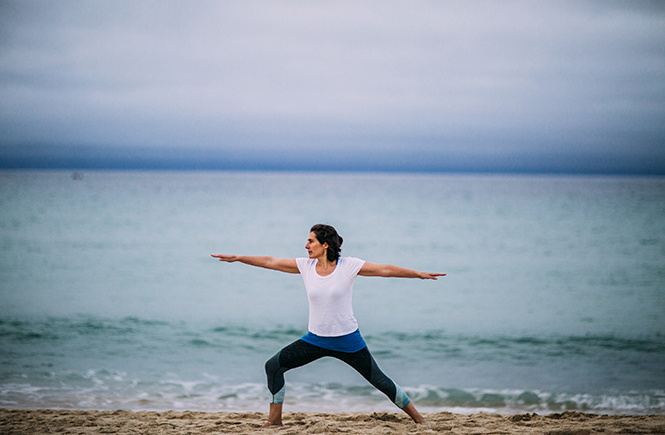 If you'd like to stay in St Ives, you can view our properties in St Ives >
Or take a look at our properties in Carbis Bay >
Tags: Carbis Bay | St Ives | Yoga |