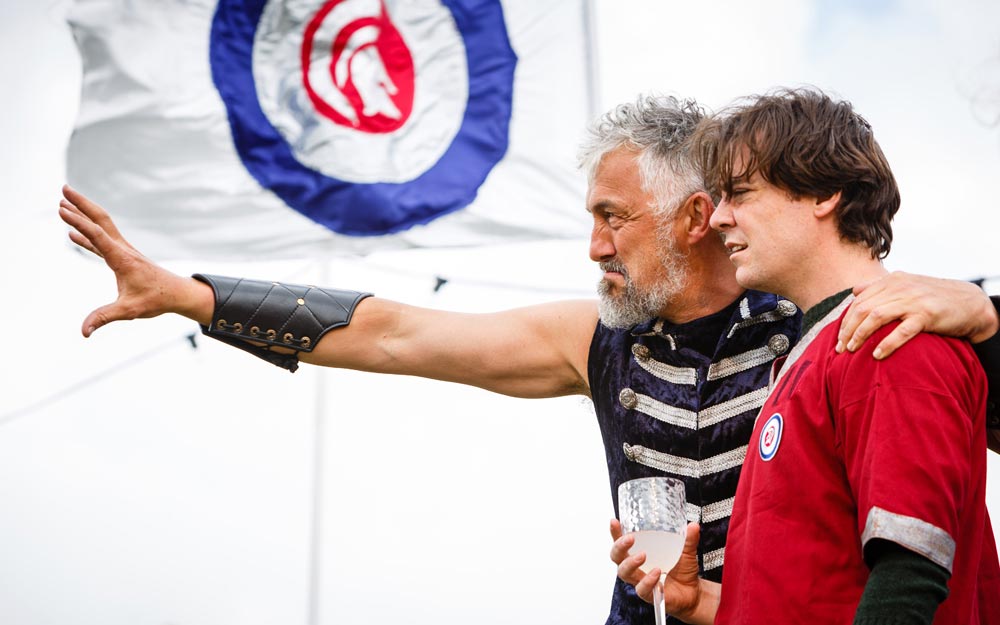 Pioneering, cultural community interest company Golden Tree (as in 'furry bush', or gorse, my spiky mountain biking nemesis) Productions are currently touring the county with their futuristic version of one of Cornwall's creation myths, Gogmagog. This reviewer caught them a couple of weeks ago at St Just's historic Plen.
Arriving at what is believed to be the oldest working theatre in Britain, felt like turning up at a mass picnic. People sitting on tartan rugs and camping chairs were tucking into all manner of al fresco goodies, enjoying the delightful summer's evening, a glass or two in hand. For those who'd come unprepared, onsite catering is provided by Cafe Irie, their butterbean cassolette (with or without sausages) served with dauphinoise potatoes and green salad looking appetising indeed.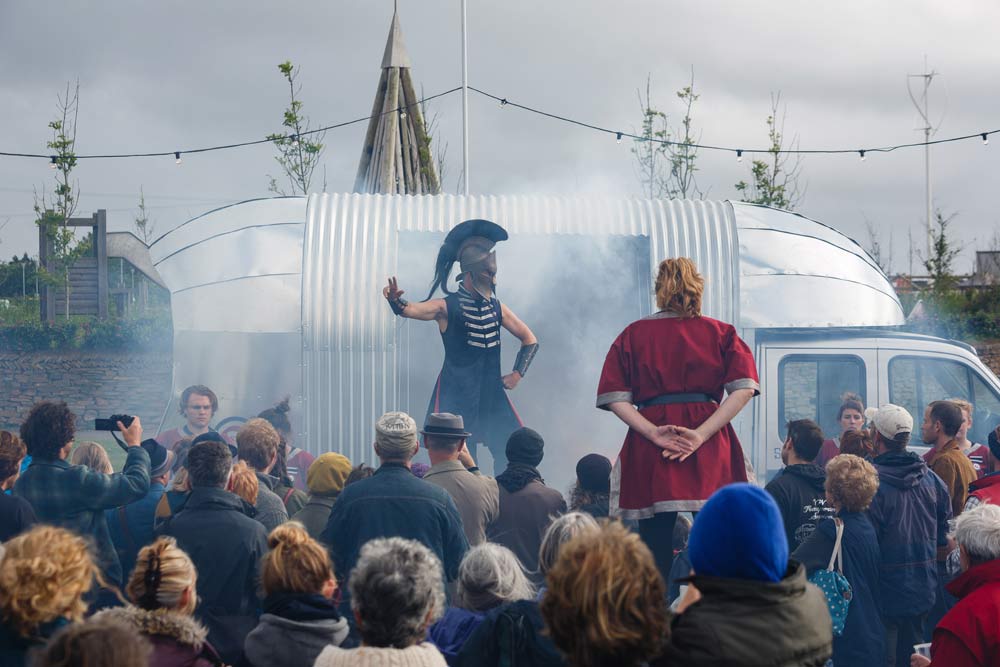 But before you can 'stake your claim' on a piece of grass, you need to pass through the cosmic portal, very slowly, without setting off the beeping sensors; the highly-strung flight attendants very keen to ensure you enter the space craft safely.
Adopting the kind of staging previously used in Cornish ancient playing places, or plen an gwarrys, the audience is surrounded by the extremely agile performers and stunning set, which includes the Kernocopia boat and Dream Goddess space ship, with the action revolving around and even through them.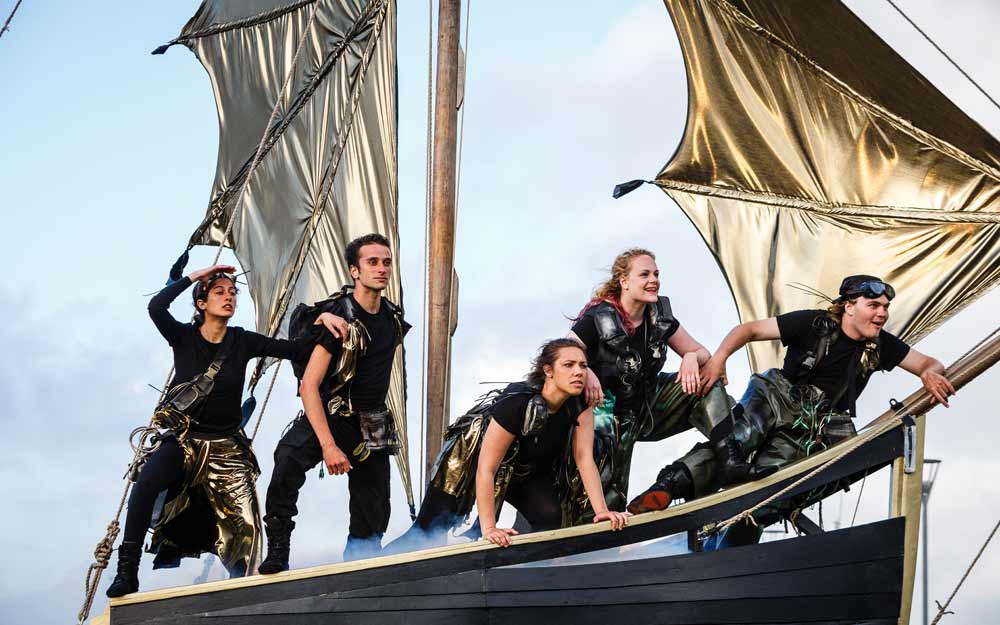 About as immersive as it gets, the plot involves planet-conquering megalomaniac Brutus (Will Coleman) an exile himself from the sacked city of Troy, kidnapping the hapless audience, and forcing them to take off in the Dream Goddess to help colonise the next new frontier. The kind of theatre that has you holding hands with strangers and doing knee-bends and hip-thrusts à la Rocky Horror's Time Warp to achieve 'lift-off', you soon get the hang of not worrying about how silly you might look, and enjoy the whole we're-in-it-together experience.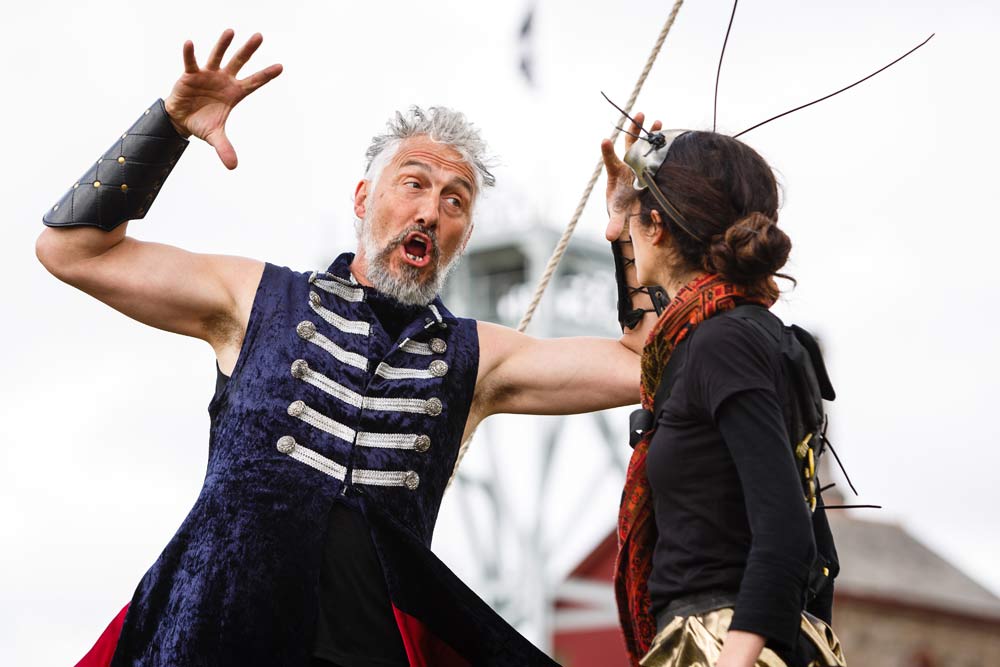 And don't expect to remain politely seated throughout either. Instead you're invited to stand and move around, as the action shifts from place to place, and you play your role as unintentional passenger. The only thing missing: authentic costumes for the hostage audience, but Brutus's outlandish gladiator number (complete with helmet allegedly made from a humanskull) the intergalactic crew's Star Trekky tunics, and the Mog barbarians' Mad Max-ish outfits more than make up for it.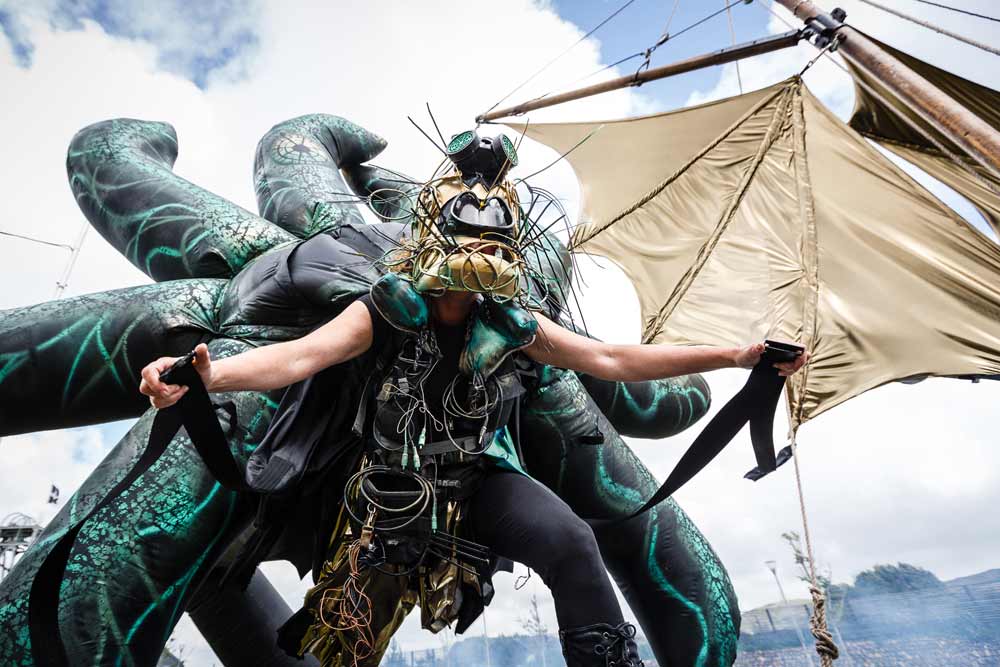 Mistaken for legendary hero Corin, ordinary Colin ousts hard-done-by lieutenant Goffar from her faithful post (Bec Applebee doing a great line in apoplectic). Demoted and sent on a solo, advanced party of one, all alone, to an uninhabited, potentially hostile planet, one of my favourite moments has to be Goffar's comedy run around the outside of the Plen itself.
Intent on going forth and conquering with onegiant leap for 'Brutish-kind', Brutus's insincere political cheese speech is pure genius. Not giving a toss about the indigenous population, the tables are soon turned when they insist on him providing biometric evidence and passing their citizenship test, which he fails.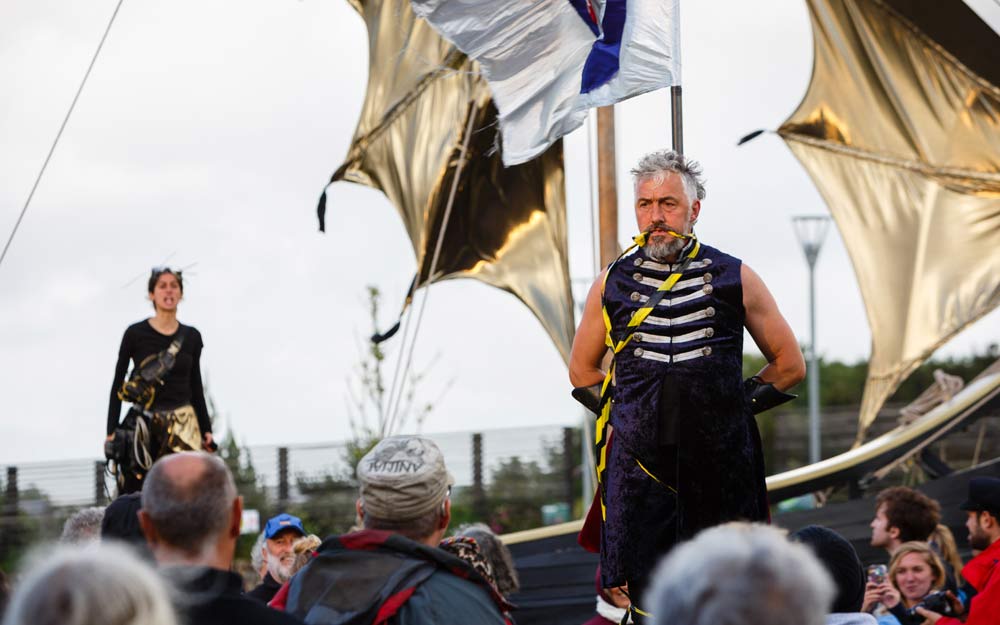 Colin also fails in his prophetic duty of slaying Gogmagog, but thanks to the wrestling prowess of peace-keeper teacher Gwendoline, the fearsome giant is defeated and the day saved. Timely references to asylum seekers and incomers taking all our jobs, shares a message that's bang up to date without being preachy.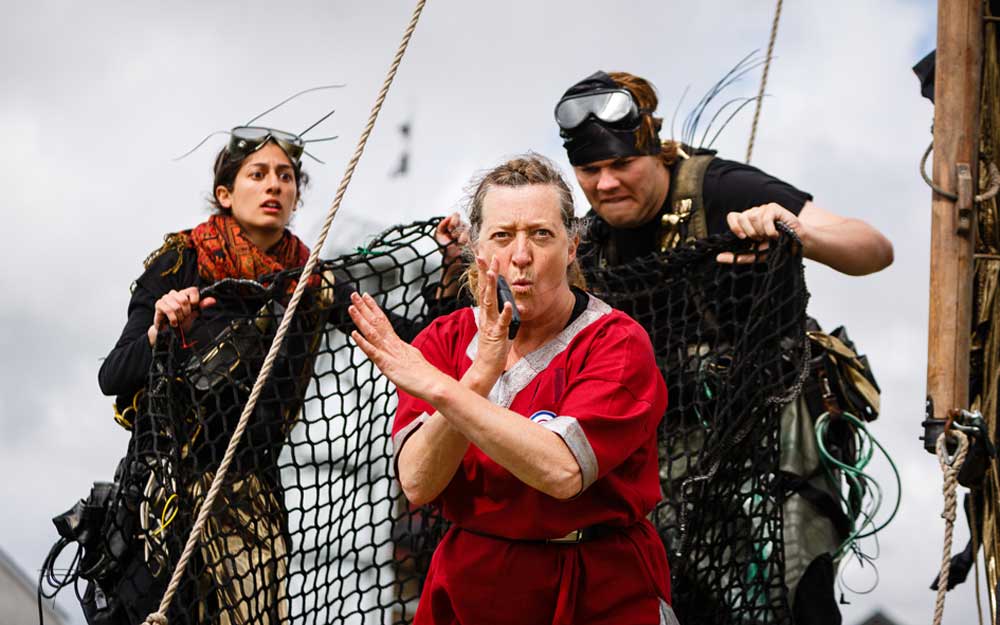 Fabulous music, imaginative special effects, lashings of humour, a spot of dancing and Kernow culture… what more could you ask for? St Just will never be the same again. Rollicking fun theatre at its engaging best, with audience participation that genuinely works, find out where they're invading next here: www.goldentree.org.uk
It's fair to say that culture in this part of Cornwall is about as rich and diverse as it gets. If you're looking for a true escape and get as far west as the land will allow, our St Just cottages will give you the perfect base to experience it all.