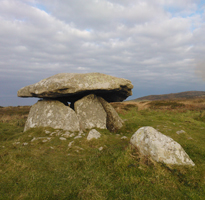 Overtime, the West Penwith landscape has been shaped by man with prominent features including stone circles, Cornish hedgerows and mining pits, making this stunning area of Cornwall well worth a visit.
The Ancient Sites
If you stare at the rocky spine of Penwith, it is easy to see how the legends of Saints and Giants have come about and fused. Both have been accused of 'playing with stones'. Chapel Carn Brea between Sennen and St. Just was supposedly caused by accident during a fight between Saint Just and Saint Sennen. They threw a massive boulder at each other (just as Giants are prone so to do): the rocks collided and Chapel Carn Brea was made.
Chapel Carn Brea
On June 23rd, Midsummer, the old Cornwall Society of St. Just continues the tradition of 'midsummer beacons'. A beacon is lit on Chapel Carn Brea which is the first of a series of fires which stretches the length of Cornwall. The fire is lit as the sun dies red in the west. The chain of fires is intermittent these days as some groups have altered dates for local reasons but Chapel Carn Brea is always lit on the 23rd at sunset.
There are many ancient stones and sites in West Penwith. Look for them on your maps: Boscawen-un, Merry Maidens, Lanyon Quoit, Men an Tol, Tregiffian Barrow, Chun Castle, Chysauster, Boswens, Bodrifty, Mulfra Quoit, Zennor Quoit, Tregeseal Circle, Kenidjack Carn, Carn Euny, Men Scryfa, Carn Galva; The Piper, Lamorna; Chun Quoit. Then there are wells, such as Madron Well and the Fogous.
The Tinners Way
You might walk from Cape Cornwall to St. Ives across the moors. There are many ancient sites on the route.
View all of our holiday cottages nearby >
Cornish Hedges
You will see many granite stone hedges around the fields in West Penwith. These are some of the oldest of our famous Cornish Hedges, a style of hedge building quite different from dry-stone walling. Some of these hedges are 3000 years old and of great ecological and archaeological significance.
Invasions & Rebellion
Whitesand Bay at Sennen is an accessible landing place. Several English monarchs landed here; Athelstan in 930; Stephen in 1135; John in 1210. Perkin Warbeck in 1497.
The Second Cornish Rebellion of 1497
Perkin Warbeck landed with 120 men in two ships. He Sought Cornish support for his attempt on the English throne. The Cornish were against paying taxes to support the English wars against the Scots. The Cornish, who had already been defeated on June 17th 1497 at Blackheath, were ultimately defeated again in September of the same year.
Seine fishing at Sennen Cove
There were seine boats in many Cornish villages until the late nineteenth-century. Sennen caught pilchards into the twentieth century. Seine fishing is wonderfully illustrated in St. Ives Museum. When the pilchard shoals came inshore the 'fairmaids' as the pilchards were called gave villagers, 'meat, money and light' all in one night. They ate pilchards, exported pilchards and used the oil for lighting. Catches could be as much as 30,000 fishes. The demise of the industry has been blamed on the use of engines on boats, which allowed them to fish further out to sea and thus break up the shoals; or possibly due to a shift in the gulf stream. These days the huer's bushes, pressing stones, copper stencils, nets, lofts and cellars are museum pieces. Although a couple of modern seine boats operate from Falmouth. Check out our blog post on Sandy Beaches in West Cornwall, which features Sennen beach, and some of our other favourites in the area.
View all of our holiday Cottages in Sennen >
Cornish Mining World Heritage Site
World Heritage Sites are places of 'outstanding universal value' selected by the United Nations Educational, Scientific and Cultural Organisation. (UNESCO)
Geevor Tin Mine – 'Winner of Winners'
At the 2013/14 Tourism Awards, Geevor Tin Mine was announced as the Winner of Winners; and also received a Gold Award as the best in the Art, Museum and Maritime category; and a Silver Award in the Historic Property Category.
Geevor Tin Mine at Pendeen finally closed in 1991 when the pumps were switched off and the deep mine flooded to sea level. It was only 11 years after Queen Elizabeth had opened a brand new shaft at Geevor, Victory Shaft. Always a 'boom and bust' industry, deep mining for tin is no longer profitable. Geevor Mine is now a heritage centre. You can see where the tin was dug, see the air-legs (the shoulder-high drills), you can walk into the 'Dry' which is just as it was when the last shift came up: and you can experience  life underground. There are activities for children and a cafe.
Botallack
If you walk the coast path you can see the remains of Crowns Mines hanging onto the cliff edge; the subject of so many postcards and photographs.
Levant Mine
Beyond Geevor, at Levant, you can see a restored beam engine.
The whole coastline is littered with industrial mining archaeology which is so much part of Cornwall and its people.
View all of our holiday cottages nearby >