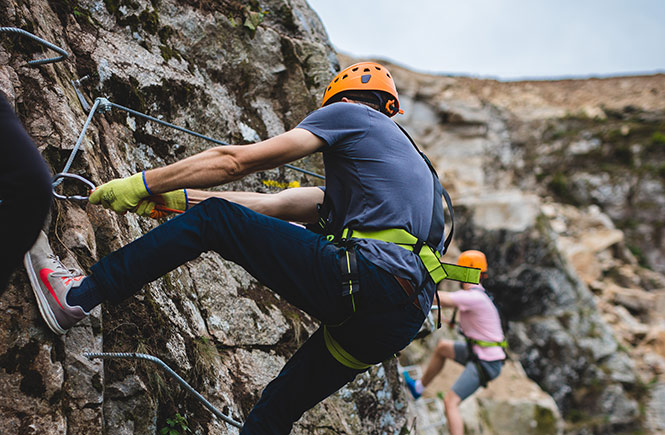 Nestled between Helston and Falmouth you will find Via Ferrata Cornwall, a brand new attraction set on a 60-acre site that allows you to experience Cornwall's granite quarrying history as you climb cliff faces, take on high wire challenges, and zip back down to ground level again! With the option to take part in either the Adventure Zone (open to 8 years and above) or the Full Classic route (open to 10 years and above) and no previous climbing experience needed, there is something for the whole family!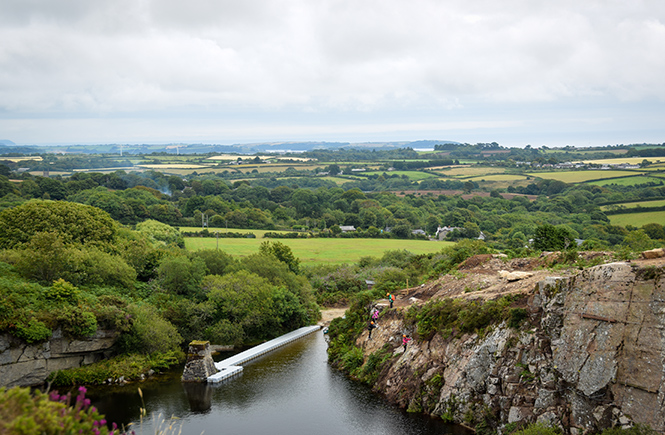 More than just an adventure attraction, Via Ferrata Cornwall donate all their profits toward supporting disadvantaged children and young people across Cornwall. You can find out more about the incredible work Via Ferrata and BF Adventure do here.
A few members of our team here at Aspects Holidays were lucky enough to be invited along to experience 'The Full Classic'. Not ones to turn down an adventure, our team headed out to meet their instructors for the day, Will and Harry; no, not the Duke of Cambridge and Sussex!
Adapting to COVID-19, the guys gave a detailed and thorough explanation of how to get your harness on correctly, so they didn't need to come and help. Whilst still on the ground, they then went through how to hook your harness correctly onto the safety wire which proved a fun challenge to kick off the day's adventure!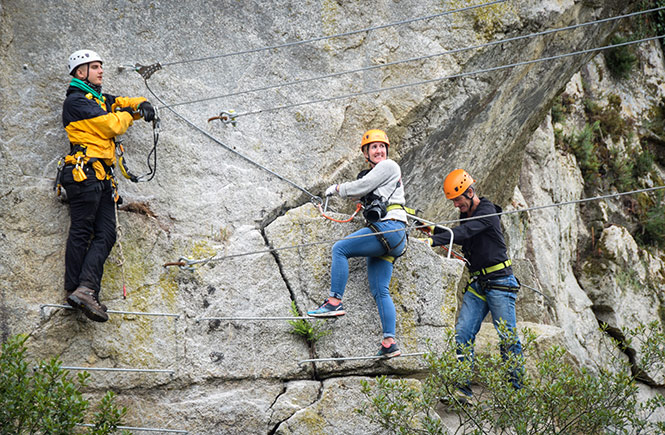 Fully briefed on how to use the equipment and with health and safety covered, the team headed into the first quarry. There are small challenges for you to do as you go along the first rock front which enables you to really get to grips with your harness and how it works. The team loved the bridge, suspended above water it is a great place to look out for fish and other wildlife! Once you've completed the first course you have the option of a quick break before you tackle the second one.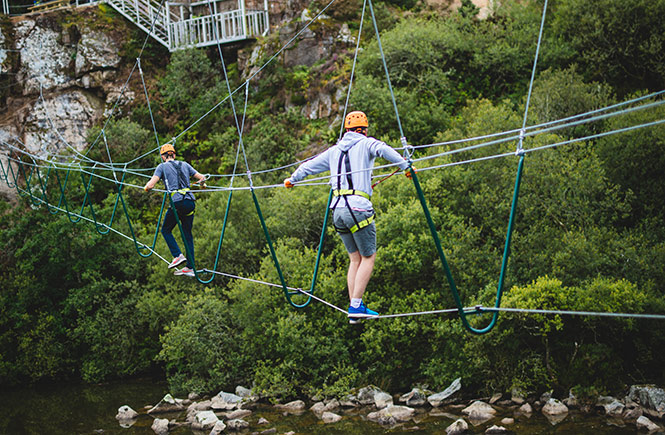 To finish the second course off, you get to go down the zip-line; a thrilling end to the adventure! If there is extra time you can also go down the zip line as many times as you like, our team was lucky enough to go down three times! Those who are more apprehensive can also be reassured that the instructors are always on hand if you ever need any assistance at any point in the course or simply decide that you would like to stop.
Several hours of climbing certainly builds up an appetite! Luckily, there is a café on-site serving delicious drinks and mouth-watering cakes, all made by The Cornish Barista!
The team at Via Ferrata Cornwall has put every thought and effort into ensuring the attraction is COVID-19 safe. Everyone stays one metre apart, payments (apart from on the day café purchases) are done online to reduce further contact and instructors ensure there is little to no contact between themselves and customers. We'd like to say an extra special thank you to Will and Harry for making sure we had such a fun and safe morning!
Book your Via Ferrata adventure >
Want to visit Via Ferrata for yourself and need somewhere to stay? Take a look at our holiday homes in Cornwall >
Tags: Cornwall