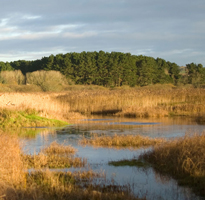 Marazion Marsh is a short walk west from the town. Here lies Cornwall's largest reed-bed, the RSPB's most southerly UK reserve. Herons, Cetti's Warblers, Chiffchaffs and Little Egrets reside here. More than 250 bird, 500 plant, 500 insect, and 18 mammal species have been recorded here.
Nature lovers and birdwatchers will find plenty to do here, and to really appreciate it you should visit in as many different seasons and weathers as you can. We have had our most rewarding visits in the spring, when we have seen rabbits galore, a huge variety of birds and even adders basking in the first sunshine of the year.
However, a perfectly timed winter visit in late November or December can be magical, as you may see the murmurations of the starlings performing their amazing pulsating dances in the sky as they refuel before their migration to Africa. Thousands rise from the marsh to swoop, swirl and hang in the sky, riding the thermals above the kite surfers on the beach. One black mass of bird. In their wake the Sparrowhawk and Peregrine eye up a feast.
Entrance is free although donations to the RSPB are welcomed, and dogs are allowed to enter with you as long as they are kept on a lead to avoid disturbing the wildlife there. It may also be worth keeping small children close – the reed beds are deep and the edges can be camouflaged.
How to get there:
By car:
Use postcode TR17 0AA to arrive closeby.  Parking is available on the seafront and the marsh is a short walk from here.
Walking:
Marazion Marsh forms part of the famous St Michael's Way, which runs from Lelant all the way to Marazion.  If visiting Marazion town, the Marsh is just a short walk from the town or beach.
View all of our Marazion cottages >