This, week we've roped Ross into writing about his experience in the 'Hot Chef Challenge' at the Falmouth Oyster Festival. Despite manic cheering and shouting by Aspects staff, Ross narrowly lost out on the competition crown, but was pleased to stay out of the spotlight and take second prize with a bottle of bubbly.
"The Curtain was due to go up (as they say) at 7.30pm but I was asked to pop along mid afternoon to select my ingredients. I was given a £10 budget and asked to choose from an array of fish on display at the producer's market and one other ingredient from another stall at the market. I chose two fish, red mullet and some smoked salmon, blowing almost two thirds of my budget! I was left with £3.50 with so following some careful comparison, deliberation and stomach rumbling, two cheeses were bought, leaving just seven pence change.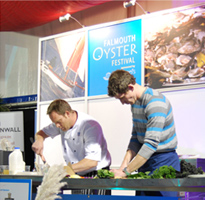 Meeting up with other Aspects staff, our business development manager, Damian insisted on a pre-cook pint and plate of oysters, which being seafood fiend, I couldn't refuse. This almost proved costly when my mouth dried up backstage due to the saltiness!!  Thankfully I found a bottle of water and my vocals were saved.
The event flew by. Twenty minutes seemed like less than ten and the speed at which both chefs worked was astounding! My chef, Arty Williams from 'The Cove' Restaurant soon had me preparing the veg and making a cheese fondue.
Time up and tasting over it was time for the vote. Volunteers were called on stage to sample our creations and the initial showing of either red, (for Nick Hodges of the 'Flying Fish' restaurant) or green (us!) cards was cast. Too close to call, the compere called it a second time. Still too close, nobody could call it. Finally the decision was made to award it to the green. Taking my runners-up bottle of champagne, I headed for home, the taste of mullet, chilli and white wine still sitting pleasantly on the palette!"
Ross