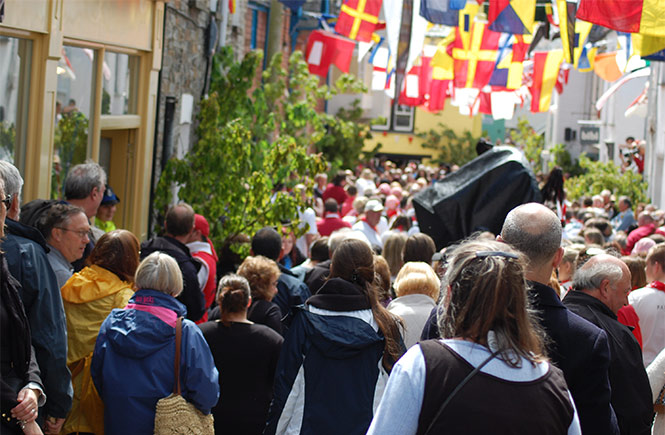 Padstow's famous May Day festivities have taken place in this beautiful Cornish fishing port for centuries. A custom held close to the hearts of all Padstonians, it's a time when those living away, return home to rejoin family and friends in celebrating their community, and the coming of summer. Although its exact origins are unknown, it's believed to be connected with the ancient Celtic festival of Beltane, and with that the rites of spring and the fecundity of nature. Thousands of people flock here each year to witness this fascinating ancient ritual, soak up the electric atmosphere, the colour and music, and share in the fun, so be sure to arrive early to beat the rush.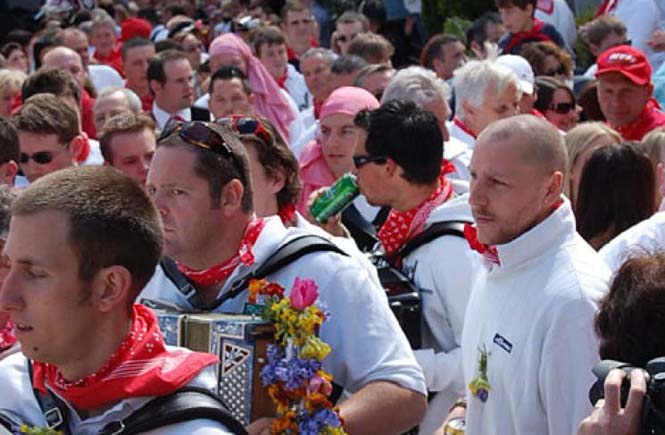 Involving day-long processions with the Old 'Oss and the Blue Ribbon 'Oss, it's like a massive, accordion-fuelled dance-off between these two arch-rivals and their followers. The Old 'Oss' team use an imposing drum that dates back to the Battle of Waterloo called the Brenton Drum. Swirling and dancing through the narrow streets, each 'oss is led by a Teazer, who at one point commands their 'oss to 'die', whereupon it duly slumps to the ground, before being reborn and leaping to its feet symbolising death and resurrection, and the changing of the seasons.
Osses also try to capture young maidens by sweeping them under their skirts, but women beware, as legend has it that, if caught, you'll be with child before the year is out. The Blue Ribbon or Temperance 'Oss wasn't introduced until 1919, in a vain attempt to discourage drunkenness, however, they didn't have much luck and it later became known as the Peace 'Oss. May Day remains a bit of a boozy affair, but an amicable one, so a perfect opportunity to try a local Cornish ale or two.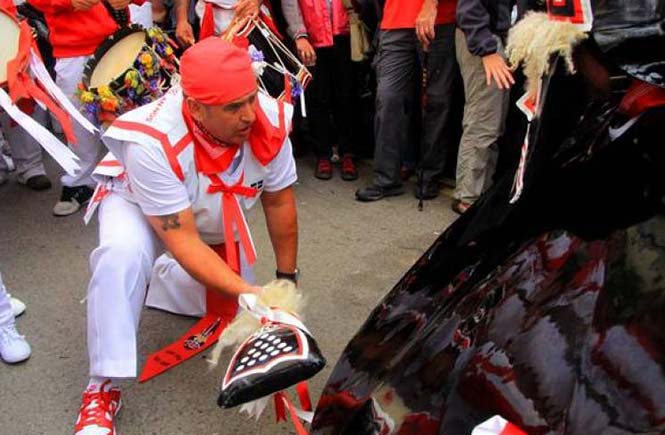 The mother of all street parties, the entire town is decorated with countless strings of fluttering flags, ship ensigns and greenery. But the heart-stopping showpiece is the stunning central maypole, adorned with circular garlands of bluebells, cowslips, wallflowers and tulips, and brightly coloured ribbons. Meeting point for the two 'osses later in the day, it's just up from the picturesque harbour front. You can't miss it.
The party really starts on the evening of April 30th, with the two clans congregating in their separate watering holes, knocking back the beers, while accordions and drums blast out the traditional tunes, repeated ad infinitum throughout the course of a very long evening, and all of the next day. You'll find The Buff Club heaving with Old 'Oss revellers, complete with enormous-horned buffalo skull gracing the walls. From here, it's a short stroll downtown to the equally packed Golden Lion, until the appointed hour of midnight when everyone spills out onto streets to sing the Night Song. There's a rousing chorus of drums before the hush of the singing. Serenading the nobilities of the town, they start with the good publicans first, before wending their way through Padstow until 2am, singing to all and sundry. It's a magical thing to see and hear; anarchic, chaotic, but also humbling and uplifting.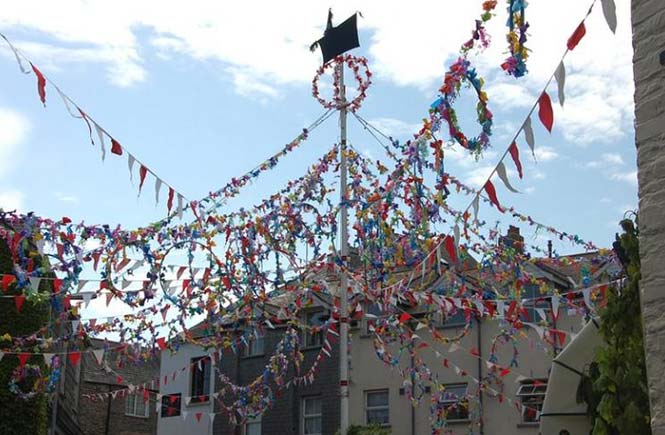 Then it's up at sunrise to gather in the 'May', or Sycamore. Wrapping leafy branches around drainpipes and railings is brilliant fun, and transforms the town into a lush, verdant jungle, if only for a day. I'd recommend a tasty pub breakfast fry-up to keep you going 'til lunchtime, as you'll need some stamina if you plan on following the children's 'Oss procession at 8am before the main event.
The Blue Ribbon 'Oss comes out of its Institute stables at 10am, with the Old 'Oss appearing outside the Golden Lion Inn at 11am. Odd looking beasts, with African tribal-style heads and cylindrical black bodies, rumour has it that the original 'Oss was created during Napoleonic times to frighten off French invaders. There are more processions at midday, 2pm and 6pm, with the 'osses returning to their stables at dusk, after which all the supporters meet up around the maypole again at midnight to sing the Day Song one final time...
"Unite and unite, let us all unite.
For summer is acome unto day,
And whither we are going we will all unite,
In the merry morning of May."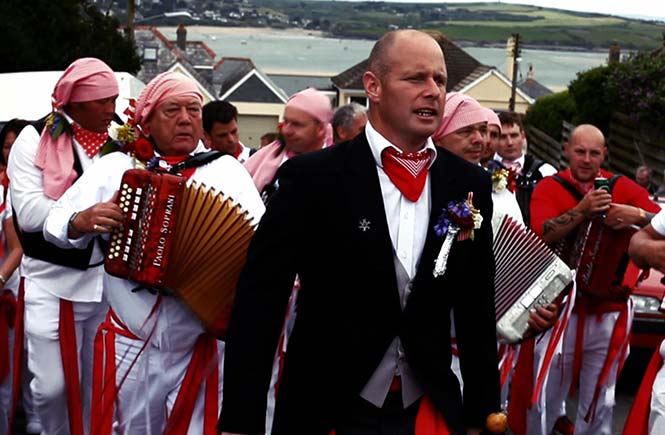 There's a very strong sense that Padstonians are extremely proud of their heritage, and their traditions, and rightly so. If you appreciate Cornish culture, and want to experience some living history, then Padstow is definitely the place to be this Bank Holiday Monday. Just remember ladies, if you're not planning on being 'in the family way' in nine months time, keep your distance. Alternatively, if you're keen for a little pagan fertility blessing, please form an orderly queue.
Have a look at our Holiday Cottages in Cornwall here.
Tags: Padstow