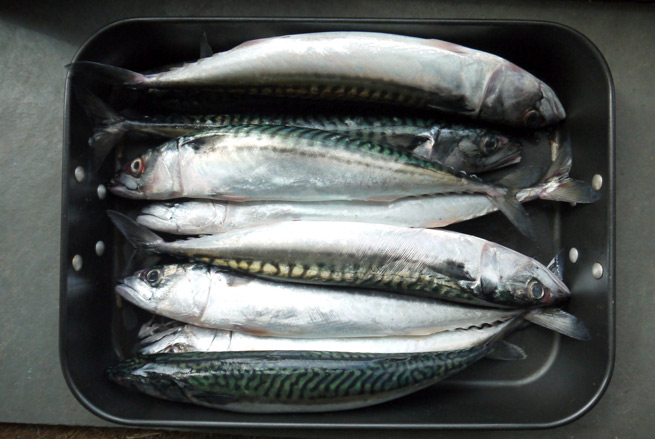 There's more to Cornish cuisine than pasties and cream teas. A proliferation of Michelin starred chefs, fine dining opportunities and high quality local produce has seen the county become one of the UK's top foodie destinations. If fresh, flavourful, regional food is your passion, why not take a walk on the wild side this holiday and learn a culinary trick or two at Fat Hen, The Wild Cookery School near St Buryan (so if you're staying in a holiday cottage near Penzance, Fat Hen's just a little further west).
Offering foraging walks, wild food cycling days, game cookery, wild Italian cookery, 'crab on the beach', seaweed foraging, artisan breadmaking, gourmet wild food weekends and more, there are courses and events for every palate and persuasion.
Adding a unique twist to your stay, from hedgerow or shoreline to plate you'll get to take away new skills, knowledge and recipes to recreate that authentic taste of Cornwall at its natural best in your own home.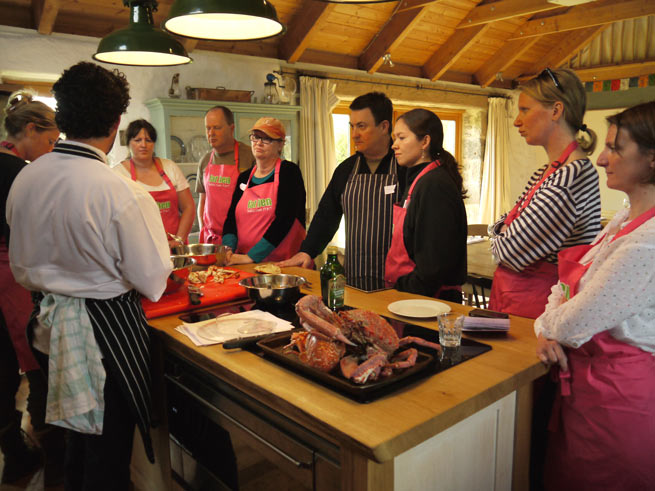 And with some of the best fish anywhere in the world landed right here in Cornwall, Fat Hen's Fish and Shellfish Cookery course focuses on some of the superb seafood that is readily available, while incorporating wild foraged ingredients too. Clueless in the kitchen and at the fishmongers, I gave this one a try and I'm so glad I did.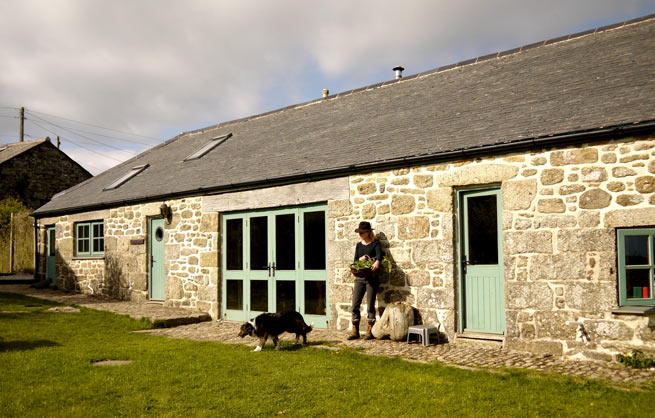 Fat Hen is Caroline Davey's unique comestible venture. The Queen of Forage, she's combined her love of nature, and professional background in botany and ecology, to bring people together to share in the delights of foraging and feasting.    According to Caroline, "You're very connected and there's this feeling of contentment when you're foraging. It feeds something in our psyche."
Held in the wilds of West Penwith in the Fat Hen barn, the day runs from 10am til 4pm under the expert tutelage of Mark Devonshire (former head tutor at Rick Stein's Seafood Cookery School). Groups are kept small to ensure you can ask lots of questions and get stuck into plenty of hands-on cooking in the beautiful bespoke kitchen. Giant jars of weird and wonderful wild stuff like carrageen, mugwort and Japanese knotweed are a reminder of what makes this cookery course so special.
Mark begins by demonstrating how to fillet a whole hake. Sharp knives are essential. Making it look effortless he talks us through the correct technique, and offers some top tips when buying wet fish: should be slimy, have bright eyes and firm flesh. The off-cuts are used too and make a stock, the nuts and bolts of good cookery.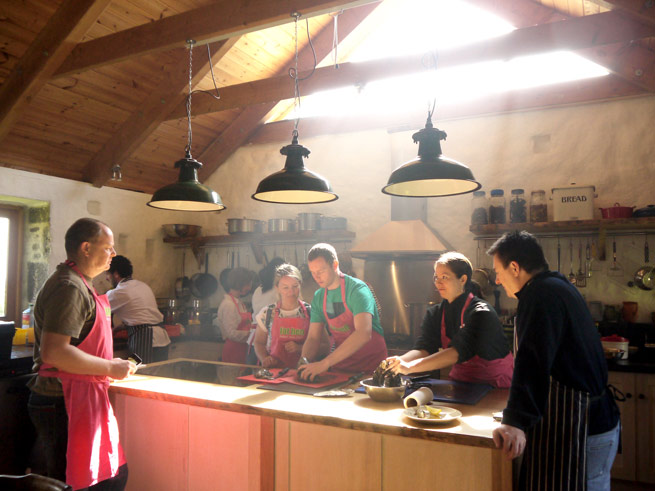 Caroline adds 'Alexanders', a member of the celery family introduced by the Romans, it grows just about everywhere within 5 miles of the coast. Leaves can be picked from September to March, and come spring you can use the stems as a vegetable.
Next up is squid, which has a surprisingly fresh, creamy smell. Mark pulls off the head, removes the clear spine and wings, de-gloves the body, takes out the ink sac and beak, cuts the tentacles off below the eyeballs, slices open the body, and cross-hatches it before cutting it into strips.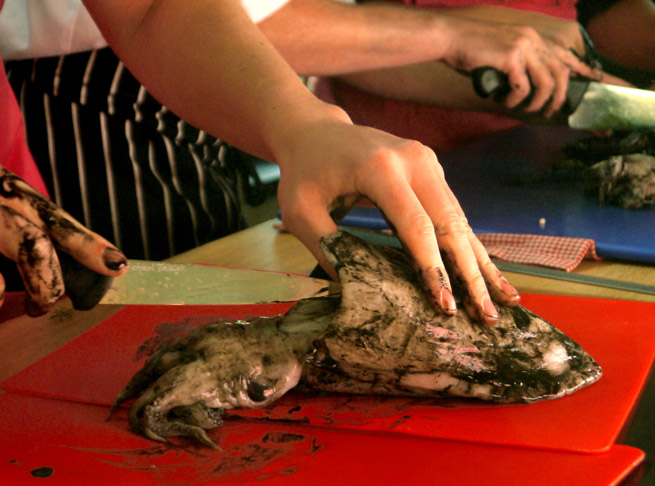 Then it's our turn and is much easier than you'd think. Armed with one each, we transform them from blobby sea-monsters into edible yum-ness (lightly floured and deep fried, with a hot chilli mix sprinkled on top) in next to no time. Accompanied by oven-baked crispy laver seaweed, our Cornish version of Japanese Nori, other local seaweeds include sugar kelp and sea lettuce. Full of nutrients, vitamins, minerals and protein, laver has a strong earthy flavour, looks like black bin liner(!) on the rocks, and needs to be washed at least 6 times to get all the sand off it prior to using.
In quick succession we're shown the art of making mayonnaise – drizzle the oil slowly and whisk vigorously – flavoured with chopped 3-cornered leek/wild garlic (introduced as a garden plant in the 1860s, but went feral) and black mustard (found in waste ground, and anywhere with disturbed soil); watch as a melt-in-your mouth-dish of Helford mussels is prepared in a matter of minutes; learn the humane technique to dispatch crabs prior to boiling them; and marvel at how simple it is to mix a pasta dough using squid ink to colour it black… and all this before lunchtime, where lunch is pan fried hake served with foraged steamed sea beet, rock samphire and watercress, and a glass of crisp white burgundy. Relaxed and informal, it's a chance to get to know the other participants, ask questions of both Mark and Caroline, and experience firsthand how well wild ingredients complement fine food.
After lunch it's mass crab-pick time. Snap the legs off, prise away the purse, remove the dead man's fingers, crack the leg shells and excavate the flesh from all the various cavities. It's quite a skill and I don't envy the pickers at Newlyn on a cold, finger-numbing morning.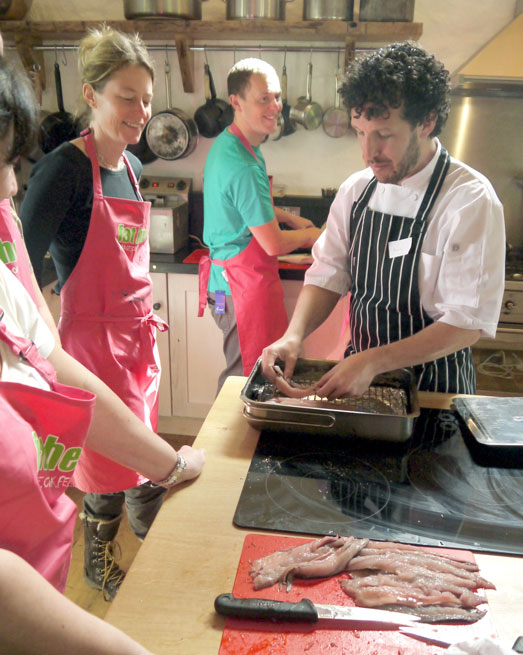 Next we get to play with an Imperia Pasta Machine. Using the dough prepared earlier, we fold it and roll it through a minimum of 25 times, adjusting the setting down to reduce the thickness, add the shaper attachment and hey presto – thin ribbons, which are draped on a clothes airer to dry, before being cooked for 2-3mins only, and tossed with the crab meat, chilli, watercress and lemon. Lovely. Meanwhile, Caroline sets up the smoker for the mackerel, which we all have a go at filleting, and cerviches some of the leftover squid.
It's been a surprisingly full-on day, so to finish there's a well-deserved sit down and plenary session over a delicious dessert Caroline prepared earlier – a delicate vanilla pannacotta made with carrageen instead of gelatine, served with blackberry compote infused with sweet geranium leaves. Informative and inspirational, Fat Hen courses are the perfect blend of learning and the practical application of that knowledge in the tastiest way imaginable. You don't need to be a gourmet or a whiz in the kitchen either, as their no-fuss, down-to-earth delivery, ensures everyone can do it.
For more info about wild food and foraging courses visit www.fathen.org or read our blog on Wild food walks with Rachel Lambert at Gwithian.